Although the number of public charging points has once again increased enormously, especially in the last year, the distances to the next charging station are often still long for many tenants and owners of apartment buildings. Especially for them, the installation of charging stations, e.g. in the underground car park, was almost impossible until now. But now tenants and owners can breathe a sigh of relief. The Act to Promote Electromobility and Modernise the Condominium Act and to Amend the Regulations on Costs and Land Register Law (Condominium Modernisation Act/WEMoG) came into force at the end of 2020.
Condominium owners, and due to changes and adjustments in tenancy law now also tenants, can now demand permission to install charging devices! In addition to the innovations, we explain here how owners and tenants can best proceed now to assert their claim and to install a charging station as cost-effectively as possible.
If you are interested in more information on the topic of wallboxes, we recommend our Wallbox Guide 2022!
Table of contents
Condominium owners, and due to changes and adjustments in tenancy law now also tenants, can now demand permission to install charging devices! In addition to the innovations, we explain here how owners and tenants can now best proceed to assert their claim.
1. entitlement to installation of a charging station due to law reform
The Residential Property Modernisation Act - WEMoG came into force on 1 December 2020 and provides for numerous innovations:
Basically, flat owners and tenants are now entitled to the installation of a charging facility for e-cars, provided that the costs are borne by the beneficiary - i.e. those who want the charging facility (tenants or flat owners).
However, especially in a condominium owners' association (WEG), your co-owners are still allowed to have a say in how it should be carried out. In addition, further changes include that voting in a community of condominium owners should also be possible in the future by video conference and with digital decision-making. In addition, it is now easier to decide on improvements to the property that will sustainably save costs and bring flats and houses into a modern condition, even against the resistance of individuals.
2. CONSIDERATION OF ELECTROMOBILITY IN NEW CONSTRUCTION AND RENOVATIONS
The topic of electromobility must also be taken into account in the future with regard to new construction and major renovations.
To this end, the Building Electromobility Infrastructure Act (GEIG) was passed in the Bundestag on February 11, 2021. Among other things, it obliges owners of new buildings or major renovations of residential buildings with more than 5 (for new buildings) or 10 parking spaces (for renovations) to prepare the necessary wiring infrastructure for charging facilities. In the case of residential buildings, this means in concrete terms that in the future each parking space must be equipped, for example, with empty conduits or cable trays for laying power and data cables for a later, simpler and more cost-effective installation of a charging point. The law has already been in force since March 2021.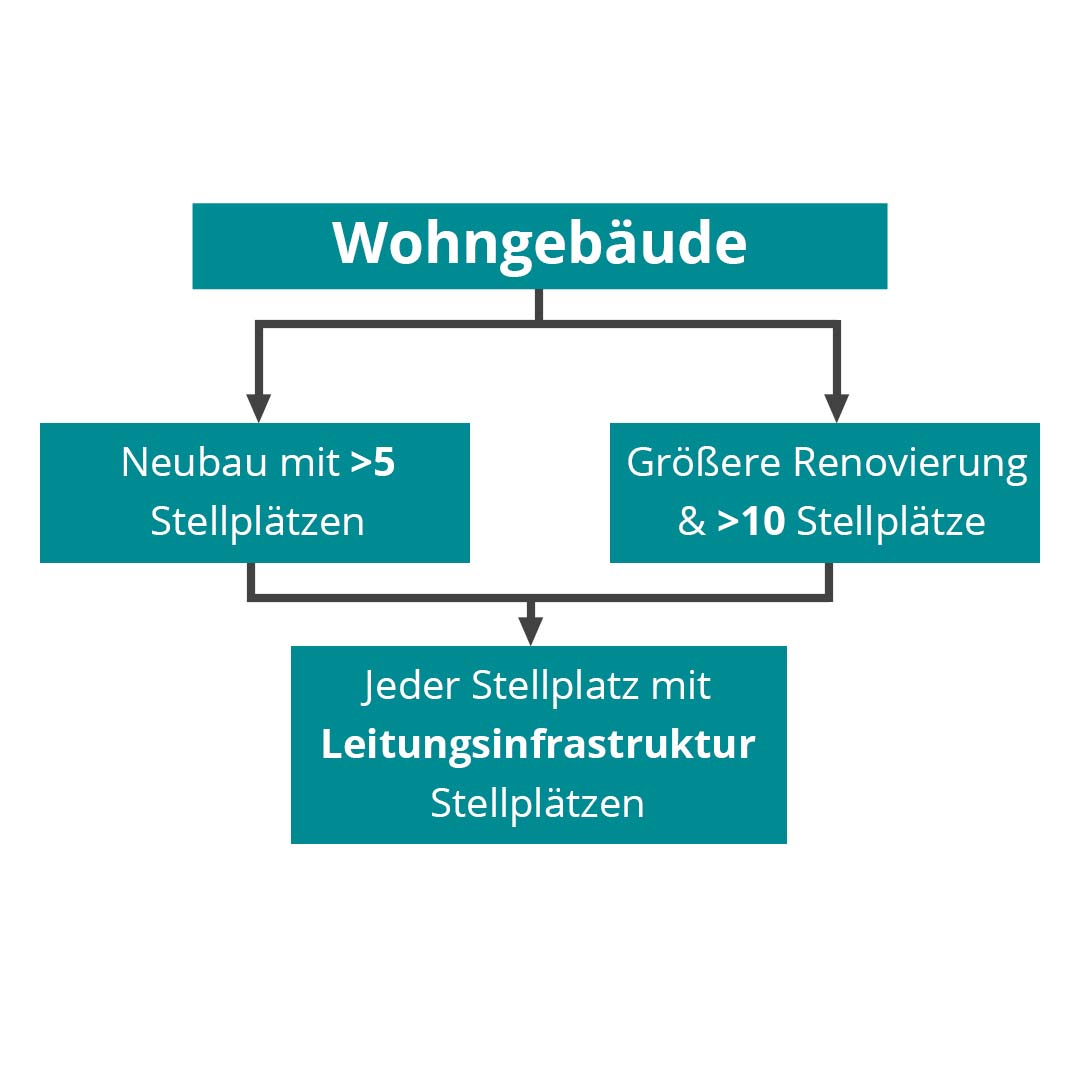 The terms are defined in this way:

- A "major renovation" is when the work involves more than 25 per cent of the surface area of the building envelope.

- The above-mentioned "line infrastructure" includes all line runs that are suitable to accommodate power and data cables from the required meter location to the pitch. This may include, for example, empty conduits, cable conduits or cable trays.

However, exceptions also apply: If the costs for charging and wiring infrastructures exceed 7 per cent of the planned renovation, the GEIG requirements do not apply.
3. how flat owners and tenants should best proceed
If you decide to install a charging station in an apartment building, it is best to follow a certain procedure for your project.
3.1 Find fellow campaigners
First of all, it is advisable to look for fellow campaigners who are pursuing the same goals as you and then to enter into an exchange with each other about this. It is important to define in advance exactly which charging solution is best suited to the needs of the entire community. This also prevents the subsequent displeasure of individuals who may have been left out of the decision-making process. After all, different individual solutions are not technically feasible in a multi-family house!
3.2.1 Installation via flat meter
An installation of up to three single-phase circuits with max. 16A fuse protection is possible per meter in the so-called system-side connection space. One of these circuits can also be used for charging equipment. However, a maximum of 3.7 kW wallboxes can be connected here, and individual coordination with a specialist electrical company is necessary in each case. Alternatively, an additional circuit distributor can be installed after the flat meter. Such a separate small distribution board per meter can also be used to protect Wallboxes over 3.7 kW. The prerequisite for this procedure is that sufficient space is available for the installation of additional distribution boards and that an individual inspection and consultation with a specialist electrical company has taken place.
However, there are some disadvantages when installing via the residential meter.
One main problem is that your house connection is usually not designed for the additional consumption by electric vehicles. This means that the affected connection may have to be upgraded and additionally protected with a load management system to guarantee compliance with the limited available power even with electric vehicles charged via residential meters. You also run into problems if there is not enough space for several sub-distributors and thus the solution is not sufficient for all interested parties in the house. In principle, the installation of charging technology via the residential meter is not intended and therefore may also require some adjustments to the meter location, for example with regard to overvoltage protection and circuit breakers. Finally, when charging via the residential meter, no delimitation of the charging current is possible, which is particularly disadvantageous for company car drivers who want to charge at home via the employer.
3.2.2 Connecting wallboxes via separate meters
With this approach, an additional meter space, independent of the residential meter, is provided for each planned charging point. First and foremost, there must be enough space available for this and you must be able to estimate the number of expected e-mobilists well. This solution can be useful for smaller residential communities with up to 10 parties and especially in outdoor areas. The separate metering points can be supplied via an existing house connection, which is upgraded, or a new grid connection. The latter is particularly suitable for the development of outdoor parking spaces, as then no cables have to be led from the existing property to the outside.
A clear advantage of a separate meter for the supply of charging infrastructure is that you, as a user, can secure a favourable car power tariff with reduced grid fees, for example from SachsenEnergie.
3.2.3 Installation via a summator for electromobility
Finally, there is the option of supplying all charging points with electricity via a common summation meter for electromobility. This has the advantage that significantly less space is required and that the number of wallboxes to be connected is unlimited.
This solution is therefore particularly recommended for larger communities with many underground parking spaces. A system operator is required to operate the shared system, including power supply, load management and billing of the charging current at the wallboxes.
SachsenEnergie, for example, offers a complete solution based on this model in your supply area.
Professional charging infrastructure
for your underground car park
value-adding, future-proof & cost-neutral
3.2.4 SUITABLE CHARGING STATION FOR MULTI-FAMILY HOUSE
One question must definitely be discussed in the community in the apartment building and then determined: Which charging technology should be installed?
Currently, the problem is that most wallboxes from different manufacturers are not compatible due to different manufacturers' own load management systems. However, in order to keep the costs of upgrading power for charging electric vehicles in apartment buildings as low as possible, the use of a load management system is essential for two or three potential e-mobilists or more. In many places, the responsible grid operator therefore even prescribes the use of load management.
For this reason, it is clear that a communicative charging technology that can be integrated into a common load management system must be specified for future-proof equipping of a property right from the first interested party.
Attention: Wallboxes from different manufacturers are often not compatible with regard to their load management systems. We therefore recommend charging technology:


with 11 kW per charging point,
that is load-managing and communicative, and
of a defined type and manufacturer

A later integration of already installed charging points of other types is usually no longer possible.
3.2.5 How much charging power is necessary?
In exchange with your household, you should try to clarify how many e-mobilists can be expected in the next few years in order to be able to request a sufficient upgrade of the grid connection (alternatively a separate connection for electromobility) from the grid operator.
To avoid high additional costs, you should apply for an average of 2 kW per expected e-space, assuming the use of a load management system. Your charging behaviour with an e-vehicle will be very different from your previous "refuelling" behaviour: Instead of emptying the tank and only then visiting a filling station, you will come home, connect your vehicle to the charging facility every day and it will directly recharge the kilowatt hours consumed during the day.
The best way to explain it is with an example. On average, 15,000 km are travelled by car in Germany per year. This corresponds to a mileage of approx. 40 km per day. The average consumption of an e-vehicle can currently be assumed to be 20 kWh/100km.
In an example property with 10 parking spaces and with 10 e-mobilists who travel different distances per day: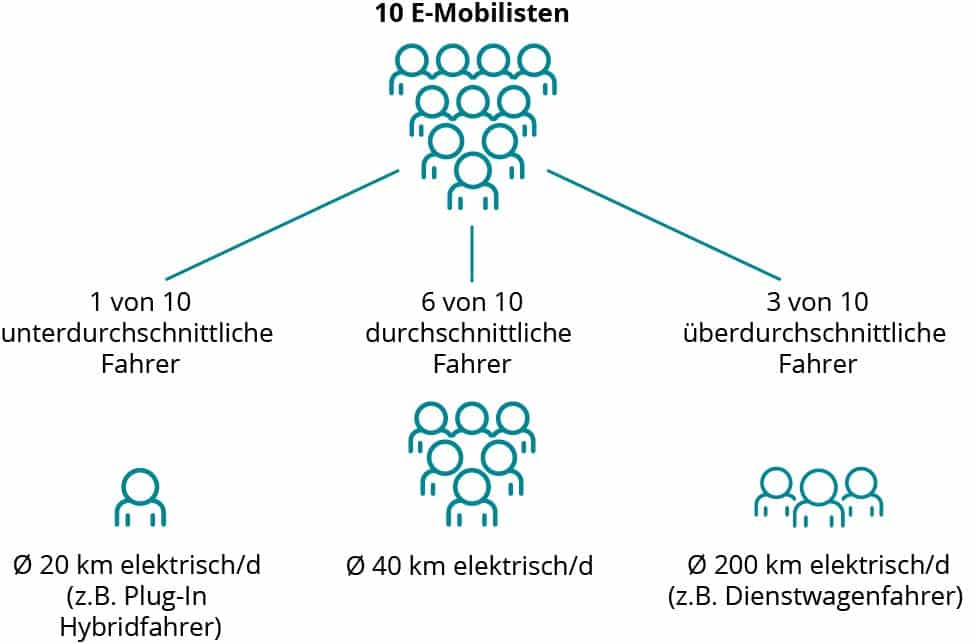 If the available power of 20 kW (=2kW per E-parking space) were to be distributed over the charging E-vehicles over the course of the night in an idealised manner, this would be as follows:
When the e-drivers "come home", the power is still divided equally by everyone in the first step and 2 kW is available for charging the vehicles. In the course of the night, however, most vehicles are increasingly fully charged and more power is available for charging the frequent drivers. At the end of the night, the batteries of all vehicles are usually recharged.
An offer for East Saxony.
3.3 Submitting an application
Were you able to find a common


Concept
the charging technology
and the required charging power


define in consultation with your fellow members, it is now time to prepare a motion for the owner / WEG assembly.
Be sure to submit your motion for the next owners' meeting so that it can be submitted in time and put on the agenda. Since the meeting usually only takes place once a year, start the project promptly.
Please bear in mind that any cost quotations from electrical companies or your grid operator will take time and therefore require some lead time if you already want to present figures and quotations for decision-making.
3.4 Take a decision
According to the Home Ownership Act, the owners' meeting is not authorised to reject your application. It may only have a say in the implementation of the measure. It remains to be seen how the new law will be implemented in practice. Unfortunately, there are no empirical values at present.
3.5 Install
Please bear in mind that the grid operator must be informed at the latest before the installation of the charging technology. However, in most cases, the contact should have been made earlier, when applying for a suitable additional power for charging electric vehicles.
If not, you cannot avoid it now at the latest, because the installation of charging technology greater than 11 kW per house connection (i.e. at the latest from the second resident who wants to install an 11 kW wallbox) must even obtain a permit from the grid operator. This is normally done by the electrical contractor commissioned with the installation.
3.6 Loading
Once the installation is done, you can finally charge your e-vehicle in your home.
How the charging current is billed depends on the variant selected and agreed with the owners or property management.

Everything at a glance


Search for comrades in arms
Decide together on a charging solution
Make the request
Wait for the decision to ensure security
Installation of the desired charging solutions
Convenient charging from home
4. conclusion: charging in apartment buildings is made easier for tenants and owners
The legislator has set a clear direction with the two laws GEIG and WEMoG: With specifications on how and when infrastructure must be provided and a binding entitlement to a charging point, more parking spaces for electric cars can be created on/in residential buildings. Landlords and flat owners should address the issue and initiate construction measures. Energy providers such as SachsenEnergie also offer complete solutions for the development of residential properties with charging infrastructure, support you in coordinating with the grid operator and advise you on suitable wallboxes, load management and funding opportunities.