The range of e-cars is still one of the most discussed aspects of electromobility. Many researchers are already working on the technical breakthrough of batteries. Inductive charging is another, often underestimated possibility to increase the effective range of e-cars. From stationary use comparable to inductive charging in smartphones to the vision of unlimited range thanks to the "electric highway", the applications are diverse. In any case, charging is simple and wireless. But how does inductive charging actually work? What are the possible applications, what are the disadvantages and how long do you have to wait until you can have your own induction charger in your garage?
How does inductive charging work?
With inductive charging, it is theoretically possible to charge the e-car directly while driving. You probably already know the principle from inductive charging of your smartphone. This approach is now being taken a step further: instead of a stationary charging field, the whole street could be equipped with it!
Inductive charging itself works through the interplay of electricity flows and magnetic fields. When electricity flows, a magnetic field is created. Conversely, a magnetic field can trigger a current flow in a conductor. If magnetic fields are available in sufficient strength and number, they can be used to charge electric cars. High-frequency alternating currents generate a pulsating magnetic field in coils. In the vehicle, a "receiver coil" picks up the magnetic field and generates electricity. Inductive charging systems currently have efficiencies of around 90 percent. The implemented or envisaged charging capacities are at the level of wallboxes, between 3.5 and 22 kW. The vision and the dream of electromobility with unlimited range are possibly on the road.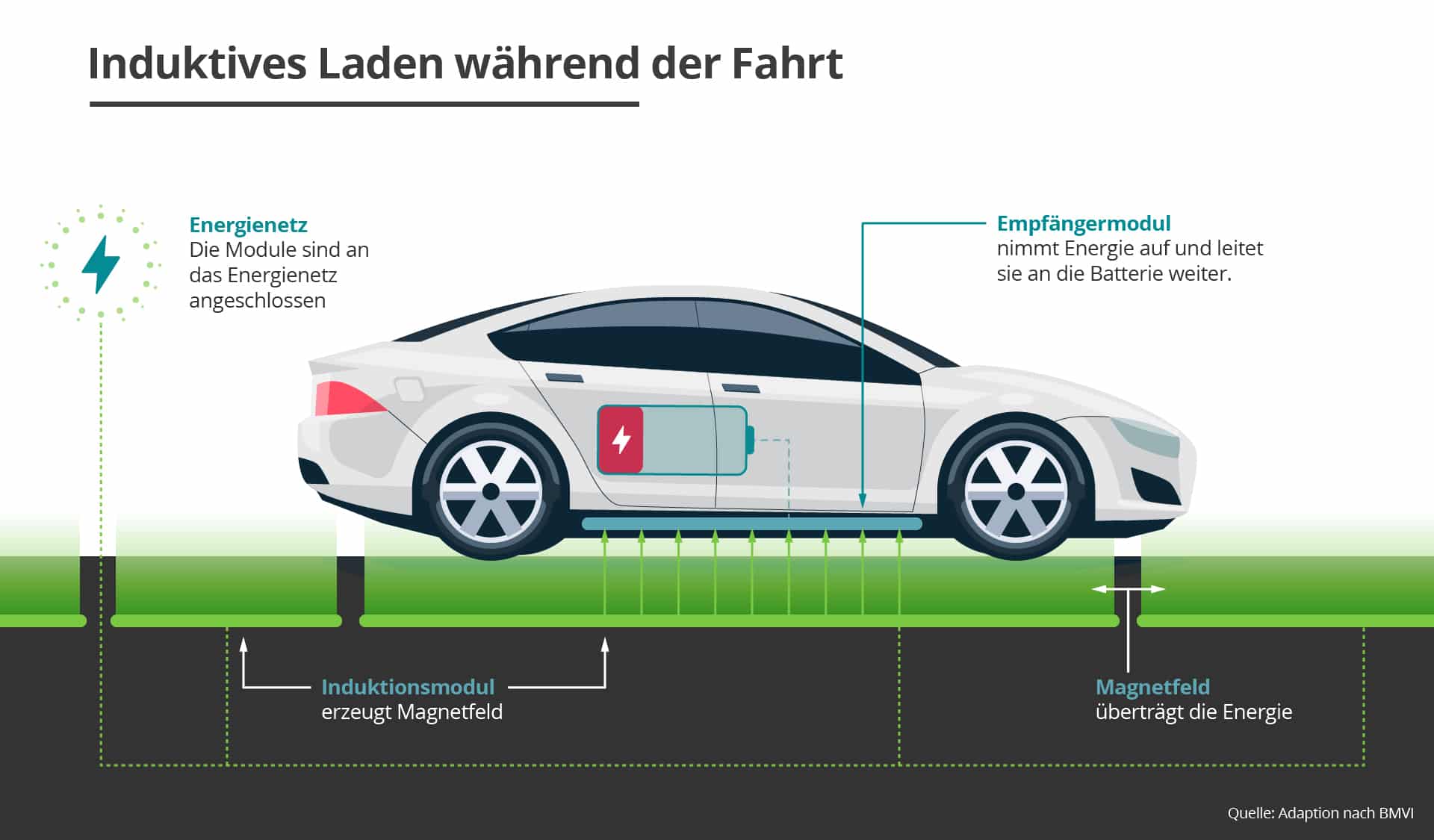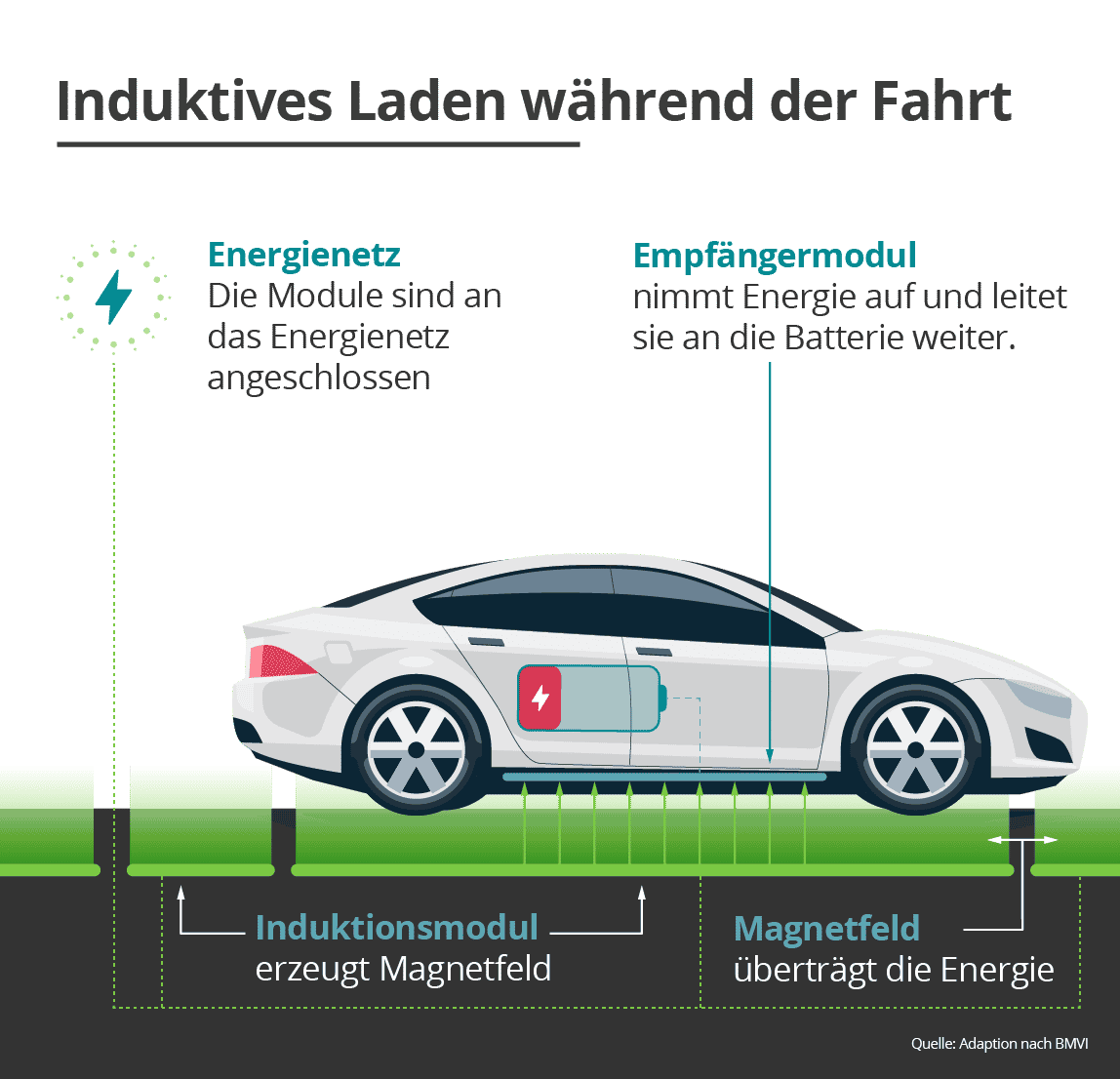 Inductive charging advantages
Charging at a charging station is uncomplicated, but it is even easier not to have to schedule the stop at the charging station into the daily routine. In theory, inductive charging takes a lot of effort away from the user. While only a few people would go to the trouble of driving to a charging station for a short five-minute trip to the supermarket, the e-car charges automatically with inductive charging as soon as it is over a charging station. Since electricity only flows when there is a corresponding receiver above it, theoretically all parking spaces can be equipped in this way. The times of limited charging options would be over. Billing and identification could also be automated here and take a step away from the driver. Other places where cars are parked, such as at traffic lights, could also be equipped with an inductive charging option. Even if the vision of unlimited range is probably not feasible in the short term, inductive charging can be a way to significantly increase the realistic range of e-cars in everyday life. Despite the many advantages that inductive charging brings, there are still some hurdles that make implementation difficult.  
Inductive charging Disadvantages
As simple as the solution sounds, the devil is once again in the detail. The efficiency of inductive charging depends strongly on the distance between the coils. The following applies: the further apart they are, the less current the receiver coil can "generate". The "transmitter" and "receiver" must therefore be positioned as precisely as possible on top of each other and be particularly close. In currently developed charging systems, the transmitters are around 50 square centimetres in size. This is why assistance systems support drivers when parking. Efficiency is also a general problem with inductive charging, as the BFE study on energy efficiency and EMF emissions found out. Although power losses also exist with cable charging, they are smaller than with inductive charging. In any case, there is a need for optimisation here.
Another detail to be considered is the heat generated during the charging process. At a charging power of 22 kW and with today's battery sizes, active cooling of the vehicle coil is not yet necessary. However, this could change quickly if the vehicle coils become smaller and lighter in the future or the charging power is increased above 22 kilowatts, according to the German Aerospace Center (DLR). The first vehicle models should come onto the market in 2019. BMW was quick to offer a vehicle with an inductive charging package in the form of the 530e. Other manufacturers are also constantly experimenting with new approaches and models.
Where can inductive charging be used?
The question of where such magnetic fields are generated is easily answered: car parks and streets or public (traffic) space in general provide the space for such systems laid in the ground. The vehicle charges when it stands over the inductive charging device. This even works when there is snow or dirt and also a thin layer of asphalt over the generator of the magnetic field.
Possible applications can also be found wherever cars are waiting in queues, for example at the taxi rank at airports.
How is inductive charging billed?
The amount of energy charged is billed in the same way with induction as with conventional charging stations. The vehicle or driver identifies themselves either via RFID or via the mobile internet. As with wired charging, a uniform payment standard to be created facilitates the processes. In addition to charging for consumption according to kWh, time-based tariffs, flat rates and free charging offers are also possible as incentives.
Inductive charging: The "Electricity Road" vision
Back to the vision of electromobility without range restrictions: If it were possible to equip entire lanes with magnetic coils, electric vehicles could continuously recharge while driving or even draw traction current directly from induction. In 2017, for example, the Israeli start-up "electroad" put a test track for buses into operation in Tel Aviv to investigate the technology further. A road with inductive charging is also being tested in Gotland in Sweden. Over 1.6 km from the airport to the city of Visby, a bus and a truck will be tested here. In total, Sweden plans to convert 2,000 km of road. The vehicles draw traction current from coils in the road surface and have a small battery to cover the distances without induction facilities. Semiconductor manufacturer Qualcomm also unveiled a technology for a power road in 2017. However, Qualcomm engineers believe that it will probably take until the late 2020s or early 2030s before such an infrastructure could be set up. The reconstruction of the roads is likely to cost billions of euros. It is also still unclear which payment model can then be used. The focus of development is currently on the stationary charging infrastructure.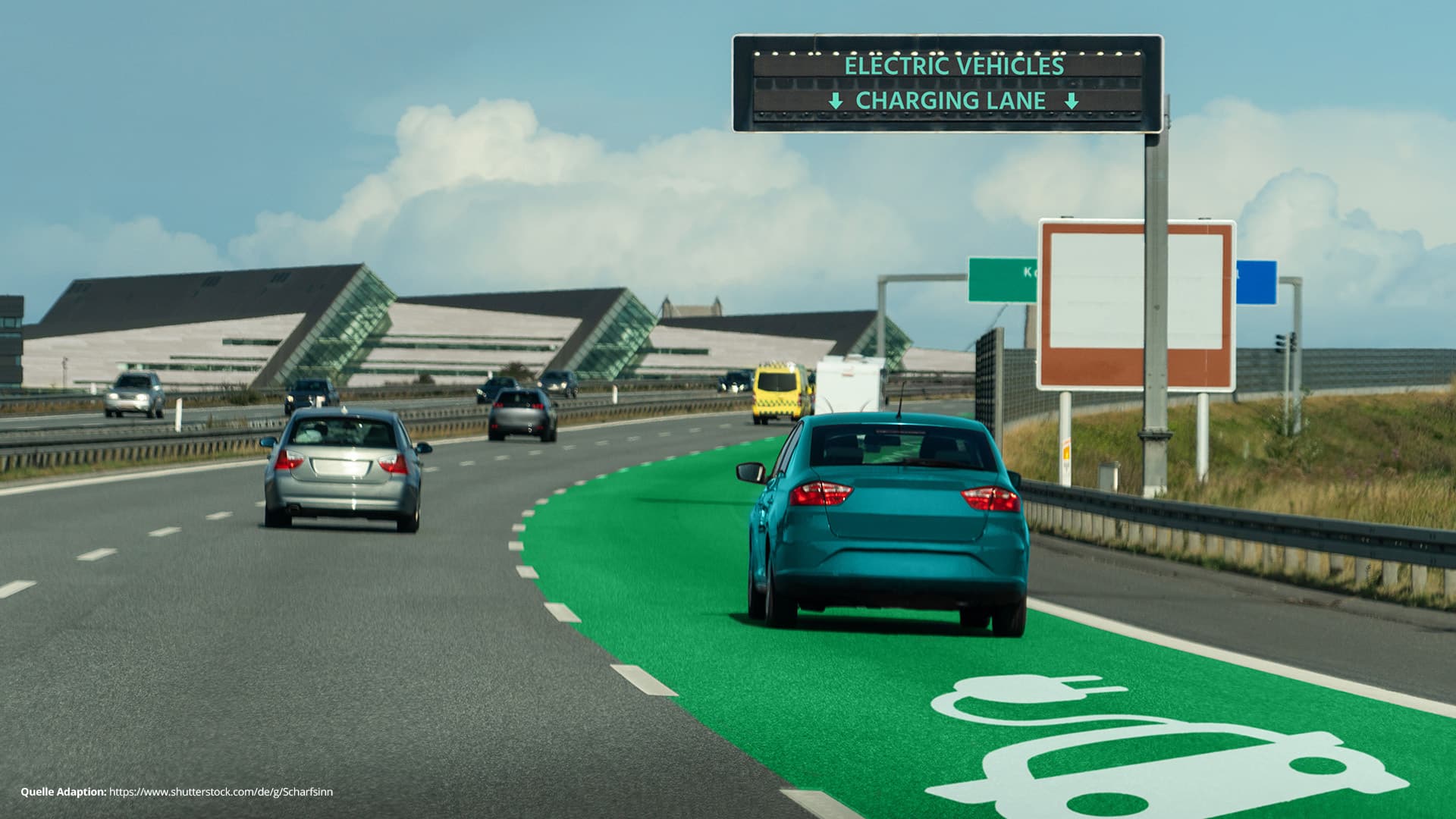 Inductive charging pilot project - first inductive charging system in public street space
On behalf of Rheinenergie, Germany's first inductive charging system in public street space was put into operation at the beginning of 2022. The aim is to give taxi drivers the opportunity to charge their electric taxis while waiting. The research project is called "Taxi-charging concept for electric taxis in public spaces", or Talako for short. Vehicles from the manufacturer LEVC are being used for the project. These can be charged inductively with a charging power of 22 kW, which is roughly comparable to the charging power of a conventional wallbox. Even if the induction charger for one's own e-car is not yet foreseeable, such pilot projects certainly give hope.  
A real alternative: Inductive charging
The principle of inductive charging is now widely known due to its use as a charging option for smartphones. However, the implementation of the technology for e-cars is not so easy due to the size of these projects. The potential is huge. This is shown by several pilot projects and the ongoing research in this area. There are still some disadvantages, such as the poorer efficiency compared to charging by cable, or a cooling system that may be necessary in the future to counteract heat generation. Nevertheless, the vision of unlimited range is quite realistic. In any case, we look forward to further developments!
If you have any questions on this topic, please feel free to contact us at frag@umschalten.de!
If you are interested in another innovative charging option, take a look at bidirectional charging!