The ability to charge one's own e-car is becoming increasingly important for future-proof real estate. In new construction, but also in existing buildings, the topic of "e-car charging" is becoming increasingly present among decision-makers due to increased inquiries from buyers, tenants and apartment owners. We would like to support you in deciding how to make your property more attractive and thus future-proof with a charging infrastructure and how to increase its value. Here, it is important to become active at an early stage, as a lot needs to be planned in when developing underground parking or outdoor parking spaces.
If you are a tenant in an apartment building, we have the right article for you here!
So that you can get an idea about it,
- what is necessary for charging in multi-family housing,
- how the installation of charging infrastructure works and
- which services you also need after the installation,
we will take you on a guided tour of a property where a charging infrastructure system has already been installed and parking space users can charge their e-cars directly in the underground parking garage.
1. the object - Hafencity Dresden
The new Hafencity development in Dresden scores not only with its location directly on the Elbe, but also with new technologies.
Hafencity Dresden is a major project of USD Immobilien GmbH. Between 2018 and 2025, a total of approximately 350 apartments, an office building with 27 commercial units, a 4-star hotel with 183 rooms and a unique waterfront promenade with restaurants and a marina will be built. In line with this, underground garages with a total of approx. 500 parking spaces have already been completed.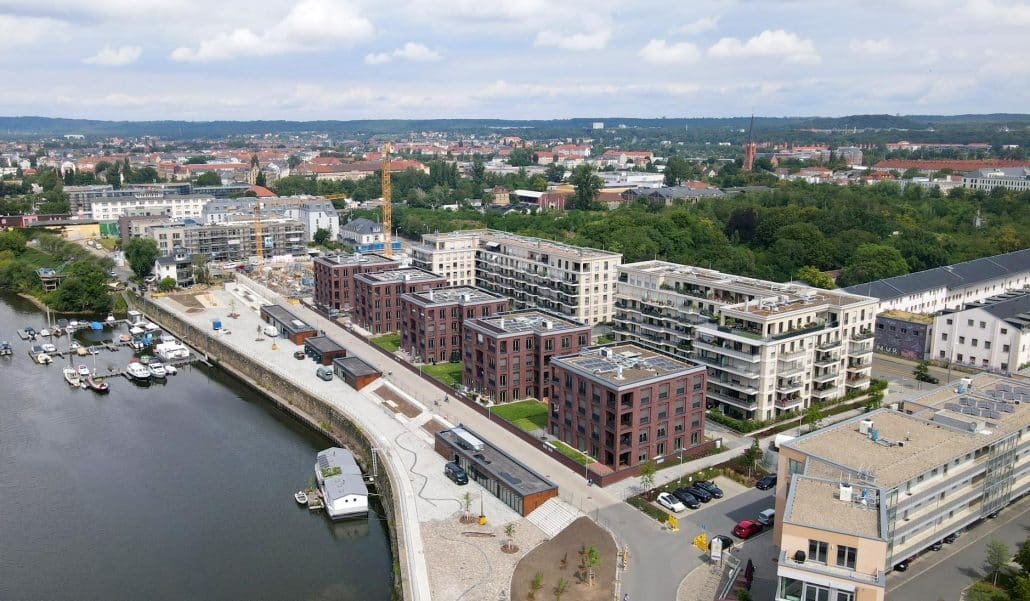 USD had already considered charging infrastructure in the course of planning and constructing the property. The developer had the local energy supplier SachsenEnergie AG install a charging infrastructure system at two-thirds of its underground parking spaces, where the installation of wallboxes for tenants and apartment owners is flexible and possible at any time as needed.
2. charging infrastructure for future-proof real estate: grid connection and metering as a basic prerequisite.
The topic of charging infrastructure came up early on in the Hafencity planning phase. The power required to supply future charging stations with electricity had to be defined and applied for.
To this end, the client contacted the responsible network operator SachsenNetze. For such a construction project, it is possible to calculate the entire power requirement, including electromobility, in advance. Residential units, elevators, commercial and other technical equipment are already taken into account anyway. For a construction phase with 84 parking spaces, for example, an additional 240 kW was agreed for charging infrastructure in consultation with the network operator. But how is it ensured that this calculated value is sufficient in the end?
In order to be able to record and bill the electricity for subsequent e-vehicles, the developer decided to cooperate with the local utility, SachsenEnergie AG.
A separate measurement, in this case in the form of a transformer measurement cabinet, was applied for and installed in the course of the electrical installation in the property. The grid connection and the separate measurement thus laid the foundation for the supply of green electricity and kWh-accurate billing of future charging points by SachsenEnergie as the operator.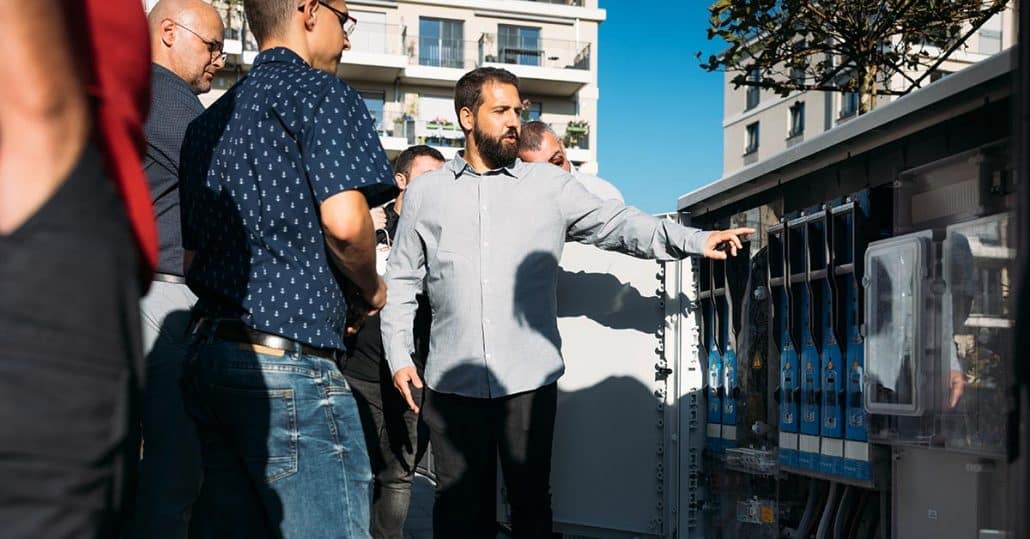 3. load management for all cases
To avoid high additional costs, SachsenEnergie always recommends the use of a load management system and to apply for an average of 2 kW per expected e-pitch. USD has also oriented itself to this order of magnitude and has agreed on 240 kW for its total of 84 parking spaces in the grid connection contract.
The charging behavior of an e-car is very different from the previous "refueling behavior": instead of emptying the tank and only then visiting a gas station, residents usually come home, connect their vehicle to the charging facility every day and recharge it directly overnight.
The best way to explain it is directly with an example. On average, people in Germany travel 15,000 km per year by car. This corresponds to a driving performance of approx. 40 km per day. The average consumption of an e-car can currently be assumed to be 20 kWh/100km.
In the example, we assume 10 parking spaces and a total power of 20 kW. If all of them later become e-mobilists, they will cover different distances per day. The distribution could look as follows: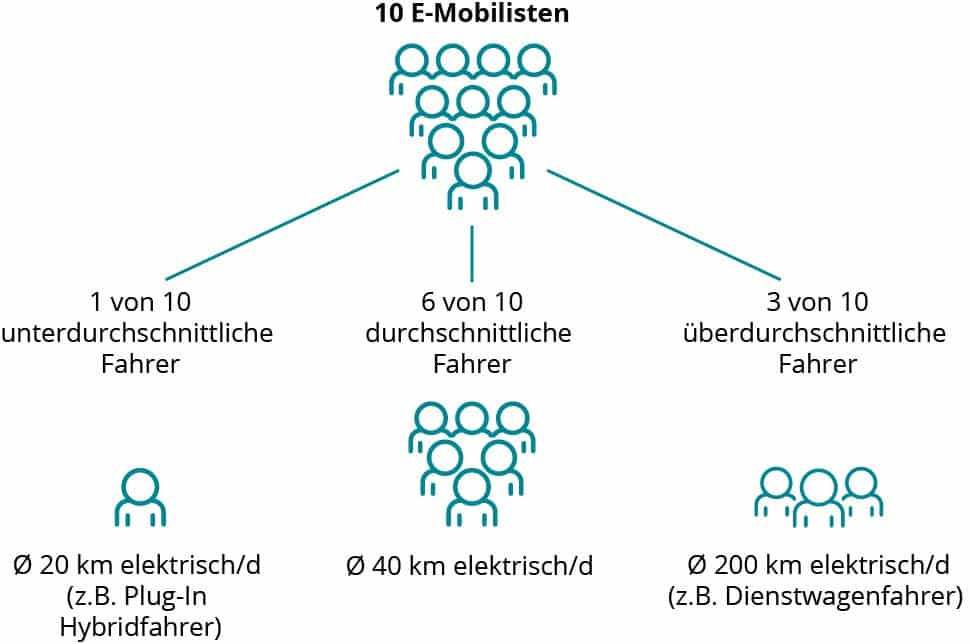 Accordingly, the available power of 20 kW (=2 kW per e-parking space) would be divided among the charging e-cars over the night in an idealized way as follows:
In the first step, the power is still distributed to all e-cars when the residents "come home" and 2 kW are available for charging each vehicle. In the course of the night, most vehicles are fully charged after a short time and more power is available for charging the remaining vehicles. At the end of the night, the batteries of all vehicles are usually recharged.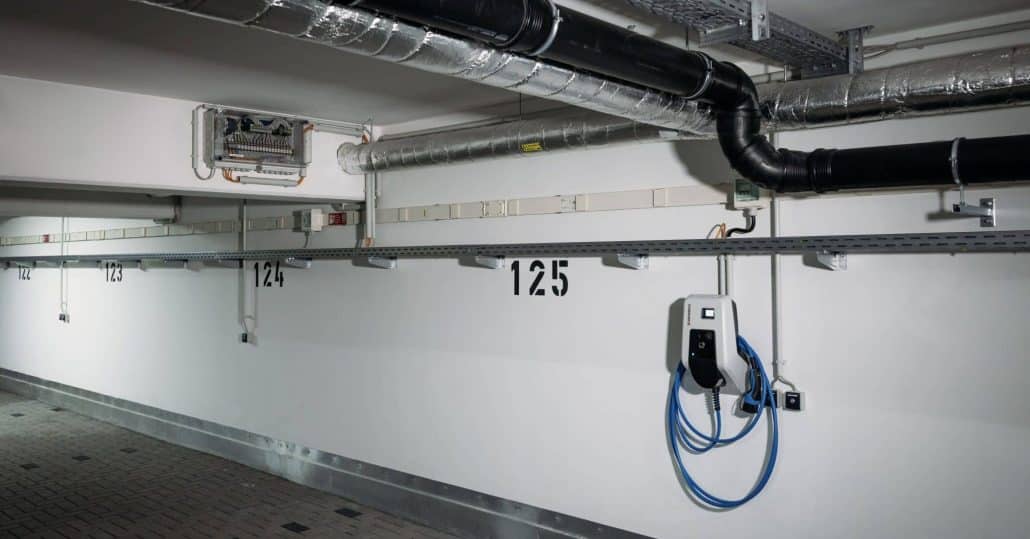 In the case of Hafencity, this management is ensured with the help of network distributors. All charging points are connected to each other and to the network distributors via LAN cable. The corresponding control commands for power distribution are passed on to the charging points via this system.
4. intelligent busbar system for the preparation of the pitches.
In order to prepare the Hafencity underground car park in the best possible way and to avoid having to carry out any relevant construction work later on, such as wall penetrations, fireproofing, etc., the developer opted for a complete development by SachsenEnergie. Placing all responsibility in one hand and using external expertise saves a lot of work in the course of projects and minimizes the risk of errors.
The conductor rail system works as follows: Starting from the separate measurement, a feeder is laid in the underground garage and a system of busbars is installed. This makes it possible to install outlets at any time and anywhere along the busbars (more precisely every 0.5 m). From an outlet box, a wallbox can then be easily and flexibly installed at any parking space in the underground car park. In this way, the property remains future-proof and it is comparatively easy to accommodate wishes that arise at a later date.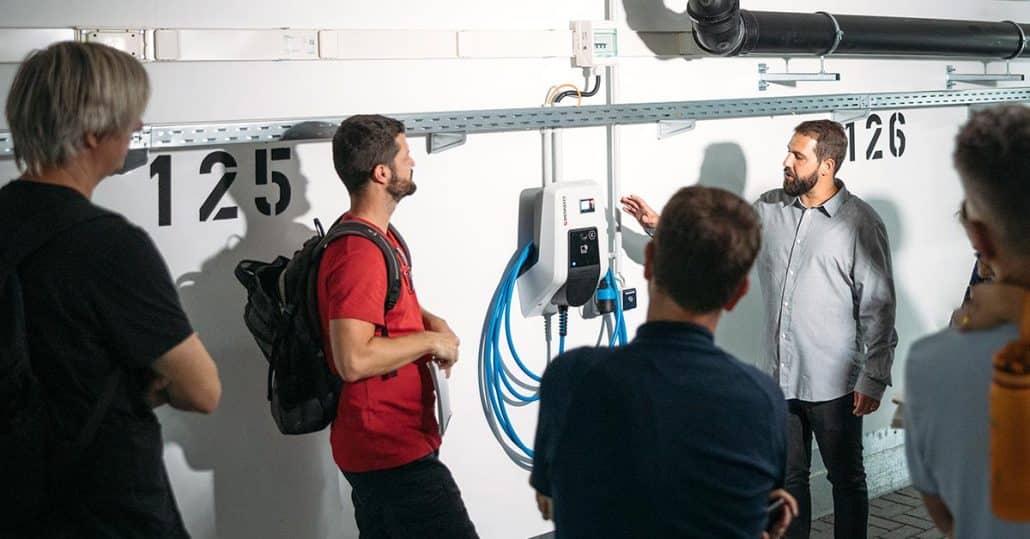 Other tenants or underground garage users are virtually unaffected by the subsequent installation of a wallbox - if necessary, the neighboring parking space must be temporarily vacated, but no more effort is required. Major safety-relevant and cost-intensive precautions such as the opening and closing of firewalls can be avoided during "ongoing operation".
For tenants and apartment owners, the pre-installation is also fair to the maximum. Everyone pays the same amount for the installation of an individual wallbox. Regardless of where the parking space is located in the underground garage.
5. wallboxes simply when needed
By pre-fitting the property together with SachsenEnergie, USD has prepared everything to provide tenants and owners with easy access to a wallbox. The installation itself is then handled directly between the parking space user and SachsenEnergie. 
If desired, the consent of the responsible property management can be requested. In principle, however, the process can also take place without any further action on the part of the building owner, manager or landlord. This is ensured by a cooperation agreement that allows the operator to install wallboxes in the property.
Of course, the operator SachsenEnergie also ensures the full functionality of the technology and safety of the underground car park. All wallboxes and the pre-installation in the property are checked and serviced annually - free of charge for landlords and users.
6. easy charging via charging card
If a wallbox is installed, charging is possible with any charging card.
SachsenEnergie offers its own charging card with a special tariff for "charging at home" for only 35 ct/kWh (as of 10/2023). For an overview of all providers, you can consult our charging card comparison.
Hafencity tenant Mr. Thomas Böttger, for example, conveniently charges his company car with his SachsenEnergie charging card and can bill his company for the charging current he needs.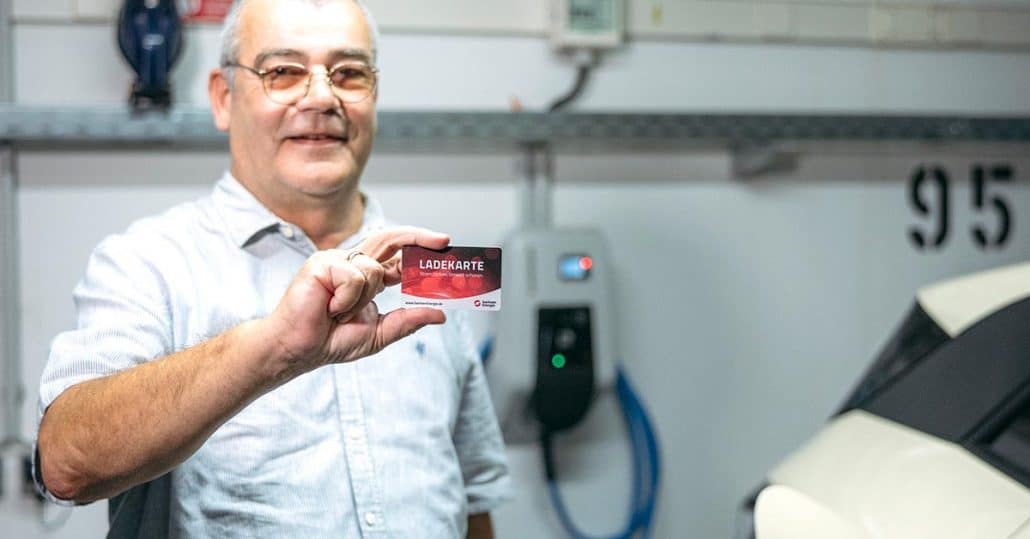 8. charging infrastructure for future-proof real estate: the topic for builders with foresight
To keep a property attractive and future-proof in the long term, it is advisable to keep an eye on current trends and social developments. Currently, there is nothing more relevant in this area than the topic of charging infrastructure. With new solutions, such as those offered by SachsenEnergie AG, and developers with foresight, a property can be intelligently equipped for charging e-vehicles. It is an important task for managers and landlords to continue this development in the housing stock as well. Not only to fulfill the wishes of the first tenants and apartment owners, but also simply to safeguard the future viability of their own properties.
We at umschalten.de are happy to support you on this path.