Lost track? Many providers offer rates at the charging station. We explain in the charging card comparison which app or charging card is the best for them!
The charging card comparison: These providers are available! (as of August 2022)
| Provider | AC charging station | DC charging station | Ionity | Basic fee | Blocking fee | Note |
| --- | --- | --- | --- | --- | --- | --- |
| | 0,42 Euro / kWh (0,38 Euro / kWh at EnBW) | 0,52 Euro / kWh (0,48 Euro / kWh at EnBW) | | | From 4 hours standing time 0,10 Euro/min. (max. 12 Euro) | |
| | | | | | From 90 (DC) or 180 (AC) minutes standing time 0.05 (DC) or 0.15 (AC) Euro/min. | |
| | | | | | From 90 (DC) or 180 (AC) minutes standing time 0.05 (DC) or 0.15 (AC) Euro/min. | |
| | | | | | From 90 (DC) or 180 (AC) minutes standing time 0.05 (DC) or 0.15 (AC) Euro/min. | For Ionity frequent users |
| | | | | 5 Euro to 100 Euro per month | | Tariffs S, M and L with flat rate up to 180 kWh per month. |
| | | | | | From 4 hours standing time 0,10 Euro/min. (max. 12 Euro) | |
| | 0,39 Euro / kWh (0,36 Euro / kWh at EnBW) | 0,49 Euro / kWh (0,46 Euro / kWh at EnBW) | | | From 4 hours standing time 0,10 Euro/min. (max. 12 Euro) | Worthwhile already from 70 kWh per month |
| | 0,42 Euro / kWh (0,38 Euro / kWh at EnBW) | 0,52 Euro / kWh (0,48 Euro / kWh at EnBW) | | | From 4 hours standing time 0,10 Euro/min. (max. 12 Euro) | Only for private EnBW customers |
| | 0.44 Euro / kWh (0.39 Euro / kWh at E.ON) | 0,60 Euro / kWh (0,49 Euro / kWh at E.ON) | | | | |
| | Euro 0.49 / kWh (Euro 0.42 / kWh with EWE Go) | Euro 0.52 / kWh (Euro 0.59 / kWh with EWE Go) | | | | |
| | | | | | | Own charging network, focus on the Netherlands, Belgium and Germany |
| | | | | | | Own charging network, focus on the Netherlands, Belgium and Germany |
| | 0,45-0,55 Euro / kWh (0,39 Euro / kWh with CONNECT Community) | 0,60-0,80 Euro / kWh (0,48 Euro / kWh at EnBW) | | | | Prices Variable, App necessary. |
| | | | | | From 4 (AC) resp. 1 (DC) hrs. standing time 0,10 Euro/min. | |
| Maingau energy customer tariff | | | | | From 4 (AC) resp. 1 (DC) hrs. standing time 0,10 Euro/min. | |
| | | | | | | |
| | 0,59 Euro / kWh (0,37 Euro / kWh at SachsenEnergie) | 0,59 Euro / kWh (0,37 Euro / kWh at SachsenEnergie) | | 6.90 Euro per charging card/chip per month | | |
| Shell Recharge / NewMotion | 0,46 Euro / kWh (Variable prices at Shell Recharge) | 0,64 Euro / kWh (0,59 Euro / kWh with Shell Recharge) | | | | Transaction fee of 0.35 euros per charging process, maximum 7 euros per month. |
Overview: Charge cards are actually quite simple!
The horror of all e-car buyers? Expensive "refueling" at the charging station because they don't have a suitable charging card at hand! More and more providers are flooding onto the market, from ADAC to energy groups, from regional electricity providers to car manufacturers - all of them want to profit from the growth market of e-mobility. While it is still possible to charge an e-car free of charge at many supermarkets or furniture stores, the vast majority of charging stations in city centers and on highways can be activated using a charging card or app. In our charging card comparison, we took a look at how this works, which systems are good, and how you can make your daily charging routine more convenient.
How does a charge card work?
Even though there are many charging cards on the market, in the end they all work the same. Using RFID, information is exchanged between the charging card and the charging station that authenticates users. The charging station now checks whether there is a valid agreement between the charging station operator and the charging card provider. According to studies on charging behavior, 83 percent of e-car drivers use charging cards. The cards are particularly popular with business customers: when colleagues are on the road with the company-owned e-cars, charging processes can be monitored and booked centrally, without the need for a company credit card and similar to the familiar fuel card for fossil fuels. A comparison of charging cards therefore sounds obvious.
Increasingly, e-car drivers are also using their smartphones for charging.
A web application such as "m8mit" then serves as a substitute for a charging card. The charging point is selected directly on the cell phone, and the data exchange works without getting out of the car. The payment data stored in the app is debited, and the transaction receipt is shown directly on the smartphone display. In addition to direct debit, convenient payment service providers such as Paypal are now available to pay for the charging process. The big advantage is that you can save yourself the hassle of searching for the right charging card. The Ladesäulenverordnung (LSV), the regulatory framework for public charging stations, requires operators to offer an ad hoc solution at the charging station. In other words, no contract is required in advance. E-mobilists can usually start the charging process with a smartphone.
Roaming: The new standard
If you travel frequently throughout Germany or are planning a longer trip through Germany or Europe, you cannot avoid one of the so-called roaming providers. Most providers also offer roaming in the charging card comparison. The big advantage is that you can charge at most charging points in Germany with just one card or app. So if you're from Dresden but want to charge your car in Düsseldorf, you don't have to become a customer of Stadtwerke Düsseldorf first. Roaming providers offer their customers contracts for charging power at fixed conditions, regardless of the participating charging station. Often, only individual high-price operators such as Ionity are exempt from this.
Depending on the pricing model of the roaming provider, however, this can be a cost advantage or disadvantage. For example, ADAC members can charge at particularly favorable rates at normal charging points (AC) from as little as 0.38 euros / kWh, but with other providers the price can rise as high as 1.09 euros / kWh for fast charging points (DC). This saves you the trouble of comparing rates, and you don't have to search for the cheapest charging point.
Nevertheless, the flexibility of roaming providers is gaining ground. Regional energy service providers now also offer the option of charging outside their own region via mobility associations or other cooperative ventures.
Municipal utilities: The regional price-performance winners
Municipal utilities from AllgäuStrom to the Wuppertal municipal utilities, but also municipalities, are often important charging station operators in their regions. The number of their own charging points therefore ranges from less than 10 in smaller municipalities to several hundred charging points operated by the municipal utilities in metropolitan areas. Since most e-car drivers with a small electric car are primarily on the road in their own town or district, regional energy companies are also very attractive in the charging card comparison. Providers like SachsenEnergie can often be significantly cheaper in their regions than national or international competitors. So if you're largely traveling in your own region, it's worth exploring what the local grid operator has to offer. In addition, many regional energy providers now offer Germany-wide or even EU-wide roaming. So it is always worthwhile to explore the local offer for the charging card comparison. 
Automobile manufacturers: Roaming with certain advantages
What do Tesla, BMW, Hyundai and Volkswagen have in common? That's right, they offer their own charging cards. Some car manufacturers have their own payment systems and tariffs. At Porsche, for example, the card comes as standard for the first three years. However, the days when these systems let you charge for a long time free of charge are largely over. Only at Tesla do you still get some models with the benefit of free electricity, and even that only at Tesla Superchargers or certain charging stations. Pricing models vary: some require an activation fee, while some charge monthly or annually. The charging models are also diverse: from one-time costs per charging process to billing according to time or consumption, everything is possible. Prices for a kilowatt hour range from 29 to 79 cents. Therefore, the tariffs of the car manufacturers must be considered separately for the charging card comparison. Depending on the offer and your own driving profile, it is a good idea to look into the tariffs of the car manufacturer of your own e-car.
Charging cards comparison: Which charging cards are recommendable?
Interim conclusion: The choice of the right charging card and the corresponding system depend on a number of factors. For e-car drivers who are primarily on the road in the region, their own municipal utility is almost always worthwhile. For longer trips in Germany and Europe, you should pay particular attention to roaming prices. For those who travel a lot, an offer with a basic fee and possibly even a charging flat rate could also be interesting. An example of such a flat rate would be the volume flat rate of the tariffs of the provider elvah. Depending on your driving profile, you can of course also combine a charging card from a regional provider with a second one for supraregional or even international use. The number of possible combinations is huge, as you can see in the charge card comparison.
Our tip: The best charging cards 2022:
The all-rounder:
The ADAC charging card is rock solid. It impresses in the charging card comparison with competitive prices of only 0.42 euros / kWh at AC charging stations and 0.52 euros / kWh at DC charging stations. Are the charging stations of EnBW charges it even for only 0.38 euros / kWh and 0.48 euros / kWh. The fact that there is no basic charge means that it doesn't matter if the e-car stops for a while. Charging at the Ionity charging stations is also possible at standard market prices. The ADAC as a provider enjoys a certain reliability and acceptance due to its reputation. The ADAC charging card is simple and stress-free. Perfect for those who are looking for an all-rounder and do not want to optimize their consumption down to the last detail. 
The Discoverer:
If you want to discover Europe with your e-car, the Drive Highway rate from Elli is the perfect companion. Although the basic fee of 12.99 euros per month is quite high, the low price of only 0.35 euros / kWh at Ionity charging stations easily makes up for it. Ionity focuses on fast charging stations along highways in 24 European countries. Perfect if you are on the road a lot. The prices of 0.37 euros / kWh at AC charging stations and 0.47 euros / kWh at DC charging stations, which are competitive in a charging card comparison, are also impressive. Frequent drivers will certainly be happy with this charging card!
The regional hero:
Regional energy suppliers such as SachsenEnergie offer particularly favorable rates. Private and business customers can charge at almost 600 charging points in Dresden and eastern Saxony for as little as 0.37 euros / kWh with the SachsenEnergie charging card . Unlike many providers, fast charging at DC charging stations costs exactly the same. A real bargain tip. The Saxons also support smartphone billing (an app is in the works) and are part of an association of several German municipal utilities. You don't have to live in the region or be an existing customer to purchase a charging card from a regional network operator. A small savings tip for people who are often in transit.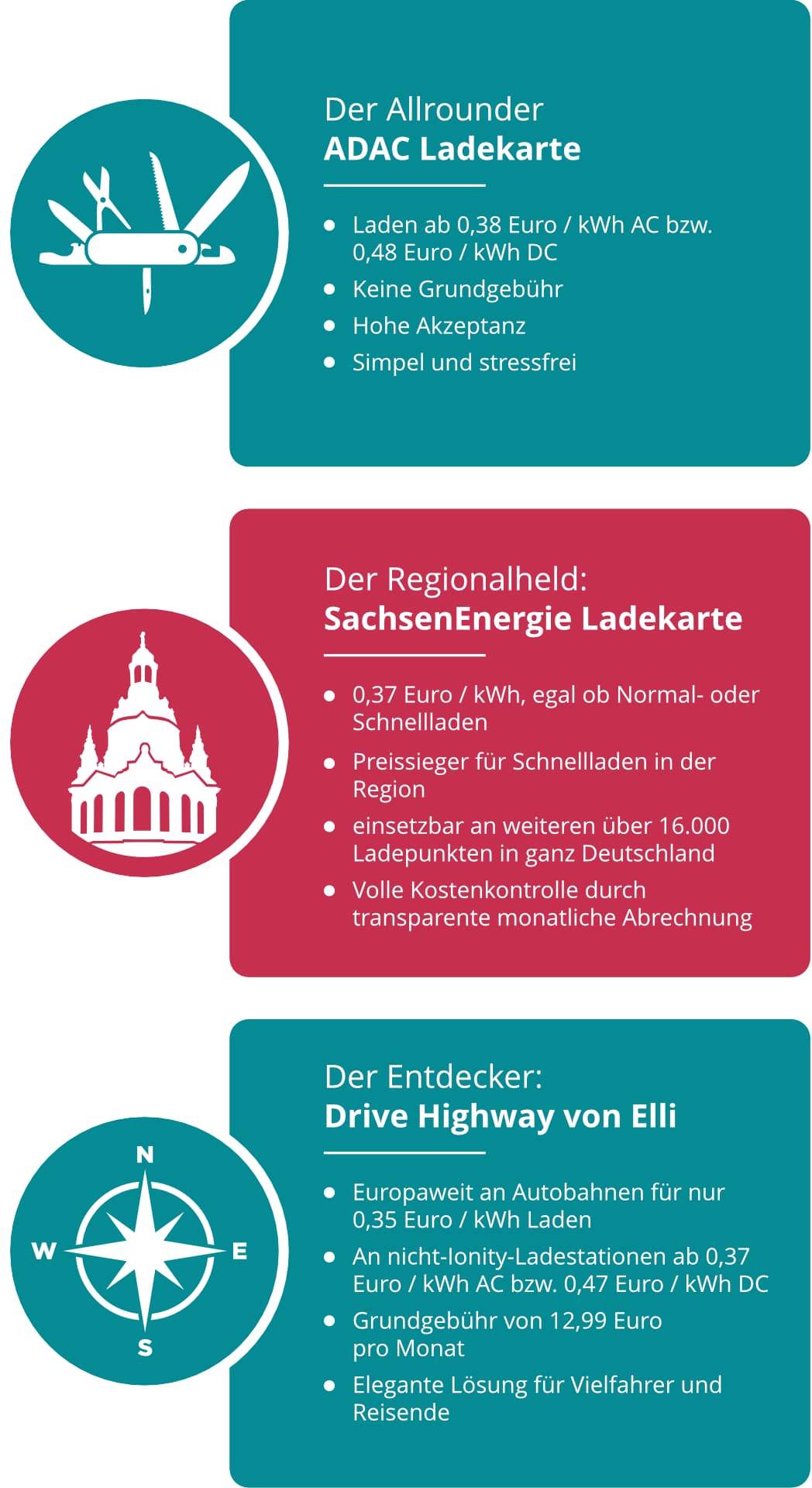 How do you pay at an electric charging station?
The payment itself is uncomplicated: Hold the charging card up to the charging station, wait for confirmation on the display and connect the e-car to the charging point using the charging cable. During the charging process, the amount of electricity charged is displayed, and at the end, the total amount charged. It's even easier on the smartphone: Select the charging point while still in the car, wait for confirmation and then connect the charging cable.
The actual billing takes place in the background. Depending on the provider, there are different tariffs and price models for e-car charging. Basically, thanks to compliance with calibration law, only billing according to consumption is permitted for public charging stations. You only pay for the electricity you fill up with - it's as simple as that.
In the meantime, tariffs with a monthly basic fee are also offered for "frequent chargers", in return for which the price for the charged kilowatt hour is reduced. For example, e-car drivers who charge more than 50 kilowatt hours per month in public can save money compared to a tariff without a basic fee.
The blocking fee - You should know!
When charging, you should note that many providers charge a so-called blocking fee. This means that you have to pay additionally after a certain amount of time your e-car is parked at the charging station. For most AC charging stations, this is after 4 hours, for DC charging stations after 30 minutes. But why does the blocking fee actually exist? It is intended to prevent charging stations from being blocked by e-car drivers, even though their e-car has long since been fully charged. After all, public charging stations are explicitly not parking spaces. So it makes sense for e-car drivers to consider in advance how long their car really needs to be charged and parked in public. But there are other amenities for e-car drivers. In Dresden, for example, you can park an e-car for 2 hours free of charge.
Reservation fees are still rare today, but will become increasingly important in the future. Increasingly intelligent vehicles will be able to calculate the ideal route to the destination and the best possible charging station on the route soon before the journey begins. To ensure that the charging station is not occupied, e-car drivers can reserve it in advance so that they can reach their destination with as little waiting time as possible.
Where can I charge my e-car for free?
Charging one's own e-car is a growth market, and it is not without reason that more and more municipal utilities, as well as companies from outside the industry, are getting involved. Whether fast-food chains, supermarkets or DIY stores, many businesses are enticing their customers with e-car parking spaces with free charging options. In Chemnitz, for example, Ikea, Kaufland, Lidl and the Neefepark. So it sometimes still works out to charge free of charge in public. In some cases, however, the duration of parking or the use of charging stations is limited in time. The comparison of charging cards remains immensely important. Charging one's own e-car exclusively free of charge will be unrealistic for most drivers. Another option could be to operate one's own photovoltaic system.
Which charging app is recommended?
In addition to charging cards, apps for paying at charging stations are also becoming increasingly important. The future belongs to mobile payment methods with smartphones and smartwatches via NFC (Near Field Communication). Many companies, including those from outside the industry, now offer so-called charging apps. The app helps navigate to the charging station and also enables the charging process to be activated directly on the smartphone. Depending on the payment method used, the kilowatt hours charged at normal and fast charging points are billed at a favorable 0.37 euros / kWh.
Other roaming providers such as IONITY, Ladenetz.de or New Motion also offer their own apps, as do car manufacturers. So if you have been using a charging card from one of these providers, check whether there is now also a practical app for it. In any case, pay attention to the functionality: Navigation to the charging point should be the minimum, as well as the availability and, if applicable, the price of the expected charging process. The icing on the cake is the possibility to store several payment methods or a route planning function.
Charging cards comparison - What are the alternatives?
In addition to smartphones, paying with your own checking or credit card is becoming increasingly attractive, as it is less complicated than squeezing one or two more cards into your wallet. According to a regulation issued by the German government, all new charging points set up after July 1, 2023, must also be equipped with a reader for common checking and credit cards. However, there is no obligation to upgrade existing charging stations.
The innovative and environmentally friendly GLS Bank has already been offering the Giro-e service for several years. Here you cantrigger a charging request at the charging station directly with your Giro card via NFC . Billing takes place via your own checking account. Afterwards, a web link is visible on the account statement where you can see the exact charging process. Models like these are a great addition and show where things need to go: Maximum flexibility and the greatest possible convenience are enormously important when paying at the charging station!
The German Federal Ministry of Transport and Digital Infrastructure has already recognized the central importance of payment for charging for the spread of e-mobility. The National Charging Infrastructure Control Center has therefore developed a thesis paper that provides guidance to charging system providers, payment systems, automotive manufacturers and energy companies on what e-car drivers expect from them today and in the future. Users want to pay using familiar methods without necessarily having to register first. In addition, price transparency is important: Charging users want the costs of the charging process to be clearly communicated before it begins. New technologies such as "Plug & Charge" will make life even easier for e-car drivers in the near future: Then the start of the charging process will be automated and possible directly from the car, and all information such as charging duration or price will already be displayed in the car in advance.
Our recommendation in the charging card comparison: Talk to your regional electricity provider
The spectrum of payment systems such as charging cards and apps and the associated tariffs is very wide. We are certain that the digital and flexible variants that offer the greatest added value for customers will prevail over the course of the next few years. Maximum transparency and convenience are particularly important. Our charging card comparison shows: Currently, it makes the most sense for most e-car drivers to combine the charging card of the regional electricity provider with the offer of a provider for frequent drivers, if required.
That's because regional electricity providers often offer the lowest prices locally. Many also support certain roaming offers, so you can also pay conveniently and inexpensively outside your state. Your energy company "around the corner" can also best advise you on how to ensure low-cost car power at home. So the real experts are right near you!
If you have any further questions on this topic, please feel free to contact us at frag@umschalten.de!