Renewable energies, electromobility, grid overload - these buzzwords are often mentioned in the same breath on the Internet. There is great concern about a power grid that collapses with energy from wind and sun and the high charging capacities of modern e-cars. For us, this is an occasion to provide clarification, because grid operators have long been working on the infrastructure of the future with the integration of electricity storage systems, among other things.
In our new blog post, we clarify how battery storage works, what the benefits are for e-car drivers, and whether the inclusion of battery storage has already been tested in practice.
By the way: In our article on network utilization two experts take a more general look at the topic.
Why do we need to distinguish short-term memory and long-term memory?
In the debate about renewable energies and their uneven power generation, a distinction is often not made between the different types of storage. Yet this understanding is crucial: While short-term storage ensures that electricity from the grid is only temporarily stored, for example as a supplement to a private photovoltaic system, long-term storage is actually designed to compensate for seasonal differences, for example when it comes to solar energy.
Short-term memory

Long-term memory

Intermediate storage of surplus private solar power
Charge e-cars faster
Increase grid stability locally

Secure surplus electricity production from wind and solar in the medium to long term
Avoid shutdown of renewable energy producers

350 megawatt hours and more

Mostly batteries (stationary or temporary)

Pumped storage power plants or gas storage facilities
Currently, the only economically viable technology for long-term storage is pumped storage power plants. In this process, dammed water is first released, thus driving a turbine to generate electricity. When there is a surplus of electricity, the energy is used to refill the reservoir and store the energy in the form of water. For short-term storage, battery storage in particular has become established.
Where are short-term storage units used?
Short-term storage units develop their strength primarily in local areas of application. They absorb large amounts of electricity in a short time - and release it again. The term short-term storage therefore also covers various types and scenarios of application:
Vehicle-to-grid: Using the battery capacities of connected e-cars as intermediate storage and releasing them back into the power grid according to demand
Home storage: Small short-term storage units with often no more than 6 kilowatt hours of storage capacity to back up peaks from photovoltaic systems for later use
Charging infrastructure storage: Short-term storage with higher capacities that act as buffer storage between charging stations and the power grid.
For the power grid and the improvement of grid utilization, the last variant of short-term battery storage is currently considered to be the most important. Systems tested in practice have already proven that the grid load can be regulated more efficiently in this way. But more on this in a later paragraph.
How does a battery storage system work?
Many short-term battery storage systems (also: electricity storage, energy storage) currently used in private and public installations are lithium-ion batteries and thus technically essentially the same as the batteries in smartphones or e-cars. This technology has undergone enormous development in recent years, which has ensured that more capacity can be accommodated in less space. A current example of this is the ChargeBox from Ads Tec, which we will introduce later in the article.
Lithium-ion-based storage capacity has therefore also become cheaper - by over 90 percent in the past 10 years. This cost reduction has made it attractive to use batteries not only in smartphones and e-cars, but also as short-term storage for grid load distribution.
In doing so, they act like a kind of "toilet flushing in the power grid," as the device manufacturer me energy describes it itself.
So when no vehicle is being charged at the moment, the energy storage system recharges its capacities. This means that when the power is needed by charging the e-car, it is also available more quickly and is not throttled by the grid load - at least until the energy storage is empty.
What are the advantages of energy storage for the charging infrastructure?
Local short-term storage has enormous advantages for e-car drivers and grid operators. Drivers of e-vehicles benefit in particular from faster charging by "buffering" the capacity before the actual charging process. Especially in regions with weaker grid infrastructure, such energy storage systems could be a small revolution for electromobility. Without a major expansion of the grid, it is possible to set up charging stations in places that were not previously suitable. However, this would only be possible for a lower frequency of charging processes per day, as the short-term storage unit would have to recharge in the meantime.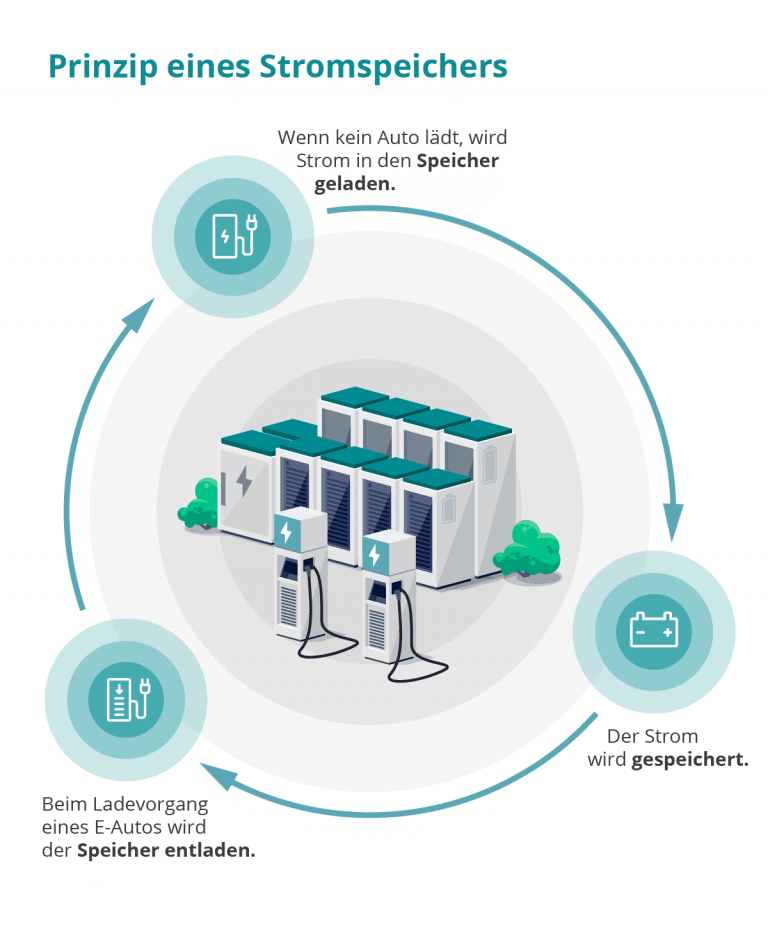 At the same time, the energy storage system provides the grid operator with an opportunity to control the load. If several vehicles are charging at the same time, a battery storage system balances the direct load by first accessing its own capacity. Between two charging processes, the energy storage system can then be refilled with less power (around 60 percent).
Battery storage in conjunction with charging infrastructure are therefore practical adjusting screws to control grid utilization. They have nothing to do directly with the storage or deployment of renewable energies, but they can help to balance out any overloads that arise as a result.
Does an electricity storage system also have disadvantages?
Unfortunately, electricity storage systems are not the sole panacea that grid operators can use to meet the challenges of the energy transition. However, they are an important tool that - like everything - also brings disadvantages and challenges.
Manageable capacities: Only a few charging processes can be temporarily stored. Once the capacity of the energy storage device is exhausted, e-car drivers charge again directly from the grid - i.e., more slowly.
Use of space: If a battery storage system is installed in addition to the charging infrastructure, this requires space - which is not always available.
Construction measures and permits: Depending on the size of the electricity storage system, a foundation must be built, for example.
Energy losses: Some power is lost during intermediate storage, which makes energy storage less efficient and indirectly makes electricity somewhat more expensive.
High costs: Additional storage involves high investment costs that are not always worthwhile. The costs of the storage facility must therefore be compared with the costs of a grid expansion.
So battery storage for the charging infrastructure does not make sense at every location. Research is currently underway to determine how they can best help to better manage grid utilization.
Are battery storage systems already in use in practice?
SachsenEnergie itself operates electricity storage in Dresden in conjunction with charging infrastructure. Scientists from the Fraunhofer Institute for Transportation and Infrastructure Systems IVI and the Technical University of Dresden subjected the MOBIpunkt Fetscherplatz to a stress test in March 2021. A 240 kWh battery storage system is installed there, which was loaded with three fast-charging e-cars at once. The vehicles were fully charged within 45 minutes. These high load peaks can be a challenge locally - and were successfully cushioned by the electricity storage system.
The study took place within the framework of the EU-funded project "MAtchUP", which investigates the concrete challenges and solutions of a "Smart City".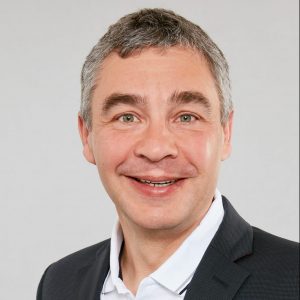 What is the future of energy storage for charging infrastructure?
Energy storage systems will be an important component of public charging infrastructure. The most important characteristics of electricity storage units are their capacities and their charging and discharging capabilities. The award-winning ChargeBox from adstec Energy is considered the new benchmark.

The product, which was nominated for the German President's Future Prize, provides up to 320 kW of charging power. The model is thus compatible not only with e-cars commonly used today, but also with future superfast-charging-capable e-vehicles. At the same time, the ChargeBox requires only 15 percent of the space of comparable fast-charging systems with a connected medium-voltage system. Up to two fast-charging columns with a capacity of 160 kW can be connected to one device, so expansion, for example in residential areas, is no problem. The quiet operation does not disturb the neighbors.
Conclusion: Electricity storage makes sense as a supplement to the public charging infrastructure
The combination of energy storage and charging infrastructure is an essential building block for the power grids of the future. As short-term storage systems, they are already a real plus for e-car drivers. They also offer great potential for expanding the charging infrastructure in structurally weaker regions. At the same time, grid operators have an important control instrument for avoiding grid overloads.
Would you like to read more network topics or are you interested in technical aspects of charging infrastructure? Or do you simply have questions about our article? Feel free to write to us at frag@umschalten.de!