Emission-free, sporty to drive, good for the image - these arguments are often not decisive in the end when it comes to the hard facts. umschalten.de took a look at whether electric cars can keep up financially with combustion engines in a cost comparison.
ADAC: THESE E-CARS ARE CHEAPER THAN A PETROL OR DIESEL CAR
The ADAC (Allgemeine Deutsche Automobil-Club e.V.) recently compared models in different classes and found that "electric cars are often surprisingly inexpensive". When comparing costs, it was important for the car professionals to be able to make statements about the actual costs that were as comparable and comprehensive as possible. So attention was paid not only to equipment and energy prices, but also to engine performance, realistic consumption figures, insurance, tax and workshop costs. Even the anticipated depreciation was included in the calculation.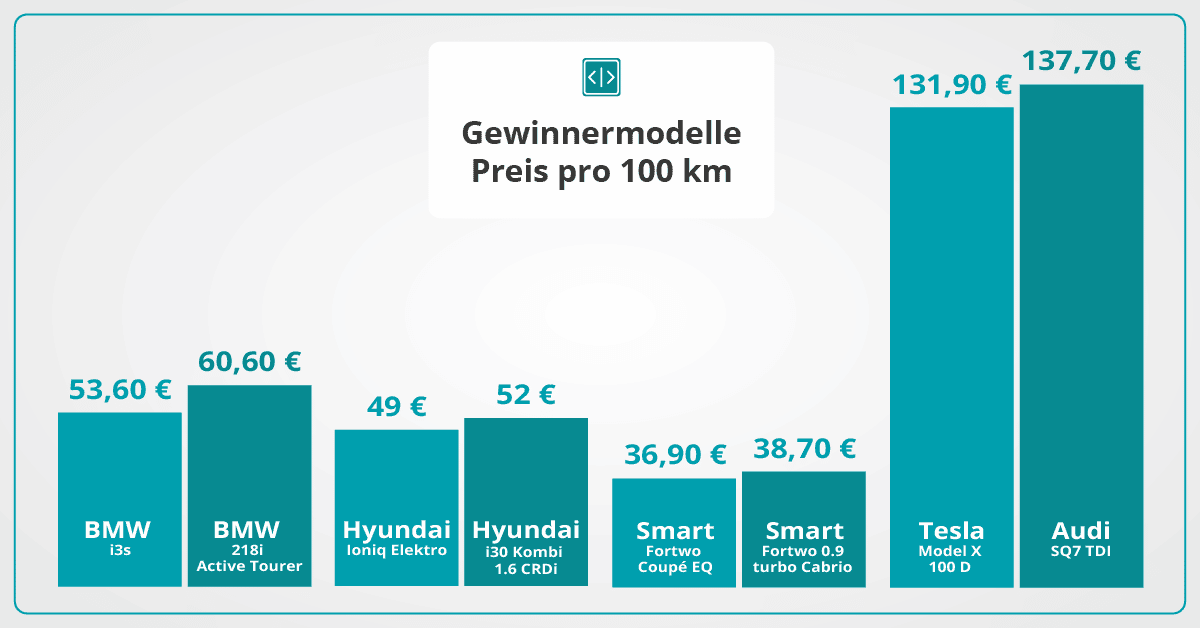 The result is surprising: for half of the models compared, the electric car beats the petrol or diesel model in terms of costs per kilometre driven over a holding period of 5 years with an annual mileage of 15,000 kilometres. The winners are the BMW i3 (compared with the BMW 218i), the Hyundai Ioniq Elektro (compare with the Hyundai i30), the Smart Fortwo and the Tesla Model X 100 D (compare with the Audi SQ7 TDI). But how is that possible?
Admittedly: In the class of a Tesla with a gross list price of over 120,000 euros, costs are probably no longer the decisive criterion. However, it is noticeable that especially in the case of smaller and medium-sized vehicles, the electric car can come out ahead, depending on the model. An important influence on the different prices is the relatively low price of electricity. You can't "fill up" everywhere for 0.30 euros/kWh, but you can do so free of charge in other places. Compared with the currently high price of diesel, this sounds tempting even for frequent drivers. Furthermore, discounts such as the current eco-rebate are relevant, and lower maintenance costs for electric vehicles also play an important role.
COSTS FOR THE E-CAR: THESE ARE THE PLACES WHERE YOU CAN SAVE MONEY
Irrespective of the ADAC's calculation, there are other ways in which you can save money when driving an e-car. It is worth comparing the costs of insurance policies, as more and more are offering more favorable rates for electric cars. Allianz, for example, gives electric and hybrid cars a 20 percent discount, and more benefits are also included. In addition, there are government incentives (0 percent motor vehicle tax), no AdBlue, or savings on annoying main inspection and inspection dates or particulate emissions stickers.