Did you know that you can easily upgrade your bike with an e-bike conversion kit? Umschalten.de has compiled all the important information for you. This is what you need to know!
E-bikes are now much more than just a trend and have become firmly established in society. No wonder, after all, these nimble and flexible vehicles are ideal for many journeys to work and also provide recreational riding fun for more and more age groups. Unfortunately, the high purchase price deters many interested parties. An e-bike conversion kit is an obvious idea in this context. After all, in most cases a non-electronic bike is already available and retrofitting to an e-bike costs significantly less than a new purchase. But is that true about the price savings? What do you have to look out for when retrofitting an e-bike and what are the differences between the various e-bike conversion kits? Umschalten.de has researched and found out for you!
What is an e-bike conversion kit?
An e-bike conversion kit is ultimately a compilation of the individual technical parts that distinguish an e-bike from a conventional bicycle. In most cases, this includes the motor, battery, display/control element, pedal sensor as well as cables and possibly other accessories. With the help of this set, you can convert your own bike into an e-bike with fairly simple means. There are various suppliers who offer conversion kits in all conceivable variants. Among the best known are Pendix from Zwickau, but also Bafang, Ansmann or Go Swiss. Of course, there are also countless no-name suppliers, which we will not discuss here in particular. The conversion kits themselves can either be purchased as a ready-made set, but can also be individually assembled for your own bike and tailored to your own needs.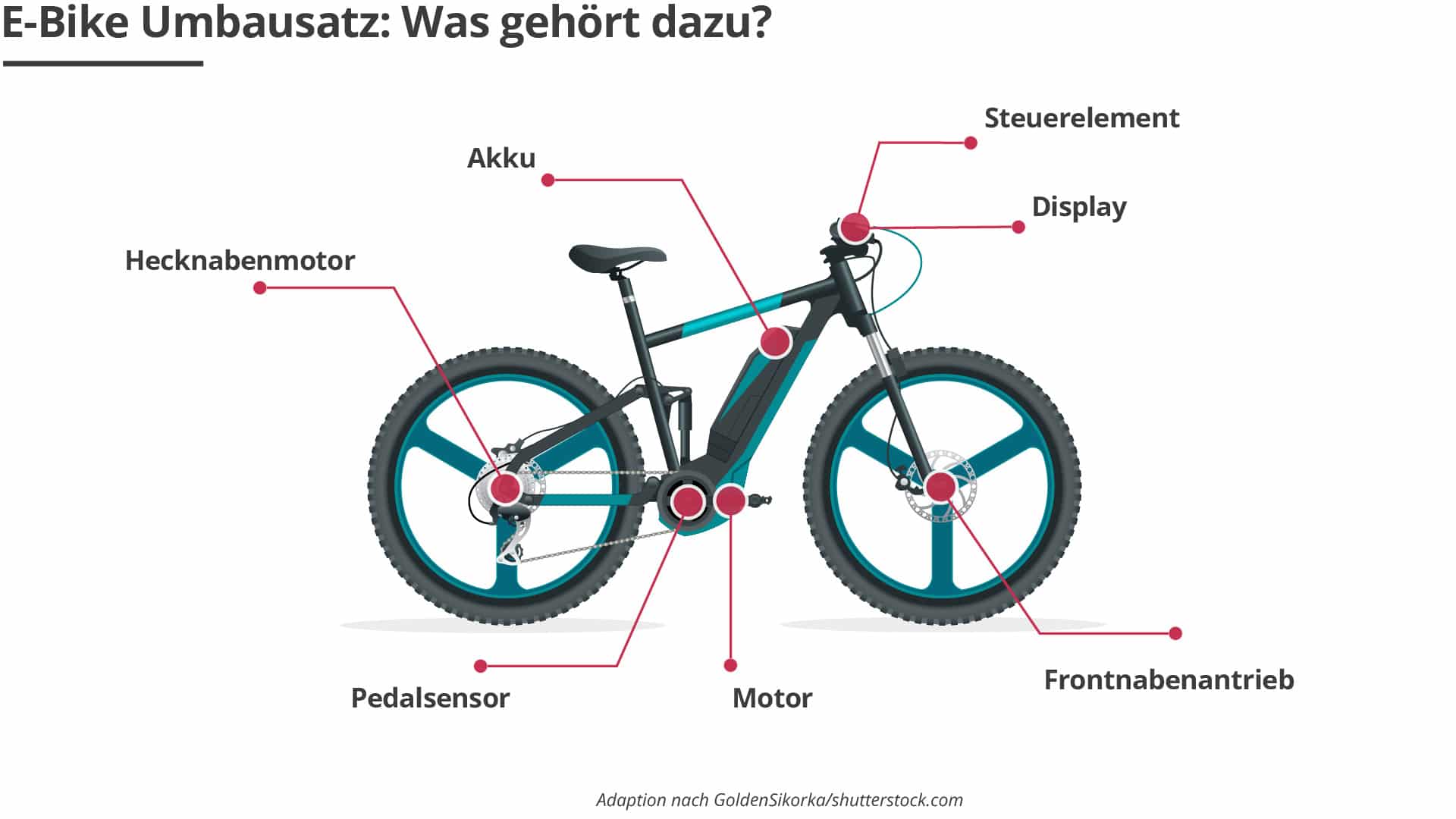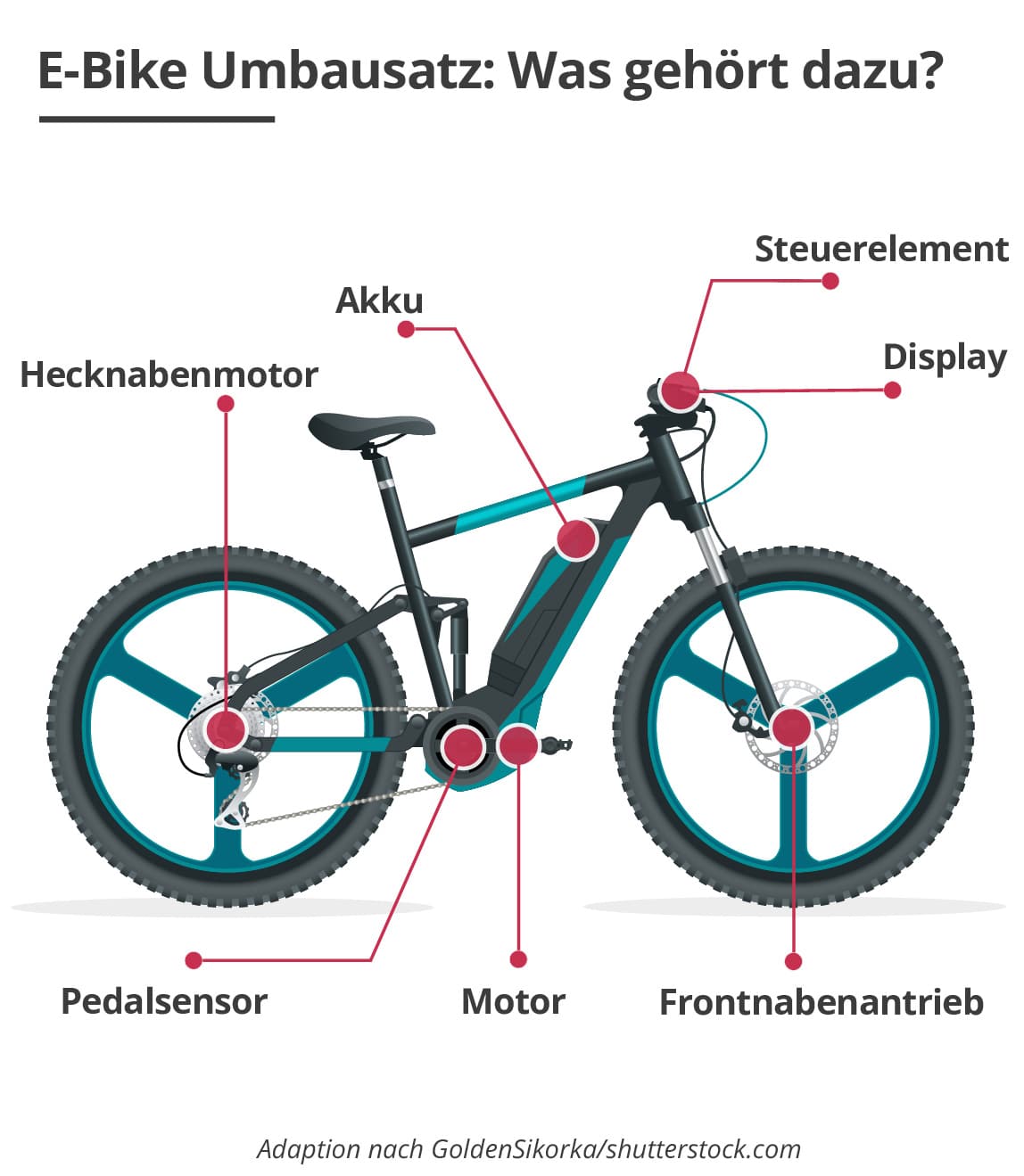 How much does an e-bike conversion kit cost?
With a price range of 200 to 2,000 euros per conversion kit, there is a very wide spread. The particularly inexpensive sets are often of inferior quality, so you should inform yourself well before you reach for such a variant. Since the price is particularly important for many people who are interested in an e-bike conversion kit, it should be emphasized that a very good e-bike rarely consists of a cheap bike and a cheap conversion kit.
But is it possible to strike a bargain? In principle, yes. Even with the low-priced e-bike conversion kits, you can find high-quality and at the same time affordable sets, as long as you are familiar with the technical specifications and have enough time to read up and test different sets if necessary. The actual conversion can be done well by yourself, provided you have some craftsmanship and suitable tools. Most bicycle repair shops specialize only in the conversion of certain bicycles and the installation of certain conversion kits from specific manufacturers. Special requests that deviate from this may be turned away. It's best to ask before ordering if you don't feel confident retrofitting your bike yourself.
E-bike conversion kit: advantages and disadvantages
Can you convert any bike to an e-bike?
In principle, yes. Of course, not every e-bike conversion kit fits every bike and may have to be individually adapted, but the conversion is possible in the vast majority of cases. The prerequisite is always a stable and roadworthy bike. Due to the stronger forces exerted on the frame by the increased weight and speeds, it is not recommended to use bikes that are too old, damaged or have been involved in an accident. Strong brakes are also important for the same reasons. It must be possible to brake the acceleration resulting from the e-bike conversion kit just as safely as the increased weight of the e-bike. After the conversion, you can expect an extra 3kg-12kg depending on the type of motor battery and accessories.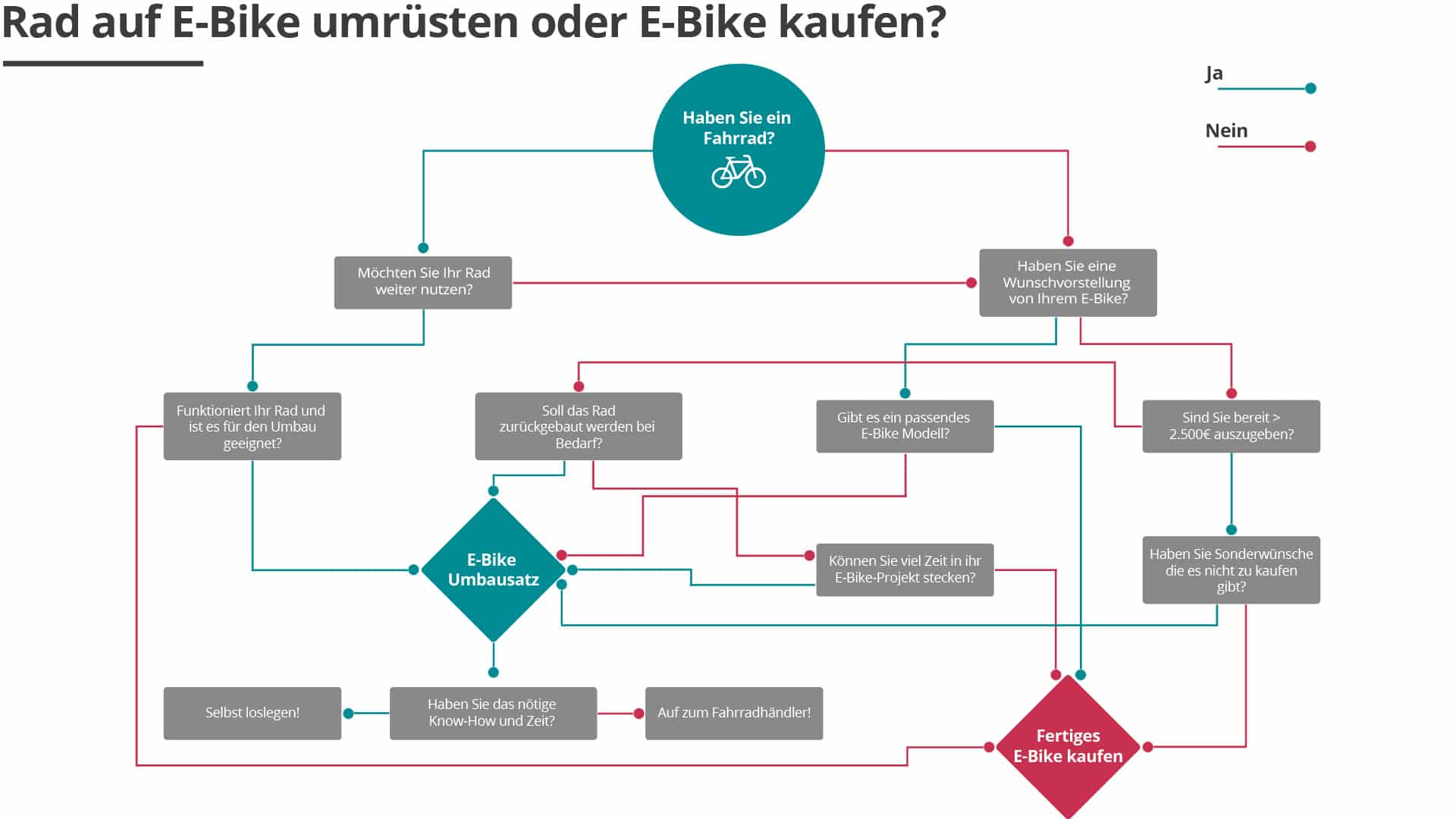 Converting your own bike to an e-bike: What you should look out for when retrofitting an e-bike
The most important question you should ask yourself is for what purpose you want to retrofit your bike into an e-bike. Important technical specifics are derived from this question. For example, there are major differences in the choice of motor for e-bike conversion kits, just as there are for finished e-bikes. Rear hub motor, mid-mounted motor or front hub drive? They all have their own driving feel and are therefore crucial for the right choice. A rear hub motor provides extra support for sporty use, while a front hub motor is the easiest to install, but is more suited to flat terrain. Accordingly, your bike should be fundamentally compatible with the type of motor you choose. For example, it is not possible to install a mid-motor if your bike has a coaster brake. In addition to the right fit of the motor, the power is also crucial. For long tours through the mountains, you need more power than for a relaxed and flat five-kilometer commute through the city center. The more demanding the tours you plan with your e-bike, the more wattage the motor needs. In this train, the battery is just as crucial. Both the location and mounting of the battery and its capacity need to be considered. In most cases, however, you can always buy an exchange or replacement battery with an e-bike conversion kit that adapts the range to your needs.
Last but not least, the project stands and falls with a professional installation. It does not matter in which price range the e-bike conversion kit of your choice is or how expensive the bike was that you want to retrofit. Your safety on the road is paramount. If you do not trust yourself to professionally install the e-bike conversion kit, contact a bicycle repair shop near you. Even if not every bicycle repair shop installs every e-bike conversion kit, the employees will advise you comprehensively on your project and certainly provide important input for your decisions. 
E-bike conversion kit or pedelec conversion kit - What is the difference?
The respective conversion kits differ in terms of power. While an e-bike conversion kit supports you with up to 250 watts and limits you to a maximum speed of 25 km/h, a pedelec conversion kit provides up to 500 watts and reaches well above 40 km/h. However, this also makes the pedelec subject to insurance and a driver's license. The use of cycle paths is prohibited with a pedelec and helmets are compulsory. So when converting your bike, pay close attention to what power the conversion kit promises, so you avoid a costly penalty if, for example, you retrofit a power that you are not allowed to ride at the end.
CONCLUSION: Retrofit bike to e-bike: Great option, but there are some things to consider!
An e-bike conversion kit has some advantages. Especially if you already have technical know-how about individual bike components, know the intended use of your future e-bike and can retrofit the bike yourself, it is possible to save quite a bit of money compared to buying a new e-bike. If you are less knowledgeable, you still have the option of having a bike retrofitted through your trusted bike repair shop. Since they usually specialize in a specific brand of e-bike conversion kit, your customization options are limited. When choosing an e-bike conversion kit, pay attention to the motor type, wattage, battery capacity and the attachment of the individual parts. This will ensure that the conversion kit fits you and your bike. Whatever you choose, your safety always comes first. Although the installation of an e-bike conversion kit is possible on almost all bikes, use a stable and roadworthy bike without previous accident damage. This way, your new e-bike project will be fun for you in the long run and get you from A to B safely and reliably.
If you have any further questions on this topic or electromobility in general, please feel free to contact us at frag@umschalten.de.