Benefit from tax advantages, strengthen your image and promote the health of your employees: With e-bikes as company bicycles, you and your employees have several advantages at once. For our article, we spoke with Mr. Jan Schneidewind of Little John Bikes, Head of Marketing of one of the industry-leading companies in the bicycle retail sector in the new federal states. Find out on umschalten.de why electric bikes are worthwhile as company bikes and how exactly company bike leasing works.
TO WORK BY E-BIKE - THAT'S WHY THE COMPANY BIKE IS SO POPULAR IN THE CITY
Thanks to its health benefits and good carbon footprint, bicycles and e-bikes have been experiencing a constant upswing as a means of transport for years. Since employers rely on motivated and fit employees, the trend towards bicycles is also catching on with them. In addition, the topic of company bicycles scores points for appreciation. This strengthens employee loyalty and also makes the company more attractive for new skilled workers. "Especially in urban areas and for employees who live within a 20-kilometre radius of the company headquarters, a company bike is absolutely an option," explains Jan Schneidewind.
LEASING A COMPANY BIKE: THESE ARE THE ADVANTAGES FOR EMPLOYERS
"With the company bike model, even a high-quality bicycle or e-bike is affordable for your employees," reports Jan Schneidewind. It doesn't matter what you choose as a company bike. You as an employer and your colleagues can benefit several times over:
Inspire employees: An e-bike that was previously difficult to afford becomes significantly cheaper through salary conversion than through cash purchase.
Improve productivity: Reduce absenteeism through healthier and fitter employees, reap tax benefits and improve productivity at the same time.
Attract and retain employees: A smart bicycle or e-bike is a lifestyle product and a real added value. Almost everyone rides a bike and has an individual need for mobility. A company bike offer inspires the majority of the workforce.
Improve image, strengthen environmental protection: positioning as an environmentally and health-conscious company with a genuine and authentic interest in a better carbon footprint.
Reduce stress for employees: Co-designing stress- and congestion-free work routes.
Reduce effort: With a company bike lease, the e-bike is serviced externally by a specialist workshop, such as Little John Bikes. This makes it easy for you and your employees remain mobile.
THIS IS HOW EASY LEASING WORKS FOR A SERVICE BIKE
Like any vehicle, an e-bike needs maintenance, servicing and sometimes repairs. A convenient solution for you as an employer or fleet manager are bike leasing offers. "We advise companies on choosing the right company bike and the right leasing provider," explains Marketing Manager Jan Schneidewind of Little John Bikes. The way a company bike leasing works is quite simple:
Register as a company bicycle company.
Use providers like Little John Bikes and get free advice on choosing the right leasing provider.
You receive a framework contract that regulates the leasing conditions, the ordering process and the delivery. This already works from one leased service bike.
Your enthusiastic employees can now pick out their own e-bikes in the specialist shop.
The purchase transaction is organised and shortly afterwards ...
... your employees can already start driving!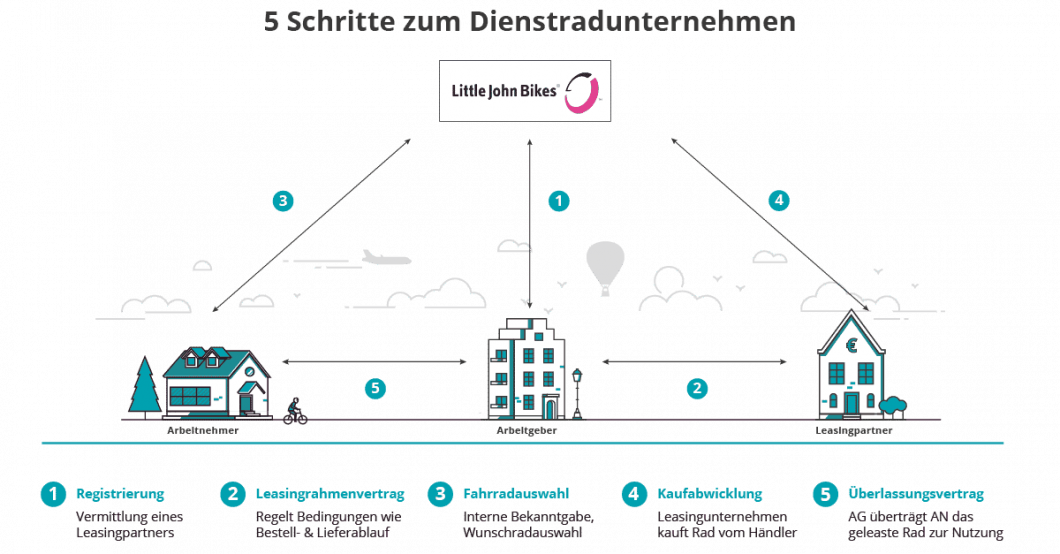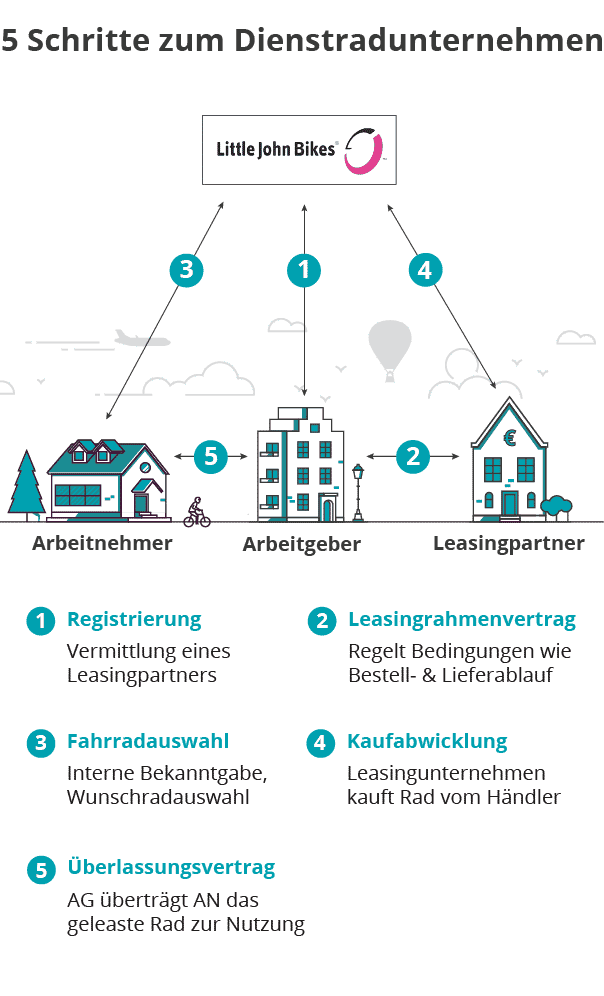 TAXATION OF COMPANY BICYCLES: HOW YOU AND YOUR COLLEAGUES BENEFIT
"With a salary conversion, the calculation basis for wage tax and social security is reduced by the leasing rate of the company bike so that the employee pays slightly less wage tax and social security contributions," explains Jan Schneidewind from Little John Bikes. But you also benefit: "Employers pay a little less for pension, health, nursing care and unemployment insurance," Jan Schneidewind continues.
Since 2020, the taxation of the pecuniary advantage for the private use of the company bike is only 0.25 % of the recommended retail price of the bike. This tax regulation applies to bicycles and e-bikes (pedelecs with motor assistance up to 25 km/h). The non-cash benefit resulting from the private use is taxable for the employee.
CONCLUSION: AS AN EMPLOYER, THESE ARE THE ADVANTAGES OF LEASING A COMPANY BICYCLE
With e-bikes as company bikes, employers and fleet managers not only demonstrate their company's environmental awareness, but also benefit from other advantages. Low-cost and low-effort company bike leasing allows you to reduce costs in the short and medium term, retain employees and attract new colleagues. Providers such as Little John Bikes not only help with the choice of models in their branches, but also advise on the decision for a suitable provider for bicycle leasing.