As interest in buying an e-car increases, so does interest in its safety. Particularly in the media, e-car accidents and fires are repeatedly discussed in great detail. For the individual, it is often difficult to quickly assess whether the media focus is justified or simply due to the increased interest in a new technology. To this end, we want to take a close look at the potential risks of an e-car. We turned to Thomas Kubin, a technician at ADAC Saxony, who provided us with his expertise. Is an e-car dangerous or can you look for your dream car with a clear conscience?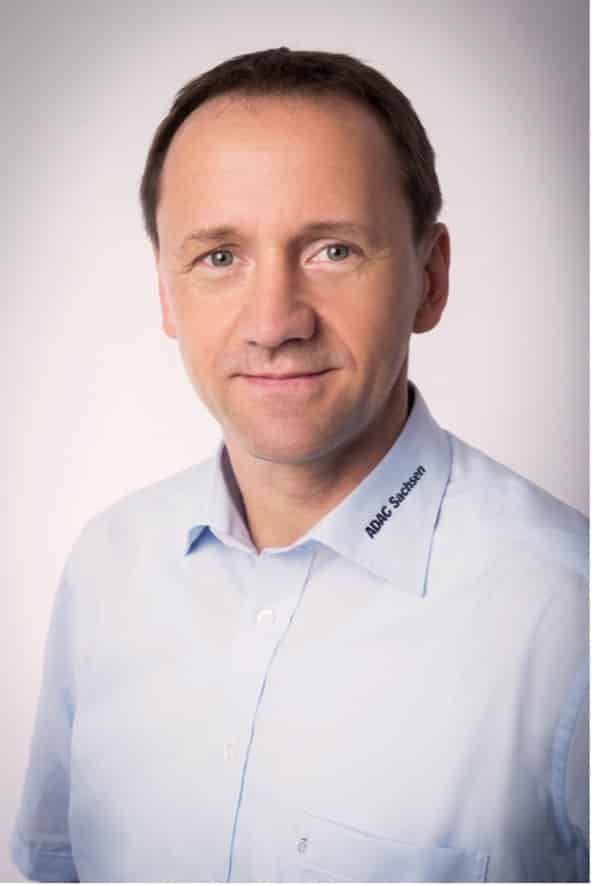 How safe are electric cars in the event of an accident?
No one assumes they will be involved in an accident anytime soon, but sometimes it's out of their own hands. Even the best and most careful driver can end up in an unpleasant situation. Should such an accident occur, it is important to be informed about the level of danger potential of one's own vehicle. Also, some knowledge that has already been acquired may no longer apply to electric cars in exactly the same way as it does to internal combustion vehicles.
Fire hazard - a challenge for the fire brigade
One of the most widespread dangers in the media regarding e-cars is that of fire. The media presence is so great that even the German Fire Brigades Association issued a press release on the subject. In it, it is explained that although a burning e-car poses a different and somewhat more difficult challenge than a fire in a combustion car, it is certainly extinguishable. It is also interesting to note that a gas-powered vehicle is even more difficult to extinguish. Parking it in the garage should also not be a problem. As long as it is a garage built in compliance with building laws and a certified charging device, the German Fire Brigades Association sees no reason for concern. You can find more on this topic in our article "Charging station in the underground car park: risk of fire protection?
Danger battery - high-voltage system
An important aspect that you should consider as a new owner of an electric car is the installed high-voltage technology. If you are a passionate mechanic who likes to do small repairs yourself, you should not do this with your electric car. Because of the very strong current required for the electric vehicle, skilled personnel are necessary. Of course, you don't generally have to be afraid of getting an electric shock when you touch your car, but especially in the case of accident-related breakdowns or minor damage, the opinion of an expert should be sought.
Artificial noise as a precaution for other road users
Since electric vehicles can travel very quietly, almost silently, at low speeds, the European Union has introduced the Regulation that from 01.07.2021 all low-noise vehicles must be equipped with a so-called "vehicle warning sound generator", or AVAS (Acoustic Vehicle Alert System). The system must be permanently switched on at speeds of 0 to 20 km/h, thus enabling other road users not to be surprised by the silent vehicle. Above 20 km/h, the artificial sound is no longer necessary for e-cars, as the rolling noise of the tyres drowns out the sound of a sound generator or conventional engine. For you as a driver, nothing changes for a vehicle newly registered after 01.07.21. In the case of older electric used cars without AVAS, you must pay particular attention when driving at low speed. There is currently no general obligation to retrofit AVAS. However, such a retrofit can significantly increase safety for other road users and thus minimise your own risk of accidents. BAFA sees it the same way and subsidises the retrofitting of an AVAS with 100€ under certain conditions. Find out whether your model is eligible for the funding!
Is an autopilot in a combustion or electric car dangerous?
One thing in advance: as nice as fully autonomous driving may sound in theory, its use in everyday life is still a long way off. Of course, there are initial pilot projects, but we are still a long way from approval on German roads. Existing examples such as the Tesla "Autopilot" are more comparable to a feature-rich driving assistance. Moreover, such driving assistants also exist in conventional combustion cars, so this is by no means an e-car-specific phenomenon. So when we talk about e-car safety, we can give the all-clear with a clear conscience. The driver is still so constantly involved in the driving process that there is definitely no additional danger from the technology. And those who are eagerly waiting for it still have to exercise patience.
What do you need to be aware of in the event of an accident?
What precautions should be taken in advance, just in case? The danger posed by the high-voltage system also applies to the rescuers during a recovery. It is therefore a good idea to print out the ADAC rescue card suitable for your vehicle model and keep it in the vehicle. Although the electrical components of an electric car must be intrinsically safe, i.e. they must automatically disconnect from the circuit in the event of damage in the course of an accident, it is still not a good idea to work on the electric vehicle yourself, as that is where an electric car is dangerous. It is better to rely on experts.
Electric car crash test: Everything as before
The results of electric vehicles in the crash tests carried out by Euro NCAP are completely normal, according to the ADAC. There are models such as the VW ID.3, the Jaguar I-Pace or the Tesla Model 3 that all achieved the full five stars, but also models such as the Dacia Spring or the Renault Zoe that failed the latest test with one or no stars. As always, it pays to do thorough research before buying a vehicle.
E-car or combustion engine, which is safer?
We can state that there are no significant differences in safety compared to combustion engines. This is hardly surprising, as the same high safety standards of conventional combustion engines also apply to electric vehicles. The new technology brings its own challenges, and you should be aware of them. Just as with internal combustion vehicles, you will be well prepared for the worst if you are properly prepared. 
Does the insurance pay in the event of damage?
Yes, it does. With insurance, an electric car is protected in the same way as a combustion engine. According to Allianz, the liability insurance of the car insurer also covers the damage to the garage if an electric vehicle catches fire and damages it. In the course of its article, Allianz also confirms our findings on the subject of e-car safety and crash tests for electric cars once again and comes to the same conclusion as we did.
Roadside assistance for e-cars - What to do if the battery is flat?
Draining the battery in an electric car is a particularly difficult challenge. Long before you break down, the warning systems in all electric vehicles kick in. Most of them even know the location of all the surrounding charging stations and direct you to them. If you still manage to run the battery completely flat, there are several ways you can be helped. The first would be the ADAC breakdown service or your manufacturer's breakdown service. Many manufacturers offer free assistance, especially in the first few years. The electric mobility boom has not gone unnoticed by the ADAC either, and you can find help here as well. One important piece of additional information for you as a driver: if you drive a car with the option of bidirectional charging in the future, you could even be supplied with energy by another e-car in an emergency. The Sono Sion, for example, is supposed to have this feature built in as standard. You can't talk about it being dangerous for an e-car to break down with an empty battery.
Solid-state batteries as the way of the future
One topic that is shaping current research on electric vehicles is the solid-state battery. Various car manufacturers are investing in this technology and are hoping for a lot in the future. The main difference to the currently used lithium-ion batteries is the use of solid electrolytes. This makes a solid-state battery much less sensitive to impacts and other damage. At the moment, so-called dendrites are still frequently formed at one of the two poles in the laboratory. If these become too large, short circuits can occur. As soon as this problem is solved and a solid-state battery meets the high standards required for use in a vehicle, private consumers will also benefit from a lower production price compared to conventional batteries. A higher energy density, the resulting significantly increased range and a significantly lower fire risk are the goals for the future.
Conclusion
New technology is often accompanied by increased scepticism, but this is unfounded when it comes to e-cars and safety. While it is true that e-cars offer new challenges in many areas, there is no question of an increased risk compared to combustion engines. The most important thing for you as a driver is to familiarise yourself with your own vehicle. We can answer the question of whether an e-car is dangerous with a "no". 
If you have any further questions, please feel free to write to us at frag@umschalten.de!