For a long time, the installation of charging stations for electric cars in underground garages was viewed critically by fire departments. In some cases, such as Kulmbach in September 2020, bans were even imposed on e-vehicles in underground garages. In the case of Kulmbach, however, this has since been withdrawn. The fire department has procured appropriate equipment to contain the danger in the event of a fire. The fear of electric vehicles, especially in underground garages, is nevertheless widespread. But is it justified?
The most important arguments to take away your fear of e-vehicles, especially in underground garages:
Regardless of the drive: there are high legal requirements for all cars, which should guarantee the highest level of safety for motorists in order to obtain approval.
According to the Working Group of Heads of Professional Fire Departments and the German Firefighters' Association (see "Risk Assessment Lithium-Ion Storage Media"), electric cars are no different from combustion vehicles in terms of risk assessment.
The charging process itself does not pose any danger. Thus, no special fire protection regulations need to be observed for the installation and charging of electric vehicles in underground garages. This makes the installation of charging stations in underground garages comparatively simple.
We show you what to look out for!
No special rules for electric cars in fire protection
First things first: Fire protection for electric vehicles has been regulated throughout the EU since 2015: According to UNECE R 100, no special fire safety regulations apply when charging electric vehicles.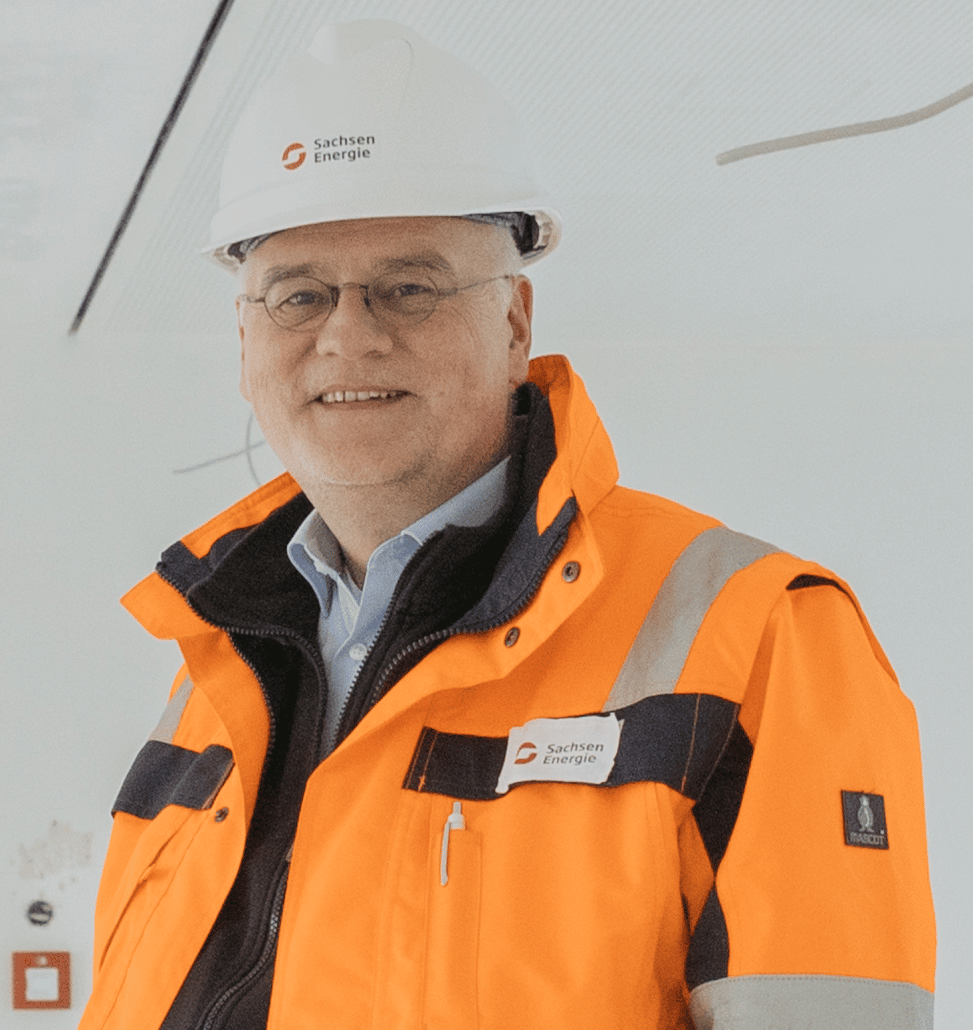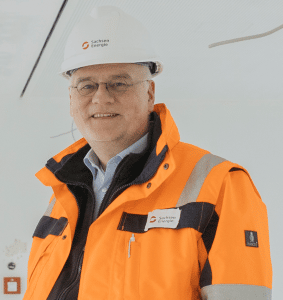 Charging stations are part of the technical building equipment
For fleet operators, therefore, charging stations in underground garages and the charging of electric vehicles do not constitute a change of use of the facility. Unlike fuel pumps, charging stations therefore do not require a permit. They are considered part of the wiring system and are therefore part of the technical building equipment. For fire protection, the rules of the respective state building code as well as the line installation guideline must be observed.
In principle, the erection of wiring systems in underground garages is thus permitted. They are treated like sockets and electrical distributors. Particular attention must be paid to the requirements for the permissibility of wiring systems in escape routes and the routing of cables. The building owner should therefore familiarise himself with the garage regulations of the respective federal state. It is also advisable to have a risk assessment carried out in addition to the fire protection concept.
One type of installation for charging technology that is particularly suitable for underground garages is the use of busbars. These enable the installation of charging technology without the introduction of high additional fire loads (e.g. through cable insulation, etc.).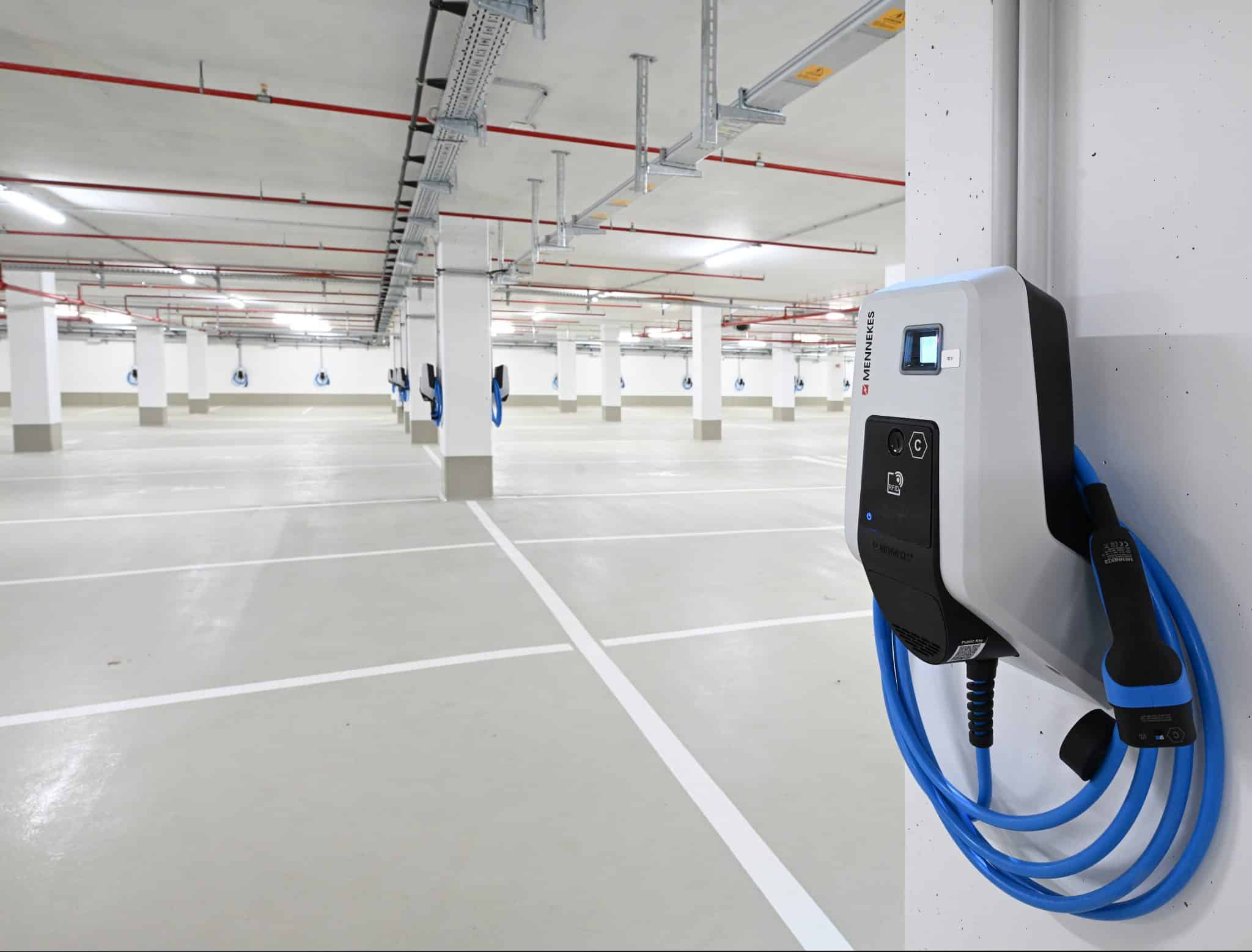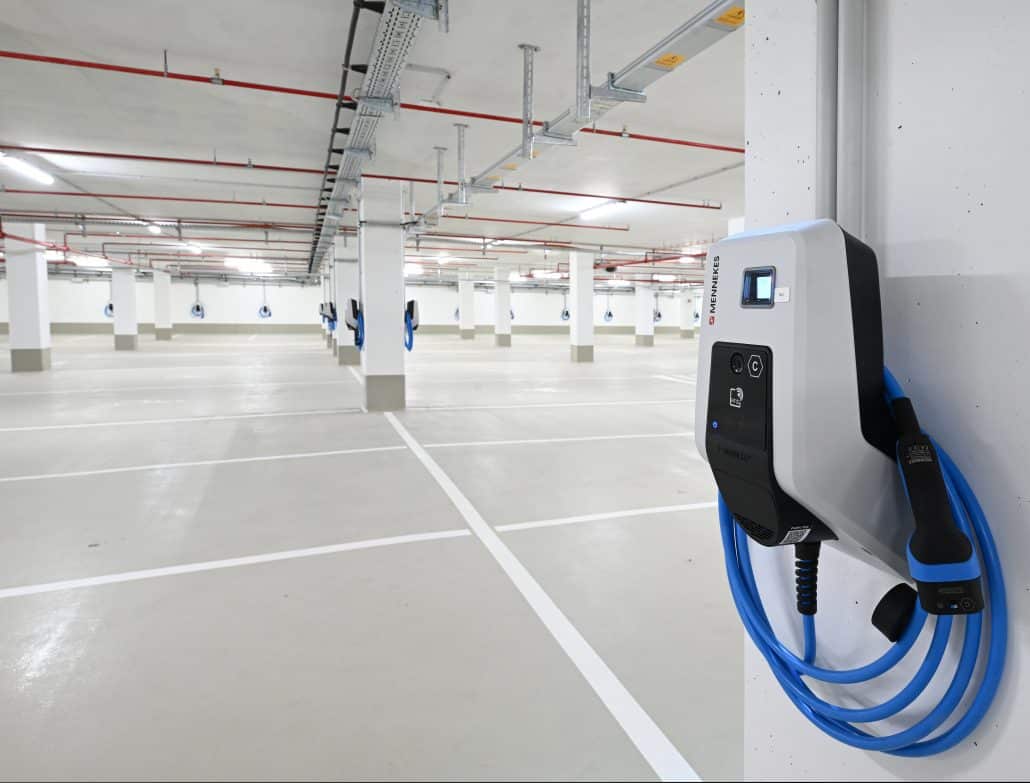 Observe the correct dimensioning
If the owner of an underground parking garage decides to install charging stations, he should always leave the further considerations to an electrical planner. The planner will check the site-specific requirements in each individual case and can correctly estimate the minimum requirements. This applies to residual current protection, for example.
E-car fire protection in underground garages: What do the professionals say?
Umschalten.de asked two real experts about electromobility: Stefan Jacob, fleet manager at SachsenEnergie, and Johannes Müller, overall project manager at the SachsenEnergie Center, the headquarters of eastern Germany's largest municipal utility in Dresden. At the SachsenEnergie Center alone, there are currently 87 parking spaces equipped with charging infrastructure and electrified. When building and planning these parking spaces, the same requirements of the Saxon Garage and Parking Space Ordinance REVOSax applied as for all other parking spaces. Only the requirements of the future users for the charging infrastructure were recorded in advance and implemented with an expert planner. In general, according to Stefan Jacob, an implementation of e-cars in a fleet must be well prepared, even without additional regulations. How are the vehicles used, for what purpose, how much do they drive and where are they regularly parked and charged. Which vehicles are the best for the purposes, and how much charging infrastructure needs to be created. These are all questions that need to be answered in advance. SachsenEnergie will be happy to advise you on the implementation.
Once the additional power required for charging equipment has been determined, it must be reported to the grid operator in accordance with §19 of the Low Voltage Connection Ordinance. If charging equipment with more than 12 kVA is to be installed, its approval must even be awaited before installation.
This procedure is important so that the registration of the plant to the grid connection can be secured and future grid loads can be identified in advance.
Professional charging infrastructure
for your underground car park
value-adding, future-proof & cost-neutral
Conclusion: Charging stations in underground garages: No problem for fire protection
By installing charging stations, owners of underground garages offer their users a modern service. Permits and special fire protection measures are not necessary. Only the specifications of the respective state building code and the line installation guideline must be observed. Nevertheless, you should take advantage of competent advice. We will accompany you in your project and support you in the installation of a charging station in your underground car park. Simply contact us at frag@umschalten.de.
Source: shutterstock.com, petovarga
If you are a small or medium-sized company in Saxony and are interested in the promotion of e-cars and charging stations, you will find a practical help to print out in our checklist for electric car promotion. In our comprehensive white paper, which you can download free of charge, you will also find a wealth of information on charging infrastructure and best practices from Saxony. Do you have questions or a topic idea? Then feel free to send us an email at frag@umschalten.de.