E-bike leasing for employees is now offered by very many different online portals. No wonder, after all, they are very popular. If you want to know why e-bike leasing is a great thing for both companies and employees, this practical example is perfect for you!
KSG Group is a leading manufacturer of high-quality printed circuit boards in Europe. They serve everything from large-scale production to individual samples. The group of companies includes around 1,000 employees at the two plants in Gornsdorf in the Ore Mountains and Gars am Kamp in Austria. Both are united by extremely high quality standards and sophisticated co-engineering for safe future products. KSG is a technology leader and plays a major role in shaping the future. No wonder, then, that the topics of electromobility and sustainability are a matter of course for the company. Since this mindset is also shared by the employees, it is hardly a surprise that the offer to lease an e-bike through the company is so well received. Umschalten.de was allowed to take a look behind the scenes at KSG and learn first-hand what the company considered when implementing over 50 e-bikes in its own fleet, what the benefits of the project are, and why you should ride an e-bike too!
KSG printed circuit boards - The foundation for tomorrow's technology!
Where are printed circuit boards actually located? In pretty much every electronic device you can imagine. KSG develops individual solutions together with its customers and is thus particularly interesting for projects in the direction of future technology. Did you know, for example, that a circuit board made by KSG in the Ore Mountains flew all the way to Mars as an important part of the Mars Rover "Ingenuity"? A symbol of the quality demands placed on KSG products. Customers from the automotive industry, medical technology and industrial electronics rely on the printed circuit boards from Saxony. Managing Director Margret Gleiniger is particularly proud of the fact that her circuit boards are the foundation for innovative projects on the topics of sustainability and electromobility for many customers.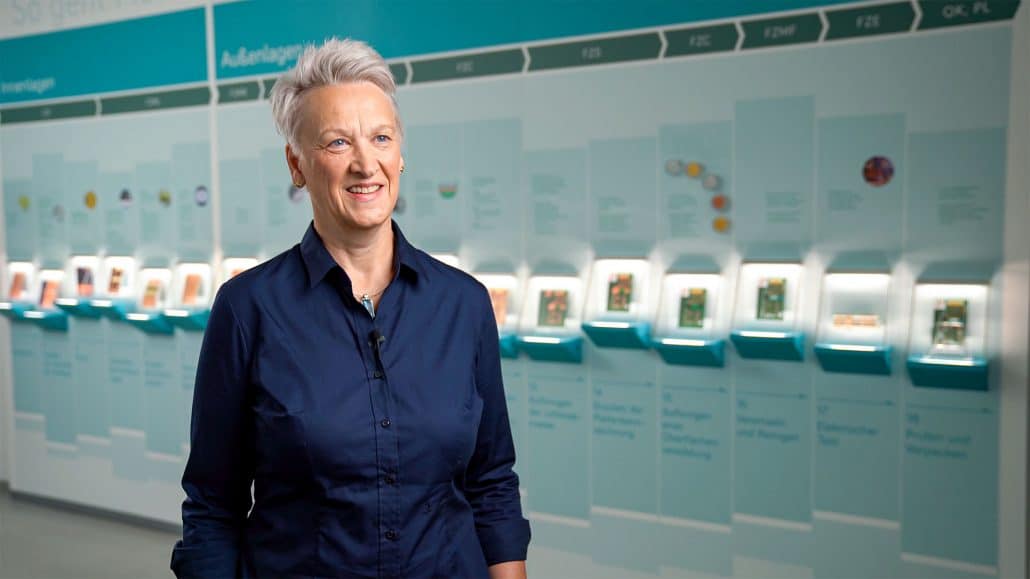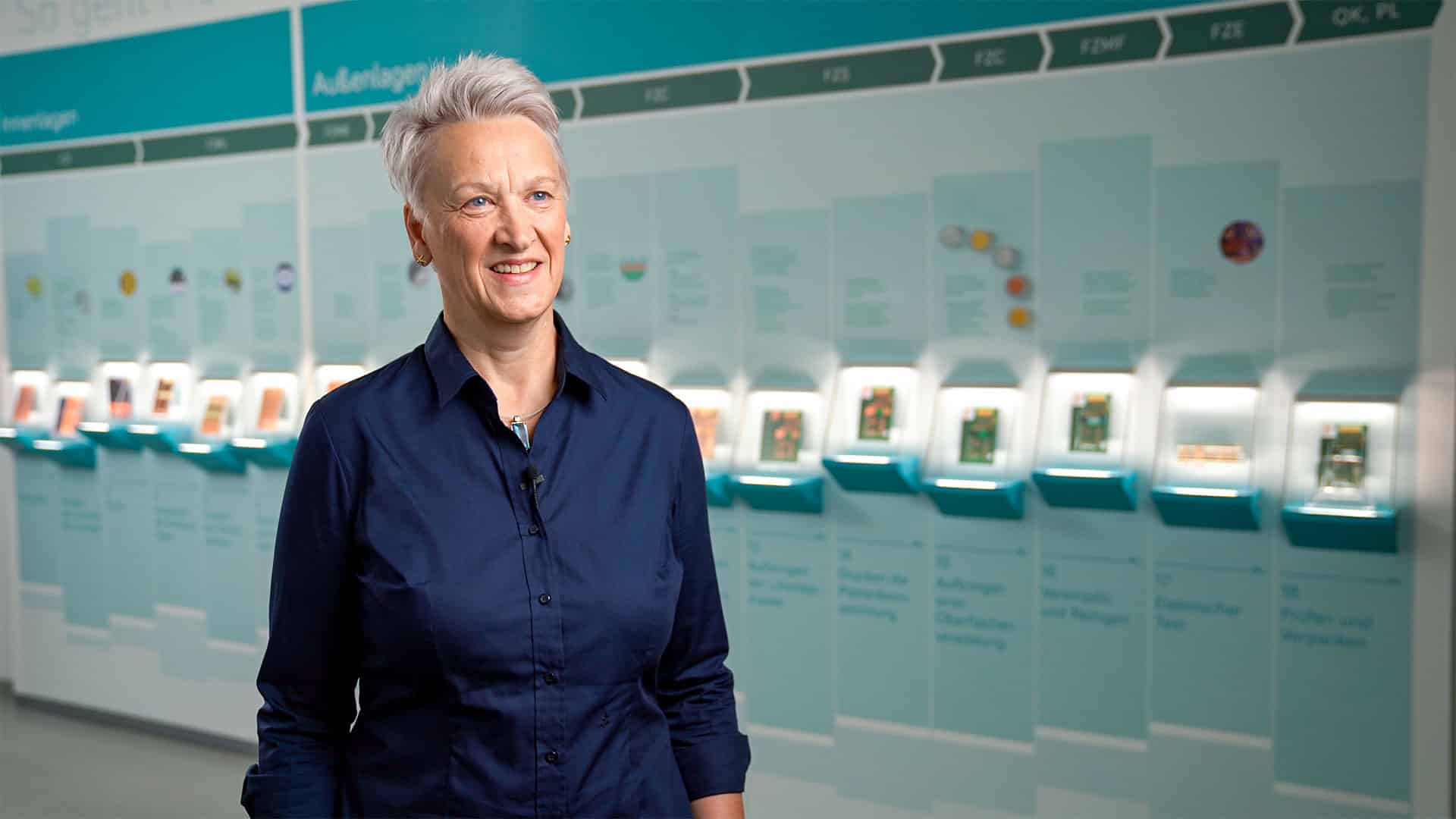 Why actually an e-bike?
To find out, we spoke to Robert Jungk, Head of Operations at KSG and a passionate e-biker. He considers the health aspect to be one of the most important. Especially people who do not yet regularly cover longer distances by bike can increase their ranges with an e-bike and really have fun exploring the surrounding nature. Of course, the factors of flexibility and sustainability are also important. If the commute allows it, you can be relaxed and flexible on the road with an e-bike. The fact that you can leave your car behind and do something for the environment makes it even more attractive. Robert Jungk regularly challenges his e-bike on demanding leisure tours over hill and dale through the Ore Mountains. In any case, recreational use is a real highlight for him. By the way, you can find out even more about the topic of e-bikes in our article E-bike Leasing for Private Individuals.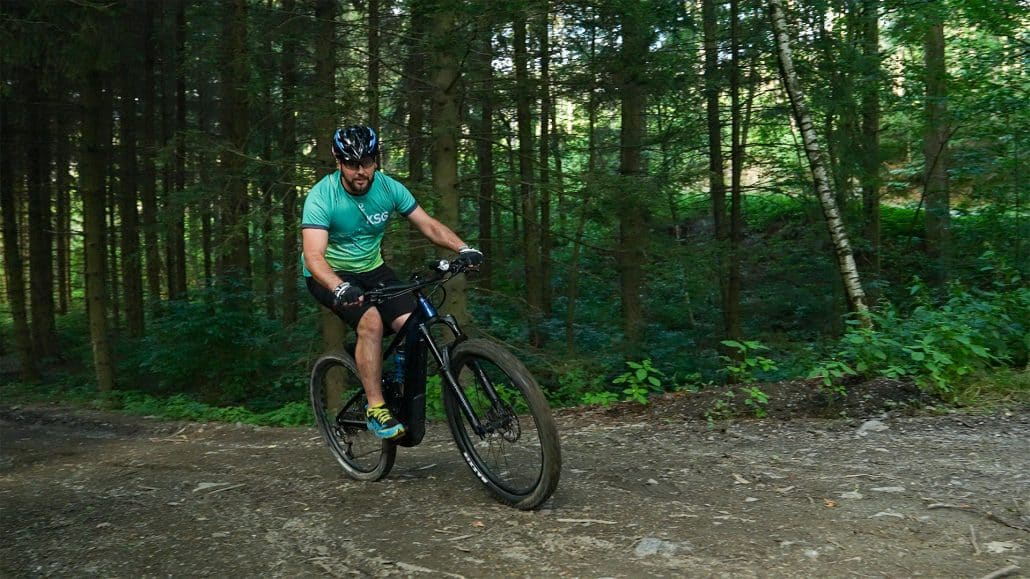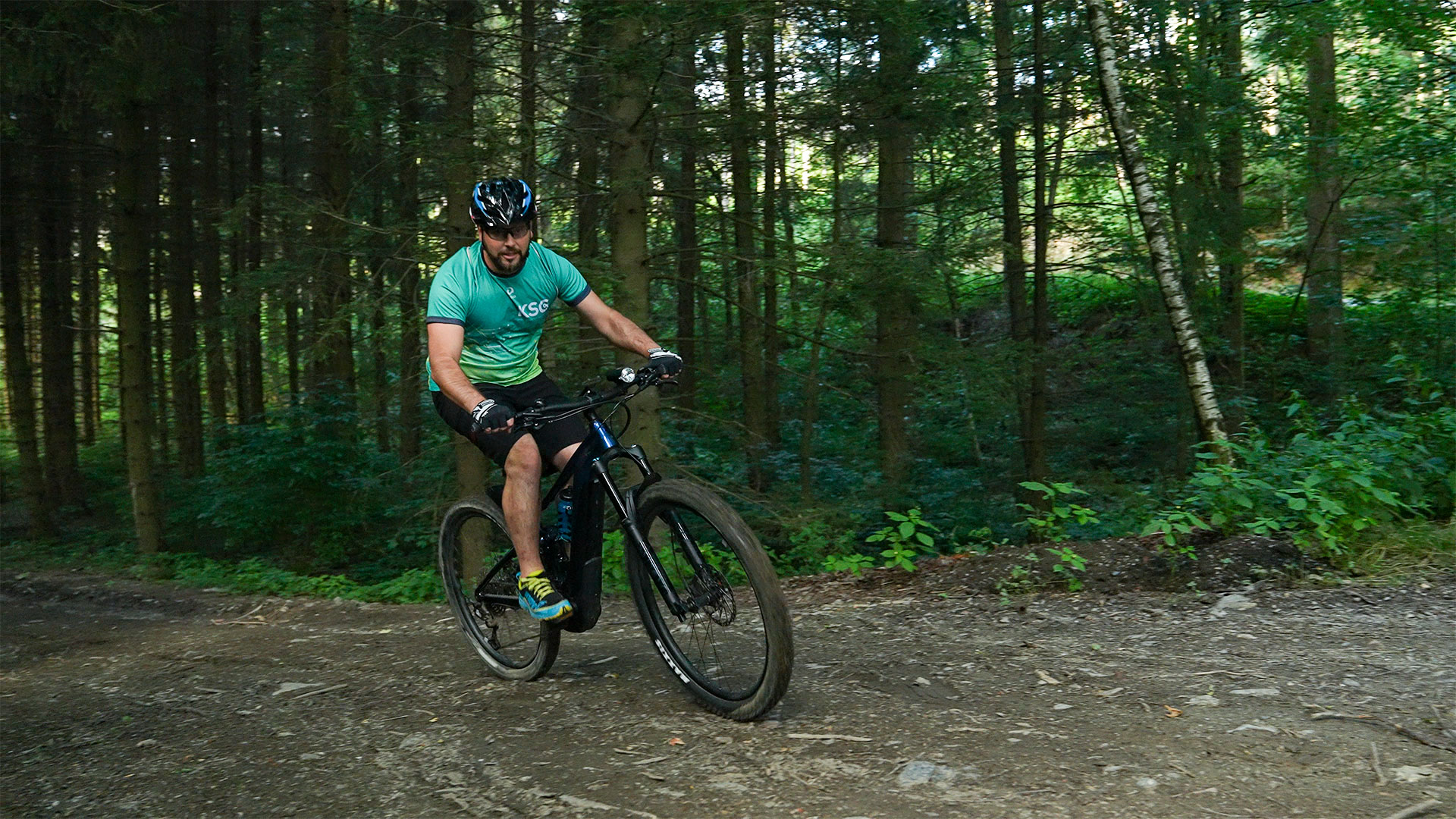 What does Managing Director Margret Gleiniger hope for from e-bikes? "That employees who may not have been on bikes before will get on them and use them to get to work and leave their cars behind sometimes. But also that they use it in their free time, are out in nature more and thus make a contribution to their own health."
E-bikes - The first step towards fleet electrification
At KSG, electromobility currently includes a VW e-Up and over 50 e-bikes in the company's own fleet. The trend for both is increasing. The e-bikes were an uncomplicated first step toward electrifying the company's own fleet. Managing Director Margret Gleiniger would definitely recommend this step to other companies. When you consider that KSG employees regularly travel up to 20 km to work by e-bike, you can roughly estimate what a big step the e-bikes alone represent in the direction of sustainability and climate neutrality. According to the JobRad climate calculator, this would be a CO2 reduction of 13,818 kilograms for 50 e-bike riders who travel an average of 10 km to work and take the e-bike instead of the car twice a week over the course of the year. To compensate for this, 1,105 trees would have to be planted. Not bad! Setting up a charging infrastructure for e-cars is quite straightforward. The effort is nevertheless much lower again for e-bikes. A bicycle stand and some capacity in the accounting department for handling leasing contracts - that's all it takes.
For employees, too, the expense of their e-bike is kept within limits. Interested employees receive a code from KSG with which they can go to a bicycle dealer of their choice. After receiving expert advice, they can easily choose the bike of their choice.
Thomas Hojenski, Head of Operations Technology: "We are keeping a very close eye on the topic of electromobility. We are reviewing the expansion of our fleet in terms of electric vehicles and are also planning to expand our charging infrastructure."
The way to e-bike leasing for employees in your company!
As the provider Bikeleasing describes very nicely in its employer handbook, the way to implement e-bike leasing for employees is quite simple. Initially, a one-time effort is required to introduce employee leasing. Bikeleasing estimates the time required at 2-5 business days, citing empirical data. During this time, the master lease and service agreement are signed. Afterwards, employees are informed about the e-bike leasing and receive the company code with which they can ride to the dealer they trust. If the offer is used, the HR department then receives a request to review and approve the transfer contract. The last step is then just the adjustment for salary conversion in payroll accounting.
E-bike leasing: Is it also worth it financially?
It is difficult to make a definitive statement about whether e-bike leasing is also financially worthwhile for employees. The individual cases are far too individual for that. In any case, anyone who is thinking about leasing an e-bike through their employer will find various calculators online. These calculators make it easier to get an overview and give an initial estimate of how much you can save. The result should not be accepted without reflection. ver.di criticizes the savings potential shown in the online calculators and sees e-bike leasing for employees mostly as a zero-sum game. By converting their salary, they also pay less into social security, which in turn affects their sick pay, unemployment benefits and pension fund. It is clear, however, that e-bikes are taxed at only 0.25%, just like e-car company cars.
So it's best to check for yourself whether it's worth it for your individual situation.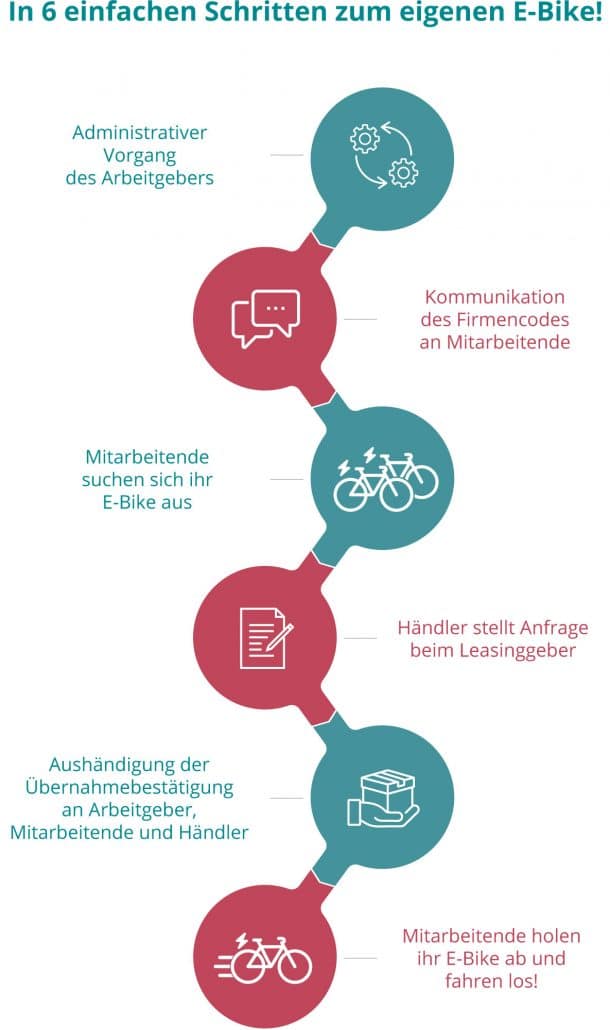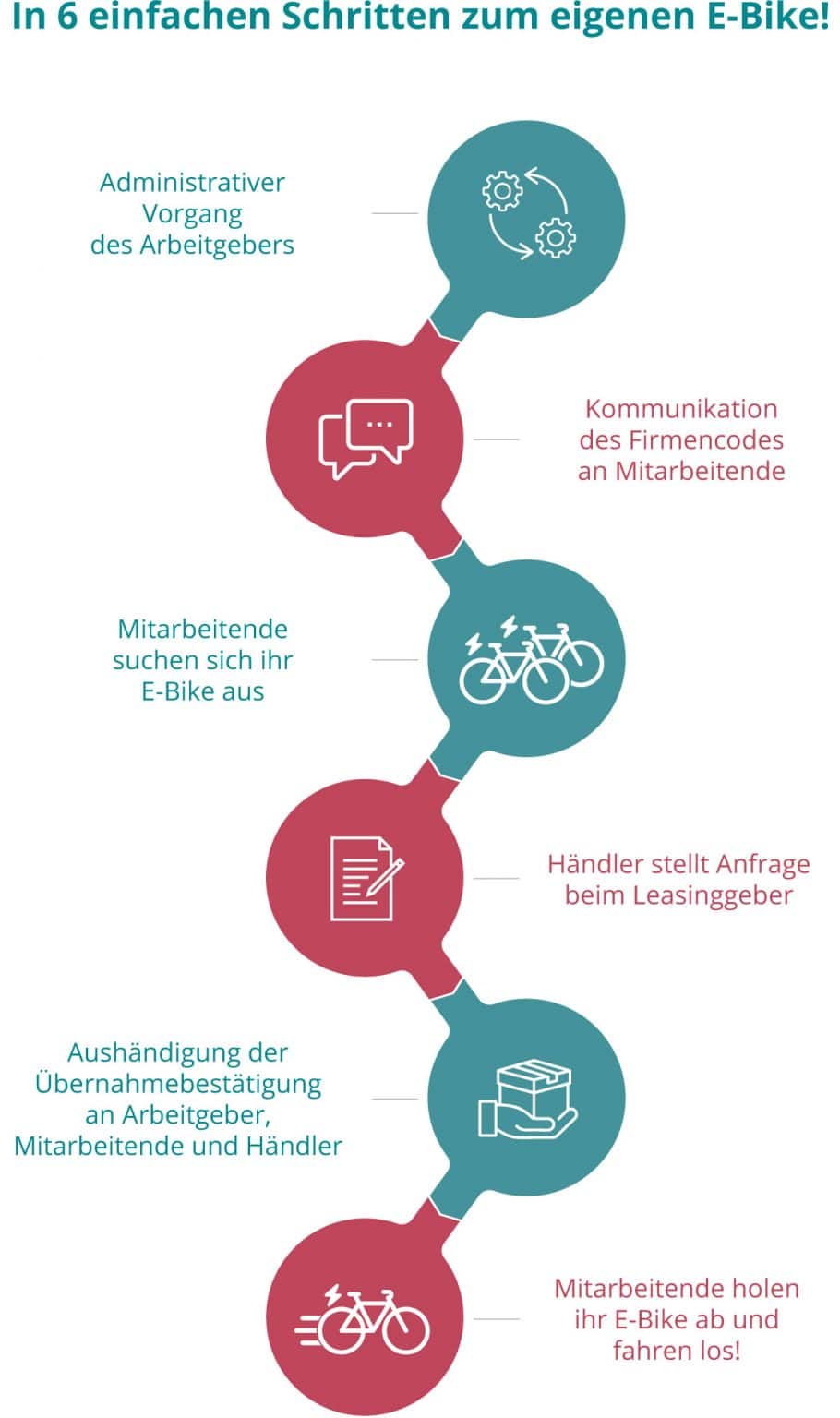 Electromobility: What's next for KSG?
Margret Gleiniger does not yet drive an e-car herself, as the charging infrastructure in the region is not yet sufficiently developed for her purposes. She also cites a greater range as a major wish for the future because of the regular longer business trips. She looks forward to further developments with positive expectations. She expects that her criticisms will have been resolved by the time she buys her next vehicle, at which point she plans to make a permanent switch to an electric car. The situation is similar for KSG's fleet. They are keeping a very close eye on developments in the field of electromobility. Thanks to its own fleet analysis and precise determination of the requirements of its own employees, the company is already well prepared. The company's own charging infrastructure is also to be expanded for employees. The major shift toward electromobility is therefore in full swing at KSG!
If you are interested in even more practical examples from companies on the subject of electromobility, we recommend Robotron and the energy management of the future!
For any further questions, please feel free to contact us at frag@umschalten.de!