More and more companies are converting their fleets completely or partially to e-cars. On the one hand, sustainability is also becoming an increasingly important issue in fleet management, because the journey is emission-free, 80% less CO2 is consumed and the resource petroleum remains untouched. On the other hand, the switch to electric vehicles is often more cost-effective. Maintenance and operating costs are lower and, in addition to vehicle tax exemption, there is also the possibility of subsidies. But does electric mobility suit your company? Find out here!
ARE YOU FIT FOR THE E-CAR? THESE 5 QUESTIONS HELP!
If you answered yes to most of the questions, some of the prerequisites for a changeover of the vehicle fleet already apply to your company. In the following text, you will learn which sectors are particularly suitable for e-mobility, read testimonials and learn more about whether and how e-car sharing can support you in "switching over".
BRANCH WINNERS: HERE E-cars ARE PARTICULARLY SUITABLE IN THE FLEET
E-cars for the police or fire brigade are still rather rare, but they do not have anything to do with the widespread prejudice that e-cars are more dangerous for rescue workers. Other sectors are already further ahead. Companies that travel regionally, for example, have a particularly large potential for e-cars. Particularly suitable sectors are catering and delivery services, outpatient care services, crafts and municipal administrations.
EXPERIENCE REPORT IN THE MANUFACTURER: ELectrocar TESTED ON BREAD AND BREADS
For eight weeks in summer 2019, BÄKO Ost e.G. tested electric cars in their company and subsequently provided us with their experience report. The 28 employees had a VW E-Golf and a BMWi3 at their disposal, which they used for commuting to work as well as for private trips. While there was great potential for the daily courier trips with a journey of around 80 km per day, the large external radius of field staff and fitters posed too great a challenge for the electric cars.
CRITICAL EXPERIENCE REPORT: ENERGY EFFICIENCY AT DÜRRRÖHRSDORFER FLEISCH- UND WURSTWAREN GMBH
The butcher's shop from Dürrröhrsdorf put two electric cars to the test. The network of branches supplied is large. With 30 branches and 500 employees, the company therefore tested suitable e-models.
In addition to its own butchery shops, the company offers a catering service, organises barbecue events and supplies grocers and also hospitals. The test showed: E-vehicles are definitely suitable for short distances. For transport, which includes refrigeration of the products, the cars are insufficiently developed so far. Nevertheless, the company's fleet management sees electric mobility as a means of transport of the future: The driving pleasure due to the high acceleration and the barely audible engine is definitely an argument.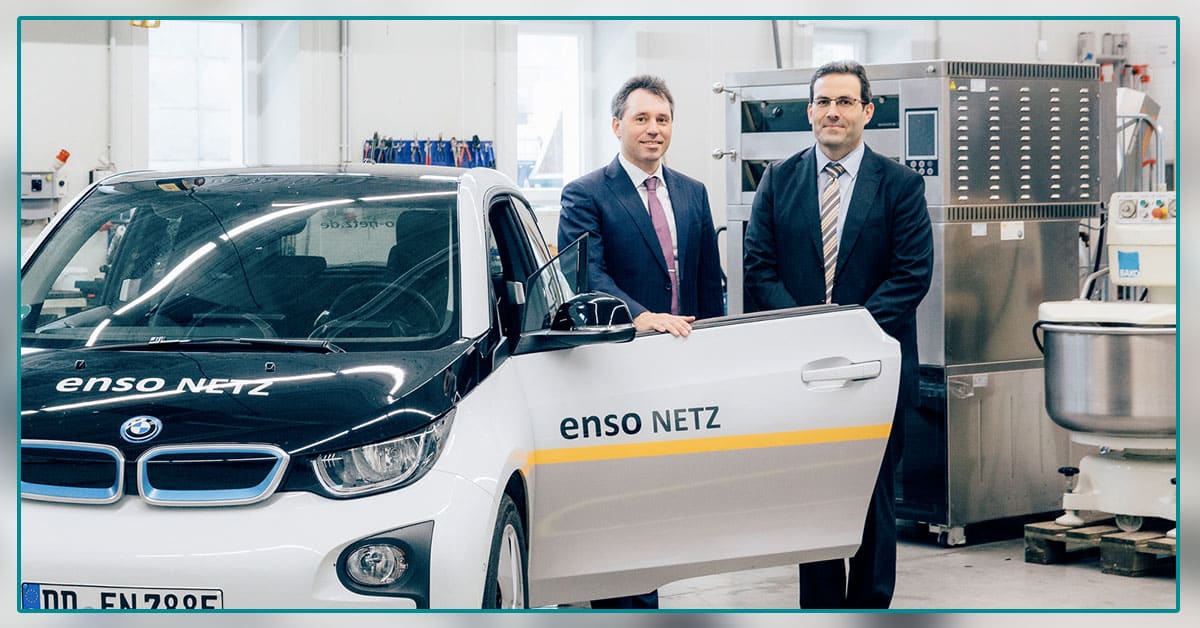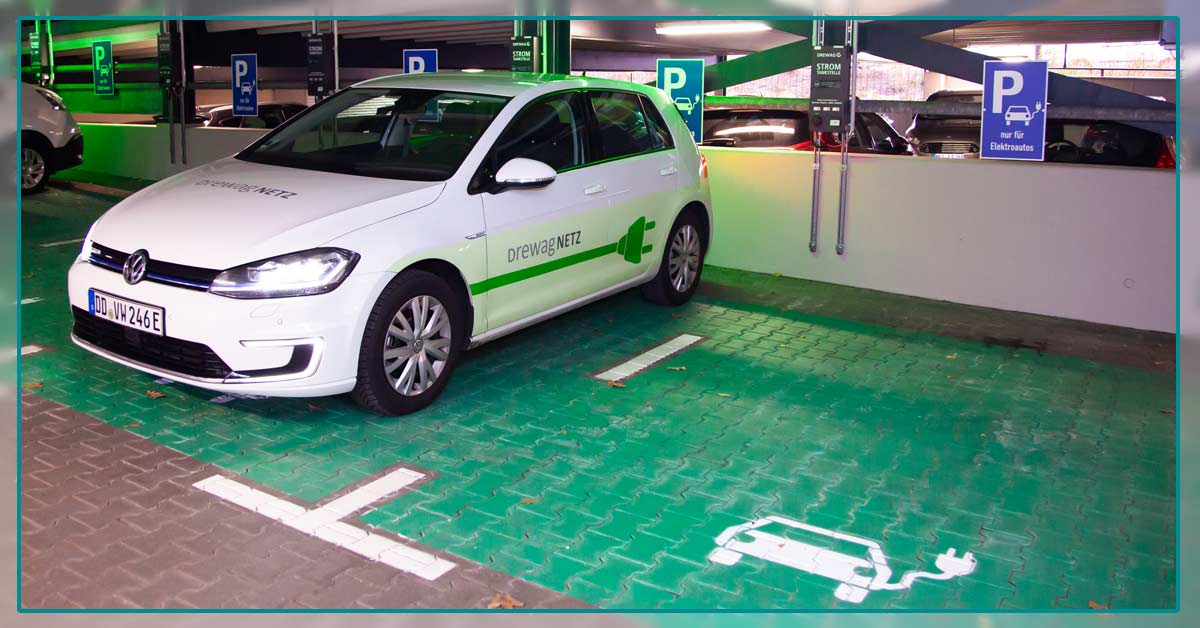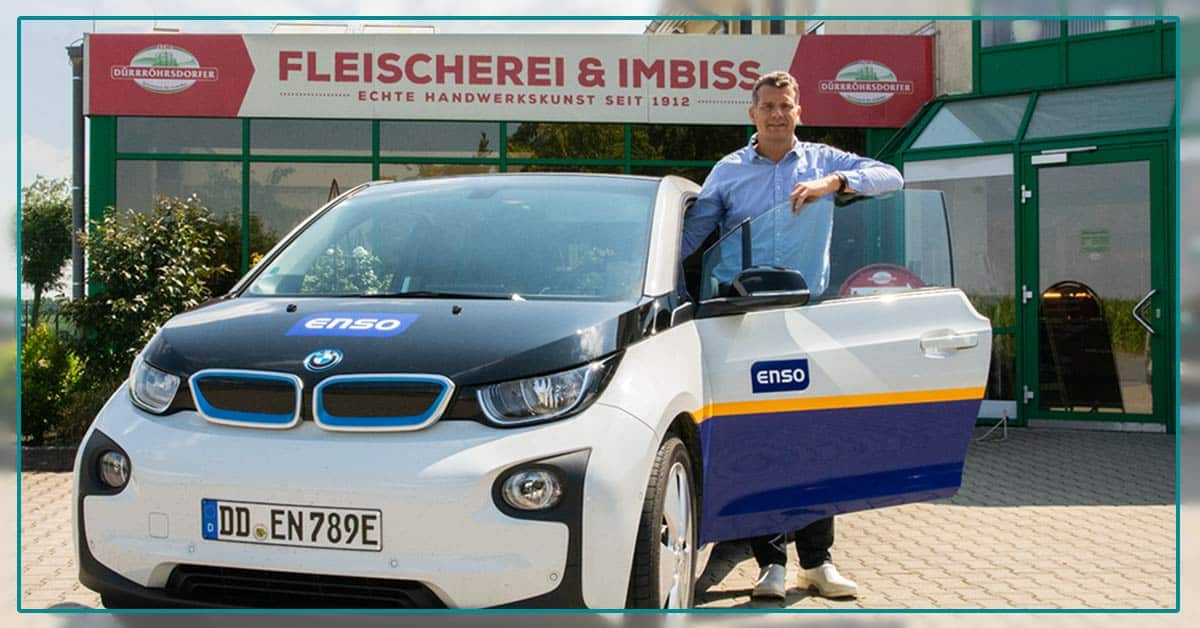 EXPERIENCE REPORT IN HEALTH AND CARE: GOOD AIR AT DRESDEN UNIVERSITY HOSPITAL
The hospital in Dresden has long emphasised its responsibility for the environment as well as for its patients and staff. With the "Carrus Green" mobility offensive, six new charging points were therefore made available at the hospital in December 2018. The investment in electric mobility was also made against the background that Dresden exceeded the daily mean value for particulate matter 27 times last year - a health risk. With its four new electric vehicles, the hospital is therefore also making a small practical contribution to air quality and thus to the prevention of respiratory diseases. The vehicles are used, among other things, for the mobile palliative care service. The various locations are supplied with food and catering by e-transporters. For its sustainable approach, the hospital's environmental initiative has already received an award as "most ecological hospital". The prize money, in turn, was invested directly in the further development of electric mobility.
MUNICIPAL: TEST E-CARS AND SEE FOR YOURSELF
Of course, the needs and experiences of companies with electromobility are always individual, however. Many municipal and regional electricity suppliers therefore now also offer test opportunities. One example is the "Electromobility in municipalities and municipal companies" programme of SachsenEnergie. Municipalities receive an electric vehicle for a period of two weeks to two years as a test.
This offer, which is tailored to the municipality, has now been taken up by 50 cities and municipalities. One of them was the city of Elstra, where the mayor took delivery of the VW e-Golf for a period of two years after a test drive.
The town of Dohna extended its contract after the test period expired, after which a Mitsubishi i-MiEV was exchanged for a Volkswagen e-Golf. Other towns such as Lommatzsch, Glashütte, Sohland and Rietschen in the SachsenEnergie supply area all followed the offer to switch to e-mobility. This also serves as a role model and in the end other users of e-mobility will also benefit from the experience of the municipal employees.
CAR SHARING: E-MOBILITY AS SHARED HAPPINESS?
Sharing has been a trend for a long time. Whether for watching a series, streaming music or even in the car. It was foreseeable that multiple use would also work and be desirable for electric cars. The goal is to utilise the use of a car by as many drivers as possible. At the same time, the low consumption costs improve the economic efficiency compared to other cars. SachsenEnergie therefore provides a fleet of rental cars where other companies can also rent vehicles.
The Impact Hub Dresden benefits from this in a test run, as the company would not have to build up its own vehicle fleet in this way and could still always access numerous vehicles. By renting, an even vehicle fleet could generate revenue itself instead of just being on the cost side. Many young entrepreneurs today do not want to build up their own fleet and are enthusiastic about the idea of sharing resources. The concept can also be applied to an industrial park: Companies can share a fleet and manage it in a joint venture, for example. This way, not every company needs its own (electric) vehicles, but one can share advantageously - saving resources, time and money.
THIS IS HOW THE E-CAR SHARING PRINCIPLE WORKS
But how can shared cars also satisfy the different needs of the respective users? in the example, there is a main user who travels from his home in Heidenau to work in Glashütte in the morning and parks his car near his workplace at a vehicle transfer point. During this time, a social or care service, for example, is on the road with it. An intelligent rental system ensures that the commuter has a car with sufficient range to get home in the evening. In addition, it could drive for delivery or security services during the evening or night hours. If the commuter does not use the vehicle himself at the weekend, tourists would have the opportunity to use it to explore the region. In this way, it would be utilised almost around the clock.
CONCLUSION: RECOGNISE THE PREDICTABILITIES IN THE FLEET, TAKE ADVANTAGES, OVERCOME PREDICTABILITIES
Besides the low local environmental impact, e-cars are often even more economical. Whether in the skilled trades or care services, successes are evident in the various sectors. Even entire municipalities have converted their vehicle fleets to electric mobility. Sharing models can help to keep the investment within limits. Regardless of how you come by the e-car, one thing remains certain: you are making a good contribution to climate protection and are still ahead of your time.
You can also find extensive information on e-mobility in our white paper. Do you have questions or a topic idea? Feel free to write to us at frag@umschalten.de!