Is commercial electric car leasing really worth it? We have asked! In this article, you'll learn about the technical advantages of leasing an electric car, how you can save cash, and which subsidies you should take advantage of.
Electric cars are increasingly attractive not only for private individuals, but also for small and medium-sized enterprises (SMEs). Many advantages speak for the electric addition to the company fleet: The positive perception as sustainable and modern, the cost savings by taking advantage of the attractive electric car subsidies and the possibility to integrate e-cars into the company as part of a comprehensive energy concept. But when faced with the decision of whether to prefer leasing or buying the e-car, there is often a lack of personal experience. So is an electric car lease a good idea from a commercial perspective? We spoke to an experienced sales consultant about the pros and cons and explain how you can benefit from subsidies and conditions when leasing an e-car.
Buy or lease an electric car - What makes sense?
To answer this question, we spoke with automotive saleswoman and expert for the electric "Z.E." division, Heike Köhler-Klose, from the Schneider Group in Chemnitz.
"It makes more sense to lease the electric car instead of buyingit," the saleswoman cites. Depending on the leasing period, for example, one benefits every 36 months from vehicle types of the latest generation. "The electric car market is very agitated, the technology is developing rapidly. It's comparable to a smartphone, where the current model can no longer keep up after just a few years," adds the electric car consultant.
Staying on the ball technologically is particularly worthwhile due to the rapid developments. Many companies therefore create the infrastructural prerequisites in the first step of their conversion to electromobility and test this on a smaller scale with a limited number of electric cars. Subsequently, the fleet is expanded and the older models can be replaced by new, technologically more advanced models at the end of the leases.
Electric car leasing: Save costs with commercial use and risk reduction
"Commercial customers benefit from particularly favorable leasing conditions," says Ms. Köhler-Klose. Many customers also appreciate the exemption from vehicle tax for electric cars. The low maintenance costs and low wear and tear also make vehicle ownership favorable. However, it all depends on the individual usage profiles of the cars and the contractually agreed details. Here it is important to know your own requirements so as not to be surprised by obligations and extra costs in the end.
One aspect that is often ignored is the reduction of risk in the event of a potential loss of residual value. Electric cars are still a fairly new area of mobility, so experience of price trends, especially for the battery, is limited. With leasing, in contrast to purchasing, the lessor alone bears this risk. In addition to flexibility, this protection is the main reason for the popularity of electric car leasing.
Electric car leasing with promotion from which you benefit
The question of whether the eco-rebate is also paid out in the case of an electric car lease is an obvious one. After all, technically speaking, you do not own the vehicle, but only borrow it. Here you can rest assured: Even with electric car leasing, you will get paid the environmental bonus. However, there are a few important things you should keep in mind:
The current subsidy will expire at the end of 2022. Although it will not be eliminated without replacement, there will be some changes in the new subsidy from 2023. Plug-in hybrids, for example, will no longer receive subsidies. The maximum subsidy, including the manufacturer's share, is currently €9,000 until the end of 2022 for electric cars with a net list price of up to €40,000 and still a hefty €7,500 from €40,000 to €65,000. For plug-in hybrids, it is 6,750€ for vehicles up to 40,000€ and 5,625€ for vehicles from 40,000€ to 65,000€. Important: Only for leasing contracts with a term of more than 23 months you will receive the full subsidy! If the term is shorter, you will also receive less subsidy on a staggered basis. If the term of the leasing contract is 6-11 months, you will receive 25% of the maximum subsidy; if the term is 12-23 months, you will receive 50%.
As of 01.01.2023, the following subsidy amounts apply: E-cars and fuel cell vehicles with a net list price of up to €40,000 will receive €4,500; E-cars and fuel cell vehicles with a net list price of between €40,000 and €65,000 will receive €3,000. The innovation bonus is thus eliminated without replacement. Only the environmental bonus remains.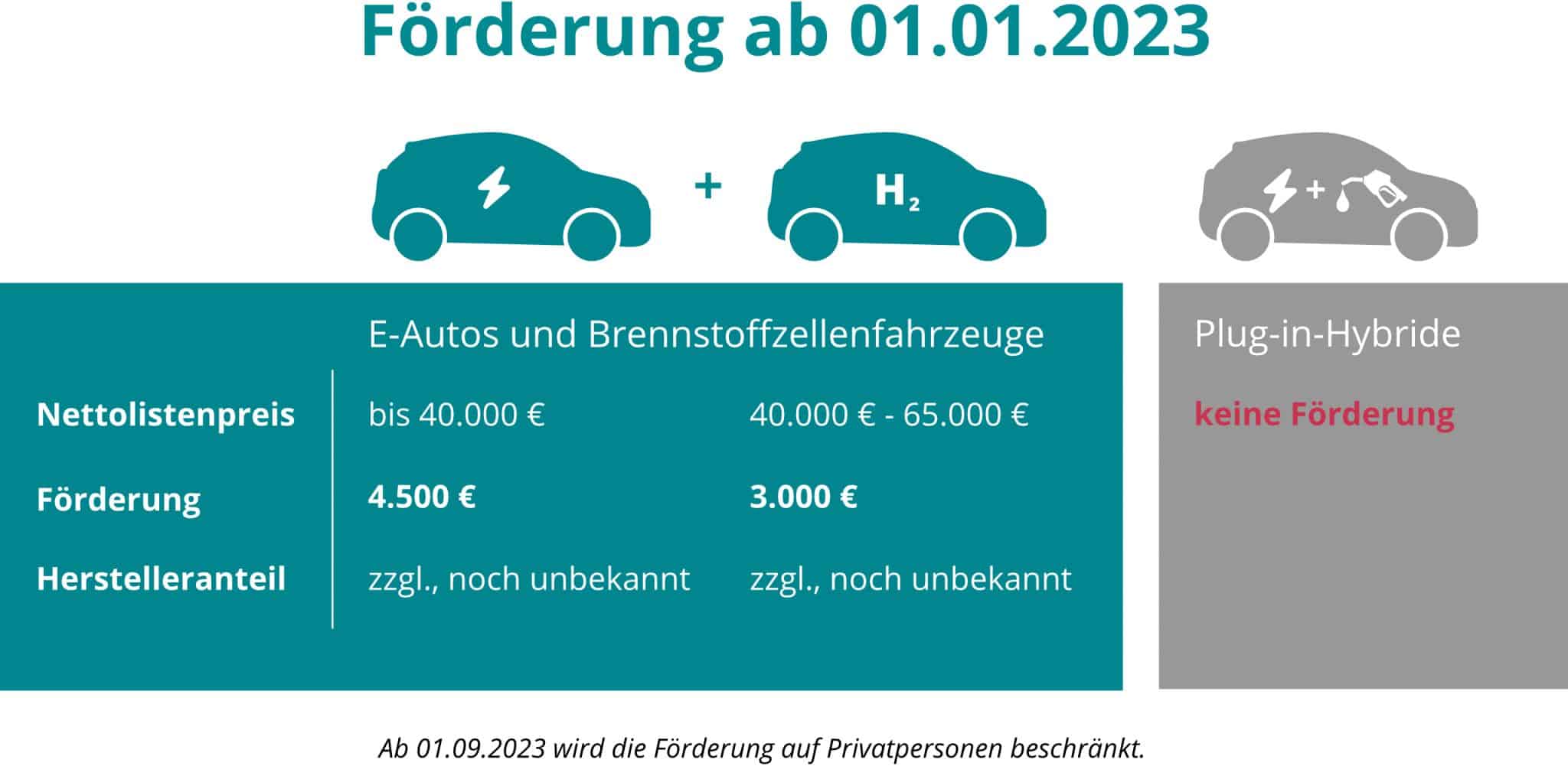 Electric car leasing promotion: how it works!
With most leasing providers, you have to make a special payment in the amount of the eco-rebate when you sign the contract, which is then immediately offset in the leasing contract. Afterwards, you usually have to take care of submitting your application to BAFA yourself to get the money back. We explain how this works in our detailed step-by-step guide to the BAFA application!
The application must be submitted on the BAFA website. There you will also find the list of eligible vehicles. Before purchasing, you should check whether your desired model is included on this list and is eligible for the subsidy.
Electric car leasing commercial: save taxes
In addition to the leasing rate, fuel, insurance, vehicle tax and - for employees - the non-cash benefit are significant cost factors in e-car leasing. Whether leasing or buying, drivers of electric cars benefit particularly from vehicle tax, and not just for commercial use: This is waived for a full 10 years after purchase. Compared with a diesel vehicle, this equates to up to several hundred euros less in costs over the course of the leasing period. Insurance is also partially discounted.
In addition, the non-cash benefit for employees who also use the company car privately has been made attractive. For purely electric vehicles, only 0.25% of the gross list price including optional extras will be assessed for tax purposes in the price category up to 60,000 euros as of December 2019. For higher-priced company cars, the rate of 0.5% of the gross list price always applies. Plug-in hybrids will be affected by two additional regulations from 2023. Firstly, they must be proven to be predominantly, i.e. more than 50%, purely electric. If this is not the case, the standard taxation of the company car according to the 1 percent rule will come into force. On the other hand, the minimum electric range will be increased to 80 km for newly registered plug-in hybrids as of 01.08.2023. At umschalten.de you will also find an overview of subsidies for electric cars.
Download our free white paper on the
electrification of your fleet now!
+ Now
new
incl. factsheet on funding
Electric Car Leasing Commercial: Advantages and Disadvantages at a Glance
Advantages electric car leasing:
Disadvantages electric car leasing:
Electric car leasing in the company: save costs, minimize risk
If you have decided to expand your company's fleet with electric cars, an e-car company lease offers several advantages. Thanks to an extension by the Concerted Action Mobility, you can benefit from subsidies until the end of 2022. Especially through leasing, you secure yourself conceivably well against a possibly unforeseeable loss of residual value and can still react flexibly to any future innovations in this still young sector. By analyzing your fleet as comprehensively as possible and the purposes for which you are thinking about acquiring electric cars, you can prepare yourself ideally for the changeover. The contracts in electric car leasing are very diverse, you will undoubtedly find one perfectly suited to your situation. As always, it's worth it to call on expert advice.
The best thing to do is simply ask for advice - either from your energy company, such as SachsenEnergie, or directly at a local dealership with personal consulting expertise.