More and more people are switching to electric mobility. Photovoltaic capacity in Saxony is to be almost doubled by the end of the legislative period (see Energy and Climate Programme). Bi-directional charging sounds attractive: instead of just plugging the e-car into the socket to recharge before driving, it can also function as a battery for the renewable energies it generates itself. The e-car as electricity storage! But is it really that simple? We explain which requirements have to be met and talked to the expert Claudius Jehle from the battery diagnostics company volytica about the advantages and disadvantages.
WHAT IS BIDIRECTIONAL CHARGING?
Bidirectional charging only works with direct current (DC). When this is present, it is the "natural" way for electricity to flow. Bidirectional charging means that energy can be exchanged in both directions. The e-car can therefore not only be charged, but also discharged. In many cases, however, this is not desired: the car is not supposed to release the electricity again, but to consume it by driving. For this reason, bidirectional charging is often not implemented today by control units and software. With alternating current (AC), for example normal household electricity, it is not possible in principle.
WHERE DOES BIDIRECTIONAL CHARGING MAKE SENSE?
In principle, we distinguish between two areas of application for bidirectional charging:
Vehicle-to-home
Vehicle-to-grid
VEHICLE-TO-HOME: FIXED STORAGE ALTERNATIVE FOR HOMEOWNERS?
Bidirectional charging is particularly interesting for homeowners. The e-car as electricity storage can be a real alternative: So if the e-car is just standing during the day and is connected to the electricity, the solar cells on the house roof can store surplus electricity that is not directly consumed in the car battery. If no more energy is generated at night, an entire household can easily be supplied for several hours with the car's battery charge: TV, lights, kitchen - all household consumers together are nevertheless no challenge for an average e-car battery with 40 kilowatt hours capacity and more. This type of use is called vehicle-to-home or V2H for short.
"If you use your e-car battery in this way, you can influence its service life. It is not always easy to say whether it is positive or negative," our expert Claudius Jehle from the battery diagnostics company volytica points out. The manufacturer's warranty for the battery often covers eight years - but only when used for its intended purpose, i.e. driving. "Batteries are designed to have their maximum lifespan in one usage scenario, namely mostly when the charge is close to 100 per cent at the start and rarely drops below 30-50 per cent," Mr Jehle elaborates. "When used as intermediate storage for a photovoltaic system and household consumers, the battery would behave quite differently and could lose capacity more quickly." This does not have to happen, says Mr Jehle, but manufacturers would first safeguard such scenarios - or rule them out. Tesla recently made headlines when certain vehicle-to-home applications voided the battery's entire warranty. 

Vehicle-to-home can reduce the life of an e-car battery.
"From the manufacturer's point of view, this is also understandable," explains Mr Jehle. "When they sell or rent out a car, they want to minimise the risk of wear and tear on the most expensive spare part, the battery. A new battery costs the manufacturer a lot of money if it has to be replaced before the warranty expires." Managing director Claudius Jehle should know: his company volytica helps vehicle manufacturers diagnose the exact condition of a battery. Nevertheless, the principle could set a precedent in the next few years, as PV Magazine reports, for example. Central to the market maturity and breakthrough of vehicle-to-home could be the integration of bidirectional charging in the next generation of e-cars from VW.
VEHICLE-TO-GRID: IS THE E-AUTO REALISTIC AS AN ELECTRICITY STORAGE FACILITY FOR THE ELECTRICITY NETWORK?

Vehicle-to-grid (V2G) is a much more complex concept than vehicle-to-home. Here, the e-cars connected to the grid are not only used as storage for one's own home, but as intermediate storage for the entire electricity grid. A highly simplified scenario explains it: In the morning the sun is shining and the photovoltaic systems and wind power plants feed in electricity, but in the afternoon it is cloudy. The surplus electricity of the morning could now be temporarily stored in the stationary and connected e-car batteries. In the afternoon, the batteries of the e-cars can now be tapped, which are fully charged to supply homes, offices and factories with energy. Theoretically, it is thus possible to relieve the grid and prepare it for the growing number of electric cars in the future. Quite a few see this as a central building block of the energy transition. 
What sounds so simple, however, is an enormous challenge. For grid providers, this solution sounds attractive at first: instead of building their own energy storage facilities, they could use the existing small storage facilities everywhere on the roads. But what if suddenly 10 or 20 percent of the vehicles start driving? How can a stored amount of energy capacity be counted on? Claudius Jehle sees a great need for development here: "This decentralisation would probably ensure that the energy storage units would be outside the direct access of the grid operators. The basic idea is excellent, but it poses enormous challenges in terms of implementation. Therecording of available capacities would be complex and controllability and plannability would only be possible with difficulty and risk. Sooner or later V2G will definitely come, unfortunately the implementation is anything but easy." More interesting at the moment is the concept that is already in practical use: smart charging. Here, the cheapest electricity is automatically used for charging, e.g. from one's own PV system or from the electricity grid.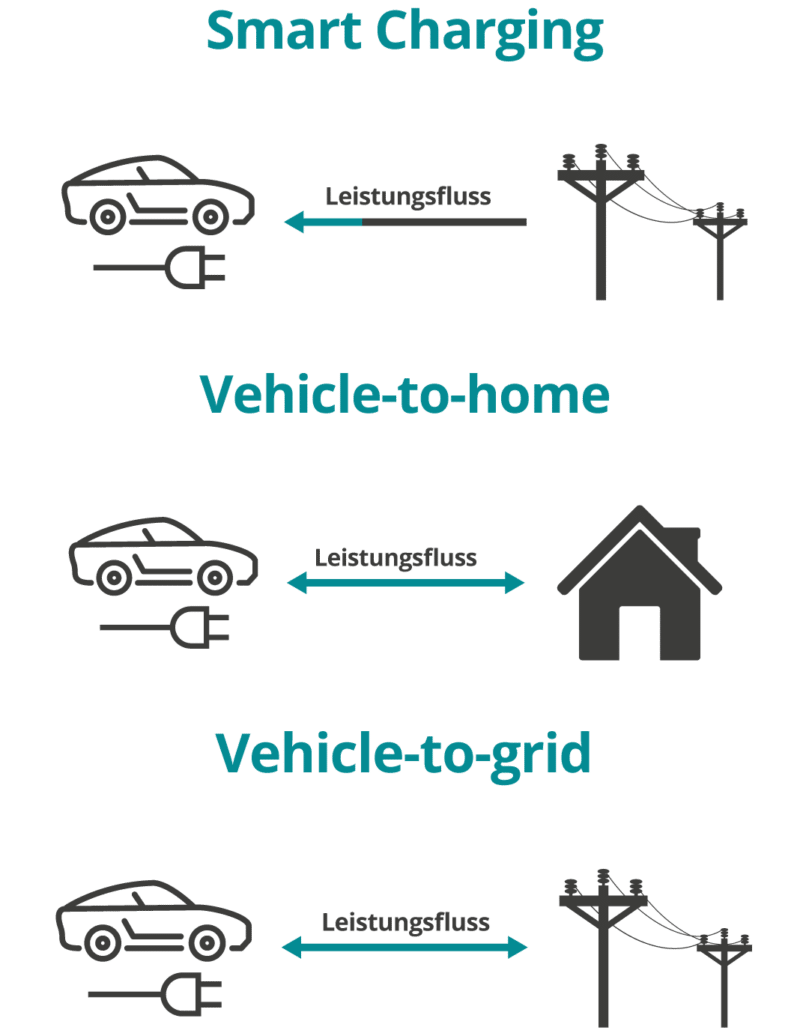 VW is already actively working on supporting bidirectional charging.
Until then, however, numerous hurdles still have to be removed, as the German Electrical and Electronic Manufacturers' Association (ZVEI) and the German Association of the Automotive Industry (VDA) state in their position paper:
Distributive justice: Cost structures and grid charges must be regulated in such a way that groups & actors are not disadvantaged
Development of incentive systems such as attractive electricity tariffs
Adaptation of legal framework conditions
Economic and technical prerequisite for a permanent connection of an e-car to the grid outside charging times
Reliable and area-wide data communication between the various market players from cars to charging infrastructure to distribution grid operators
IS BIDIRECTIONAL CHARGING ALLOWED IN GERMANY?
At least it is not forbidden. But the use cases are currently still limited anyway. For homeowners, bidirectional charging is attractive as an alternative to fixed storage in the basement, but it also brings disadvantages. If the e-car battery is misused in this way, the warranty can expire. The battery capacity can decrease more quickly and the battery in the car may have to be replaced before the warranty expires. However, the costs for this are then borne by the car owner.
WHAT ARE THE ADVANTAGES AND DISADVANTAGES OF BIDIRECTIONAL CHARGING?
Bidirectional charging is still in its infancy, even though more and more vehicle manufacturers and wallbox providers are offering the option. At the moment, it is first and foremost interesting for people who operate a photovoltaic system and have their own home. As explained in the section on vehicle-to-home, the e-car can act as an electricity storage device. As sensible as this may sound, you still have to take a few things into account:
Advantages of bidirectional charging and V2H
Disadvantages of bidirectional charging and V2H
- the "stationary vehicle" becomes a mobile fixed storage unit
- you may be able to save a fixed storage unit at home
- unused energy in sunshine can be consumed later on
- if the car is not at home, no energy can be stored either
- Your e-car battery is likely to age sooner and lose capacity more quickly
- Some e-car manufacturers will void your warranty if used by V2H
- Only a few supporting wallboxes on the market
- Wallboxes are comparatively expensive
As practical as bidirectional charging and vehicle-to-home may sound at first glance, you should still exercise caution. In the coming years, manufacturers may be able to extend their warranties accordingly with new battery generations. Then the risk for you would probably be lower and the use of your vehicle through V2H more attractive.
THESE ARE THE REQUIREMENTS YOU NEED FOR BIDIRECTIONAL CHARGING AND VEHICLE-TO-HOME
In the previous section, we have already explained for whom and under which conditions vehicle-to-home and bidirectional charging could be interesting. But technically, two essential prerequisites must also be fulfilled:
Your vehicle must be charged via CHAdeMO
Your wallbox must support bidirectional charging
In principle, all vehicles that are connected to the charging point via a cable with a CHAdeMO plug are capable of bidirectional charging. This Japanese fast charging system is mainly used by manufacturers from the Asian region:
Honda
Kia
Mazda
Mitsubishi
Nissan
Subaru
Toyota
The French makes Citroën Berlingo Electric and the Peugeot Partner Electric are also equipped with a CHAdeMO plug. In the near future, other charging systems will also support bidirectional charging via direct current (DC).
WHICH WALLBOXES SUPPORT BIDIRECTIONAL CHARGING?
The selection of wallboxes is large. In recent years, many manufacturers have entered the market and offer the right hardware for every application and every need. However, not every wallbox supports bidirectional charging. So if you are interested in this, you have to look carefully when buying a wallbox. Only DC wallboxes, i.e. those with a DC connection, are capable of bidirectional charging. AC wallboxes are less expensive and are installed much more frequently in private homes. Notable manufacturers here include MENNEKES and Walther-Werke, whose wallboxes you can of course also purchase from SachsenEnergie. DC wallboxes are available from the following manufacturers, among others:
ABB
Designwerk
myWallbox
wallbe
CONCLUSION: DOES BIDIRECTIONAL CHARGING HAVE A FUTURE?
At the moment, many experts are still sceptical: the legal situation has not been clarified, car and battery manufacturers are often not interested in bidirectional charging, and grid operators are still holding back. Even though many e-car models, especially Asian ones, support bidirectional charging, it will remain unattractive for most homeowners for the time being because of the expensive DC wall boxes at home.
However, this could change in the future, because there is a lot of potential in bidirectional charging, in vehicle-to-home and also in vehicle-to-grid. Additional storage capacities could become relevant with increasing feed-in from renewable energy. Whether this is through the PV system at home, the solar cells on the company building or for the entire power grid - the batteries of e-cars can potentially help stabilise the power grid and ensure that energy surpluses are not lost. It is therefore worthwhile to continue to observe bidirectional charging in the coming years.