With the increasing trend toward electrification of the transport sector, innovations in charging technology are crucial. One promising development is bidirectional charging, which not only charges electric vehicles but can also feed power from the vehicle back into the grid. This advanced technology promises improved energy efficiency, grid stability and integration of electric vehicles into the smart grid. An attractive use case: photovoltaic capacity is to be nearly doubled in Saxony by the end of the legislative period (see Energy and Climate Program). Bi-directional charging sounds attractive: Instead of charging electricity, the e-car can also function as a battery for the self-generated renewable energy. The e-car as a mobile electricity storage unit! But is it really that simple? We explain what requirements have to be met and talked to expert Claudius Jehle from battery diagnostics company volytica about the pros and cons.
What is bidirectional charging?
Bidirectional charging means that energy can not only be absorbed by the vehicle, but also released again. In this way, an electric car can act as an electricity storage unit.
Where is bidirectional charging useful?
In principle, we distinguish three use cases for bidirectional charging:
Vehicle-to-home (V2H)
Vehicle-to-grid (V2G)
Vehicle-to-device (V2D) / Vehicle-to-load (V2L)
Vehicle-to-home (V2H): fixed storage alternative for homeowners?
Bidirectional charging is particularly interesting for homeowners. The e-car as electricity storage can be a real alternative: With the photovoltaic system on the roof of the house, the e-car can store excess electricity during sunny hours that is not consumed as household electricity. If no more energy is generated at night, an entire household can easily be supplied with the car's battery charge for several hours: 11 kilowatt hours of electricity are needed by an average 3-person household in Germany. With a battery capacity of 40 kilowatt hours and more, this is no challenge for an average e-car battery. This type of use is called vehicle-to-home or V2H for short. This use is not limited to the combination with a PV system; it is also possible to use electricity previously obtained at public charging stations or at a charging facility at the workplace for V2H later on.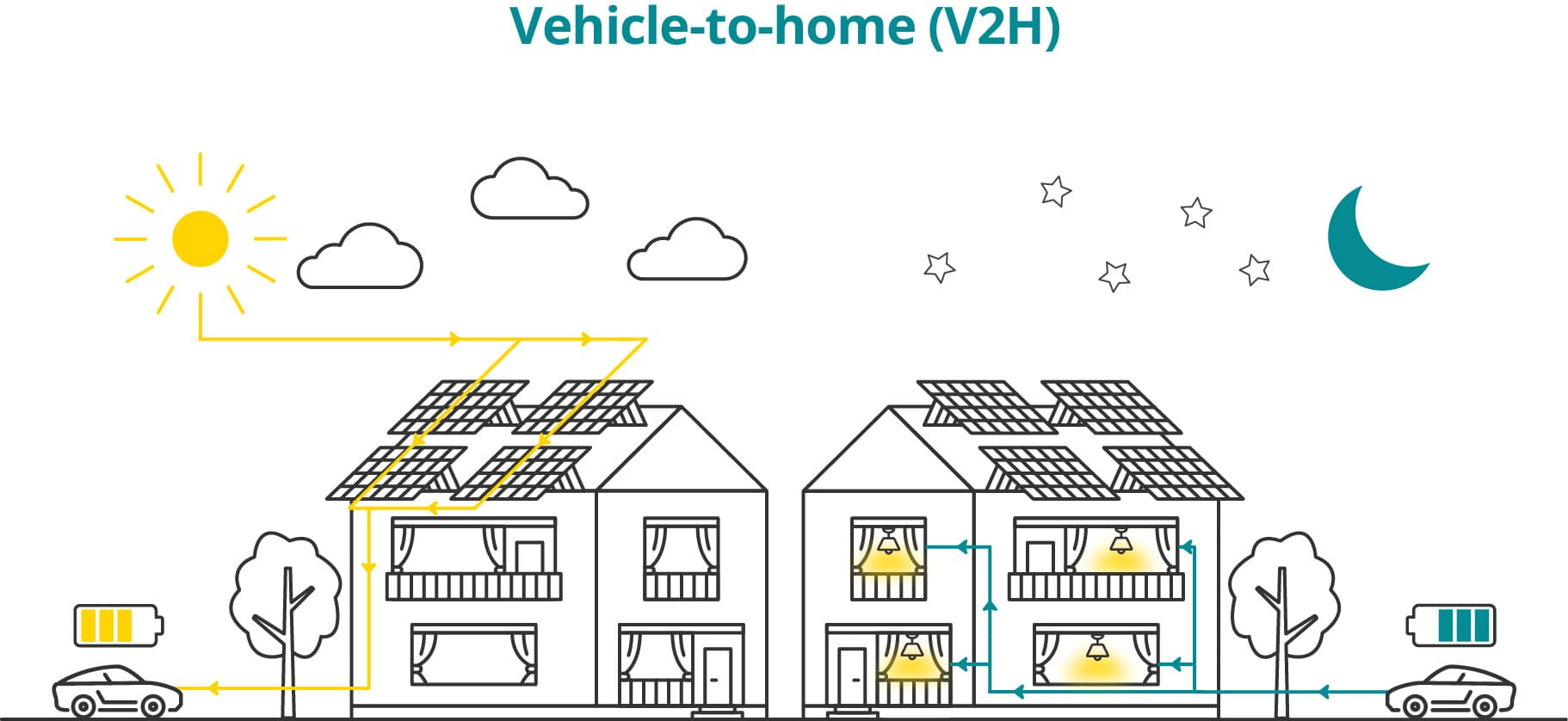 "Anyone who uses their e-car battery in this way can influence its service life. It's not always easy to tell whether it's positive or negative," our expert Claudius Jehle from battery diagnostics company volytica points out. The manufacturer's warranty for the battery often covers eight years - but only when used for its intended purpose, i.e. driving. "Batteries are designed to have their maximum life in a usage scenario, namely mostly when the charge is close to 100 percent at the start and rarely drops below 30-50 percent," Mr. Jehle elaborates. "When used as intermediate storage for a photovoltaic system and household loads, the battery would behave quite differently and could lose capacity more quickly." While that doesn't have to happen, Mr. Jehle said, manufacturers would first hedge - or just rule out - such scenarios. Tesla recently made headlines when certain vehicle-to-home applications voided the battery's entire warranty. 
Vehicle-to-home can reduce the life of an e-car battery.
"From a manufacturer's point of view, this is also understandable," explains Mr. Jehle. "When they sell or lease a car, they want to minimize the wear and tear on the most expensive spare part, the battery. A new battery costs the manufacturer a lot of money if it has to be replaced before the warranty expires." Managing director Claudius Jehle should know: his company volytica helps vehicle manufacturers diagnose the exact condition of a battery. Nevertheless, the principle could set a precedent in the next few years, as reported by PV Magazine, for example. Central to the market maturity and breakthrough of vehicle-to-home could be the integration of bidirectional charging in the next generation of e-cars from VW.
Vehicle-to-grid (V2G): is the e-car as electricity storage for the power grid realistic?
Vehicle-to-grid (V2G) is a much more complex concept than vehicle-to-home. Here, the e-cars connected to the grid become temporary storage for the entire power grid. A highly simplified scenario explains it: In the morning, the sun is shining and photovoltaic systems and wind turbines feed electricity into the power grid, but in the afternoon it is cloudy. The surplus electricity of the morning could now be temporarily stored in the standing and connected e-car batteries. In the afternoon, the batteries of the e-cars can now be tapped, which are fully charged to supply homes and offices with energy. In theory, this makes it possible to relieve the strain on the grid and prepare it for the growing number of electric cars in the future. Quite a few see this as a central building block of the energy transition. Other concepts, such as the installation of battery storage systems, are also intended to relieve the strain on the grids. 
What sounds so simple, however, is an enormous challenge. For grid operators, this solution sounds attractive at first: electric vehicles can serve as a buffer to balance out fluctuations in the power grid. When energy demand is high, they can feed energy back into the grid, helping to stabilize it. But what if 10 or 20 percent of the vehicles suddenly start running? How can a reserved amount of energy capacity be counted on? Claudius Jehle sees a great need for development here: "This decentralization would probably ensure that the energy storage systems would be outside the direct access of the grid operators. The basic idea is excellent, but it poses enormous challenges in terms of implementation. Capturing available capacity would be complex, and controllability and planning would be difficult and risky. Sooner or later V2G will definitely come, unfortunately implementation is far from easy." More interesting at present is the concept that is already in practical use: smart charging. Here, the cheapest electricity is automatically used for charging, e.g. from one's own PV system or from the power grid.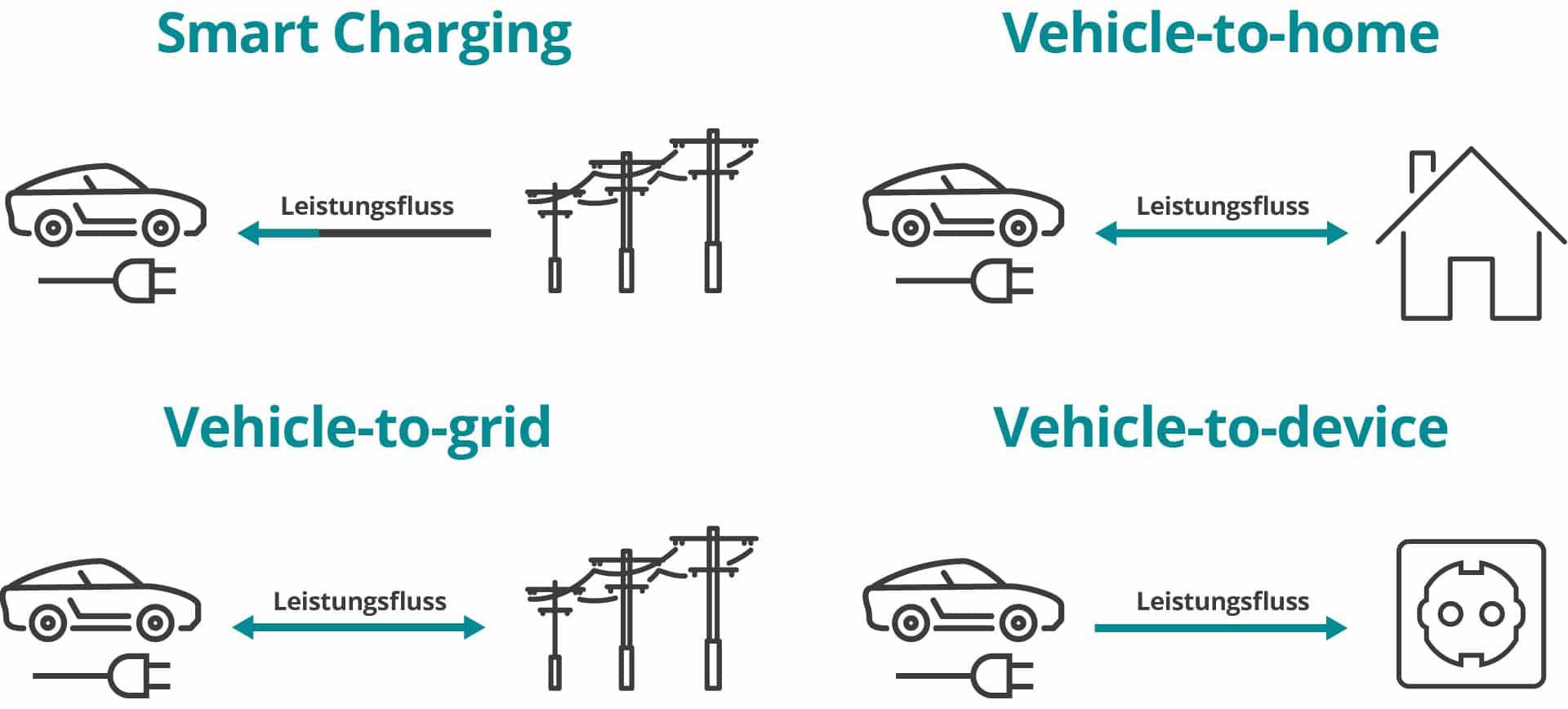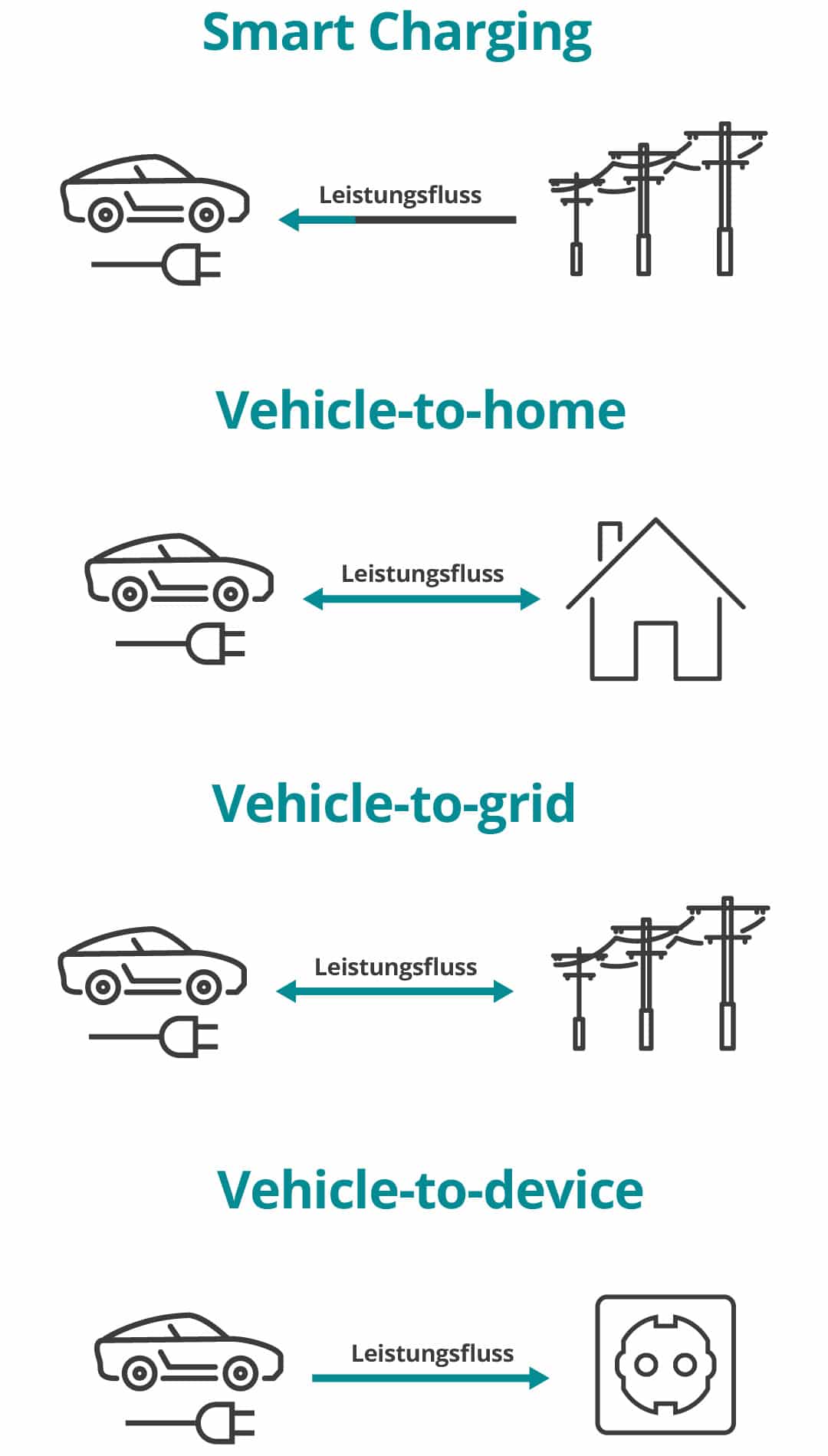 Thomas Ulbrich, VW's board member for development, also sees a lot of coordination needed before V2G becomes a normal part of our energy and mobility transition. According to an interview with Handelsblatt, he assumes that it will be "several years" before vehicle-to-grid is part of everyday life. For VW, however, it is interesting to "go ahead" and work on a new business field. In the future, car owners could sell or rent their vehicles as storage capacity to the grid operators and receive compensation for it. According to Ulbrich, this would also be attractive because the car would no longer be a predominantly "stationary vehicle", but would also fulfil a function when parked.
VW is already actively working on supporting bidirectional charging.
Until then, however, numerous hurdles still have to be removed, as the German Electrical and Electronic Manufacturers' Association (ZVEI) and the German Association of the Automotive Industry (VDA) state in their position paper:
Distributive justice: Cost structures and grid charges must be regulated in such a way that groups & actors are not disadvantaged
Development of incentive systems such as attractive electricity tariffs
Adaptation of legal framework conditions
Economic and technical prerequisite for a permanent connection of an e-car to the grid outside charging times
Reliable and area-wide data communication between the various market players from cars to charging infrastructure to distribution grid operators
Vehicle-to-device (V2D) / Vehicle-to-load (V2L): The fast power helper for off-road adventurers
Vehicle-to-device is probably the simplest and most direct application of bidirectional charging. In this variant, a standard household Schuko socket is located in or on the electric car. Especially for off-road adventurers or campers, V2D can be a safeguard to charge and use essential devices.
Is bidirectional charging allowed in Germany?
At least it is not prohibited. But the use cases are currently still limited anyway. A big step in the right direction was the publication of the ISO 15118-20 standard in April 2022, where various ideas in the field of smart charging, including bidirectional charging, were concretized and standardized, thus providing the basis for future business models. Now the industry is called upon to establish bidirectional charging in society beyond pilot projects. Legislators are also called upon to further develop bidirectional charging. After all, the use of an e-car as an electricity storage device for the home raises a number of legal questions regarding taxation and other requirements that an e-car, which has so far been considered exclusively a passenger car, does not currently have to fulfill.
What are the advantages and disadvantages of bidirectional charging?
Bidirectional charging is still in its infancy, even though more and more vehicle manufacturers and wallbox providers are offering the option. At the moment, it is first and foremost interesting for people who operate a photovoltaic system and have their own home. As explained in the section on vehicle-to-home, the e-car can act as an electricity storage device. As sensible as this may sound, you still have to take a few things into account:
Advantages of bidirectional charging and V2H
Disadvantages of bidirectional charging and V2H
As practical as bidirectional charging, vehicle-to-home (V2H) and the use of electric cars as electricity storage may sound at first glance, you should still exercise caution at present. In the coming years, manufacturers may be able to extend their warranties accordingly with new battery generations. Then the risk for you would probably be lower and the use of your vehicle through vehicle-to-home (V2H) more attractive.
You need these prerequisites for bidirectional charging and vehicle-to-home
In the previous section, we have already explained for whom and under what conditions vehicle-to-home, bidirectional charging and the use of the e-car as electricity storage could be interesting. But technically, two essential conditions must also be met:
Your wallbox and vehicle must support bidirectional charging
Depending on the application, an energy management system is a prerequisite
Which cars can charge bidirectionally?
| Model | Plug | AC / DC | Type |
| --- | --- | --- | --- |
| | | | |
| | | | |
| Mitsubishi * Outlander / iMIEV | | | |
| | | | |
| | | | |
| | | | |
| Skoda Enyaq (with 77 kWh) | | | |
| | | | V2L / V2H / V2G (prepared) |
| VW ID.3, ID.4, ID.5, ID.Buzz (with 77 kWh) | | | |
| | | | V2L / V2H / V2G (prepared) |
*Model(s) no longer available.
Source: Overview via ADAC
Which wallboxes support bidirectional charging?
The selection of wallboxes is large. In recent years, many manufacturers have launched models on the market and offer the right hardware for every application and every need. However, only very few support bidirectional charging. If you are interested in this, you need to look carefully when buying a wallbox. Basically, there are currently two technical options for bidirectional charging: Firstly, via CHAdeMO or CCS Mode 4 charging systems, in which direct current is taken from the e-car and converted into alternating current using a type of external "inverter" in order to make it usable for the home grid, and secondly, via Type 2 plugs, alternating current can be fed back directly from the e-car. The latter variant is to be implemented in the future through V2G or V2X by applying ISO 15118. Here, the e-car itself directly has the function of the "inverter". AC wall boxes are less expensive and are much more frequently installed in homes. Notable manufacturers here are, for example, MENNEKES or Walther-Werke, whose wallboxes you can of course also purchase from SachsenEnergie. Wallboxes for bidirectional charging are available from the following manufacturers, among others:
Kostal
Sono
Ambibox
dcbel
sun2wheel
Conclusion: Does bidirectional charging have a future?
The potential of bidirectional charging is undisputed, but many experts are still skeptical at this point: The legal situation has not been sufficiently clarified, car and battery manufacturers often have no acute economic interest in bidirectional charging, and grid operators are still holding back. Even though many e-car models, especially Asian ones, support bidirectional charging, it will remain unattractive for most homeowners for the time being due to the expensive DC wall boxes at home.
However, this could change in the future, because there is a lot of potential in bidirectional charging, in vehicle-to-home and also in vehicle-to-grid. Additional storage capacities could become relevant with increasing feed-in from renewable energy. Whether this is through the PV system at home, the solar cells on the company building or for the entire power grid - the batteries of e-cars can potentially help stabilise the power grid and ensure that energy surpluses are not lost. It is therefore worthwhile to continue to observe bidirectional charging in the coming years.