The automotive industry in Saxony looks back on a history of over 100 years. As early as 1910, August Horch founded the automobile manufacturer Audi under the Latin translation of his last name. Today, automotive manufacturing in Saxony is the industry with the highest turnover, with five vehicle and engine plants as well as 780 suppliers, equipment manufacturers and service providers. The "Autoland Saxony" will continue to play a leading role on the road to sustainable mobility. The Volkswagen plant in Zwickau, for example, already produces exclusively battery-electric vehicles. The automotive industry is supported in this by 50 university and non-university research institutions, which are tackling areas such as lightweight construction and resource-efficient production. Reason enough to keep a closer eye on this exciting development.
Have you ever wondered which parts of the e-car value chain might come directly from your neighborhood? As part of the project "Automotive Cluster Saxony" we answer these and many other questions!
Automotive Cluster Saxony: The Idea
This article is your compact overview of the value chain, which we are constantly expanding. First, you will receive an initial overview of Saxon companies or companies operating in Saxony that are relevant to the value chain. The individual companies are followed by their own contributions and practical examples. All contributions will be integrated into this article, so that you can always find all information here at a glance and jump to the part of the value chain that is of interest to you with just one click. All this together is the Automotive Cluster Saxony.
Have we forgotten an important company from your point of view or would you like to present your own company? Then feel free to write to us at frag@umschalten.de!
Discover the world of electromobility
Move the mouse pointer over the image to discover interesting topics!
Vehicle and charging station manufacturer / OEM
A very obvious part of the value chain around e-cars and mobility are the manufacturers of vehicles and charging stations, the OEM or "Original Equipment Manufacturers" and their suppliers. In a way, they are the cornerstone for the automotive cluster Saxony. 
OEM for car manufacturer
The final step in the value chain in the manufacture of vehicles is the "Original Equipment Manufacturer". These are the companies that actually assemble the vehicle in the end. Although individual parts are also produced by these companies, the majority are supplied by external companies.
Volkswagen Saxony GmbH
Volkswagen is a household name. As the largest automobile manufacturer in Saxony, Volkswagen Sachsen GmbH operates two large plants for the assembly of automobiles, the Fahrzeugwerk Zwickau and the Gläserne Manufaktur Dresden. In addition, there is the Chemnitz engine plant.
Have you ever wondered what the production of electric vehicles looks like in practice? The Transparent Factory in Dresden offers you unique insights. As one of three production facilities of Volkswagen Sachsen GmbH, it was put into operation on March 19, 2002 and has become a visitor magnet and center for electromobility. Until 2016, it served as a production facility for the Phaeton, and until the end of 2020 for the e-Golf. Since then, the all-electric VW ID.3 has been built. Customers can accompany the production of their car and then pick it up. More than 2 million people have already visited the Transparent Factory in Dresden, which provides work for around 350 employees.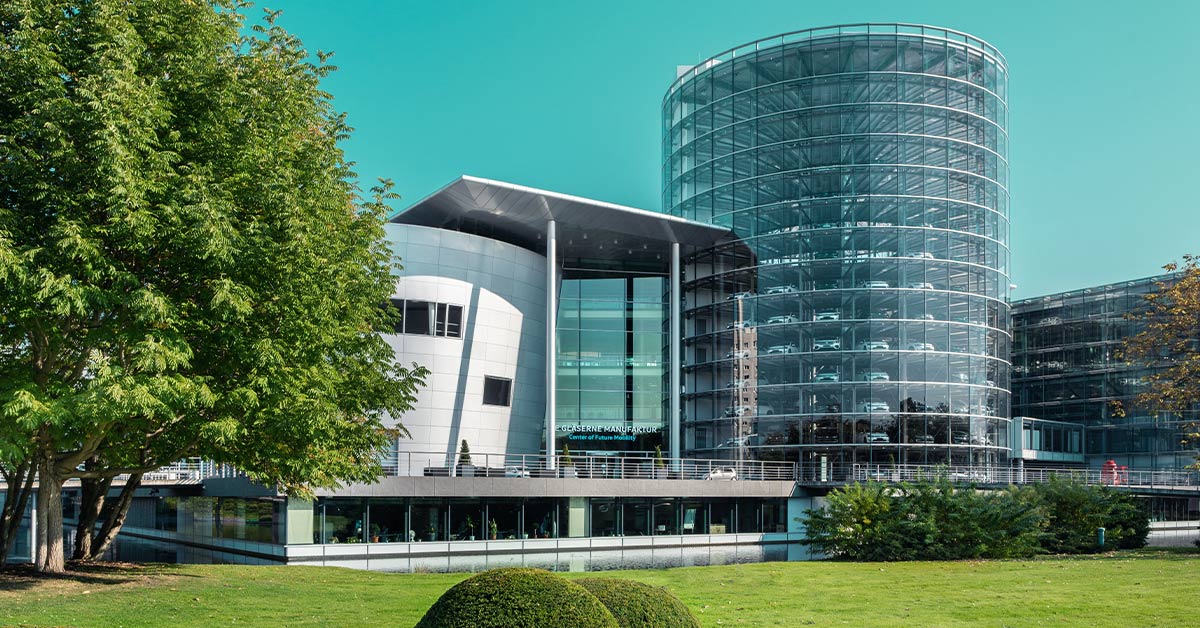 We took advantage of the impressive setting of the Transparent Factory to have the two electromobility experts Danny Auerswald and Carsten Wald discuss with each other. If you are interested in what the two have to say about the development of electromobility and about Saxony as an electromobility location, you should stop by our full article!
Supplier for car manufacturer
Before a vehicle can be assembled, all the individual parts must first be available. These are not all produced by the automobile manufacturer itself, but are often supplied by external companies. "Automotive Cluster Saxony" is also an appropriate designation because the various companies involved in the manufacturing process are also spatially located in the vicinity.
Magna Exteriors | Magna
As the name suggests, Meerane-based Magna Exteriors, part of the global technology company Magna, manufactures everything related to vehicle exteriors. Its portfolio includes modular access systems such as tailgates and vehicle doors, bumper and exterior trim, front-end modules, glass overmolding technologies, automated running boards, and active aerodynamic components.
TD Deutsche Klimakompressor GmbH (TDDK)
For this supplier, too, the name says it all. TDDK is a subsidiary of the two Japanese automotive suppliers Toyota Industries Corporation and Denso Corporation and manufactures compressors for vehicle air conditioning systems in Europe. These are used in the refrigerant circuits of passenger car air conditioning systems; they are the "heart" of the air conditioning system.
Maschinenbaubetriebe Neugersdorf GmbH (MBN Saxony)
In addition to the individual parts, an OEM also needs the corresponding equipment for vehicle assembly. MBN Sachsen develops, manufactures and builds these in Upper Lusatia. With 30 years of experience, MBN Sachsen thus delivers everything from individual cycles to complete assembly lines all over the world.
I have added the MBN Saxony to the suppliers, but I am unsure about the placement. Can you say that and leave it as it is?
Battery as drive system
Triathlon Batteries Ltd.
The topic of batteries is omnipresent in electromobility and e-cars. After all, the range depends significantly on them. Triathlon Batterien GmbH, based in Glauchau, Germany, offers its customers customized solutions for their specific requirements based on the established lead-acid cell chemistries or lithium-ion technology. The main field of application for Triathlon's batteries are industrial trucks and the like.
Fraunhofer Institute IWS
Will the next evolutionary stage of the solid state battery come from Saxony? Maybe, because the Fraunhofer Institute IWS is actively researching it. The Automotive Cluster Saxony is doing real pioneering work. In its research project "SoLiS - Development of Lithium-Sulfur Solid State Batteries in Multilayer Pouch Cells" the Fraunhofer Institute IWS fully relies on sulfur as a material. It is characterized by a particularly high storage capacity and low material costs, thus enabling the construction of very lightweight and cost-effective solid-state batteries. The project is funded by the German Federal Ministry of Education and Research (BMBF) with a total amount of almost 1.8 million euros. In addition to electromobility in the sense of e-cars, the research results could enable application in electric aviation, for example.
If you want to know more about the topic, it is worth visiting the website of the Fraunhofer Institute IWS. For even more information on the topic of solid state batteries, we recommend our article Solid State Battery: The Future of Electromobility or Just Dreams of the Future?
Manufacturer charging infrastructure
Walther-Werke
Electromobility does not end with the e-car. The charging infrastructure is essential for the everyday suitability and future development of electromobility in Germany. Walther-Werke is represented in Saxony at two locations in Leipzig and Zittau. The product range includes charging columns, wallboxes, charging stations for bicycles, charging cables, testing equipment and other accessories.
Sales - How to get your e-car!
After the production of a vehicle, it goes into sales. As a very large industry, it has a significant share in the value chain around the topic of electromobility and mobility in general. Here, too, there are some Saxon or Saxon-based companies that play their part.
Rent a vehicle
Nextmove
Via the Leipzig-based e-car subscription and rental provider Nextmove, among others, you can test whether an e-car is suitable for your personal purposes. In addition to the full subscription, free test drives with the e-car are also possible. Especially in times with very long delivery times for electric vehicles, it is worth considering a subscription model to bridge the time.
Vehicle sales/leasing
Mercedes-Benz star car
The Sternauto Group is represented at several locations in Saxony and is one of the largest Mercedes-Benz dealers in Germany.
Autohaus Pattusch/Auto-Holding Dresden
Those who are more interested in a VW or Audi for their e-car could find what they are looking for at Autohaus Pattusch, a brand of Auto-Holding Dresden. By the way, the dealership offers its own customers several charging stations 24 hours a day!
Operation and charging infrastructure
Supplying e-cars with the necessary electricity is essential. This is where the infrastructure for electromobility comes into play. In addition to the charging stations themselves, however, it is also about the energy suppliers who feed them and offer their own tariffs for their own e-cars.
Charging station operator
SachsenEnergie
More than 500 public charging points are offered by SachsenEnergie in Dresden and eastern Saxony. However, as the number of e-cars continues to grow, SachsenEnergie is continuously expanding its own charging network and establishing an increasingly close-knit network of charging options in the region. It is also possible to make uncomplicated payments there using a smartphone app, web browser or charging card. You can find more information on the website!
If you do not want to rely exclusively on the public charging infrastructure, SachsenEnergie also supports you on the way to your own wallbox!
Energy supplier
SachsenEnergie
SachsenEnergie reliably supplies people and companies in Dresden and the region with energy, heat, water and modern infrastructure. As the largest municipal utility in eastern Germany, SachsenEnergie sees itself as a shaper of an intelligent energy transition and is continuously driving the growth of renewable energies, investing in the expansion of regional infrastructure and guaranteeing the security of supply of tomorrow with the grids of the future.
Recycling - sustainability as a core aspect
An e-car is not environmentally friendly by itself; it takes a lot of technology and expert knowledge to recycle such a vehicle properly after its lifetime.
REMONDIS Industrie Service GmbH & Co. KG
With the RETRON system, REMONDIS wants to make the proper disposal of lithium-ion batteries easier and safer. The system is based on a special waste container and has been newly developed for the risk of battery fires. In 2019, RETRON was awarded the Danger/Goods Innovation Prize for this system.
Service - Everything around the E-car!
When switching to a different technology, it is always of the utmost importance to be well informed. There are many different ways to do this these days. Nevertheless, we would like to point out a few Saxon options to you, because these are often particularly relevant for any specific questions due to the regional and local focus.
E-mobility information and news
Nextmove
In addition to their core business in e-car rental and e-car subscription, Nextmove operates a YouTube channel where they inform their more than 100,000 subscribers about the latest developments in the field of electromobility and provide regular test drives. A good way for private individuals to get a first impression on the topic of electromobility.
umschalten.de
The first online portal all about innovative energy and mobility solutions for Saxon entrepreneurs and end customers. We offer relevant news on innovations such as bidirectional charging or hydrogen cars, how you can benefit from current subsidies and which tax changes you need to consider with e-mobility. All presented by us in an understandable way. We make the global topic of electromobility regional and scrutinize trends and developments. In addition, we report on real experiences of Saxon entrepreneurs and actors. Our experts explain complex topics and issues in a simple and understandable way. You too will receive suggestions, tips and the step-by-step guide to implementing electromobility in your (professional) everyday life.
Corporate mobility management
Mobility plant
If you want to convert your company to electromobility, it is advisable to take advantage of comprehensive consulting and rely on a strong partner. In addition to this consulting, Mobilitätswerk offers operational mobility and fleet management through comprehensive data analysis and its own software solutions.
Conclusion
It's true in general, but especially in the case of electromobility: Saxony has a lot to offer! Often, people do not even think that the innovative and modern companies that shape the development of mobility are located right on their own doorstep. For both private consumers and entrepreneurs, it pays to be informed, so many regional companies are happy to help and advise on any questions. We have no claim to completeness in our listing. If you or your company would like to get involved in the automotive cluster Saxony, please contact us at frag@umschalten! Stay tuned, in the next months there will be more and more interesting articles to read here!